Travel
Take a Trip to St. Louis for the Great Forest Park Balloon Race
Take a day trip to St. Louis to spend the day outside during the Great Forest Park Balloon Race.
By Mariah Hunter
Sep 2022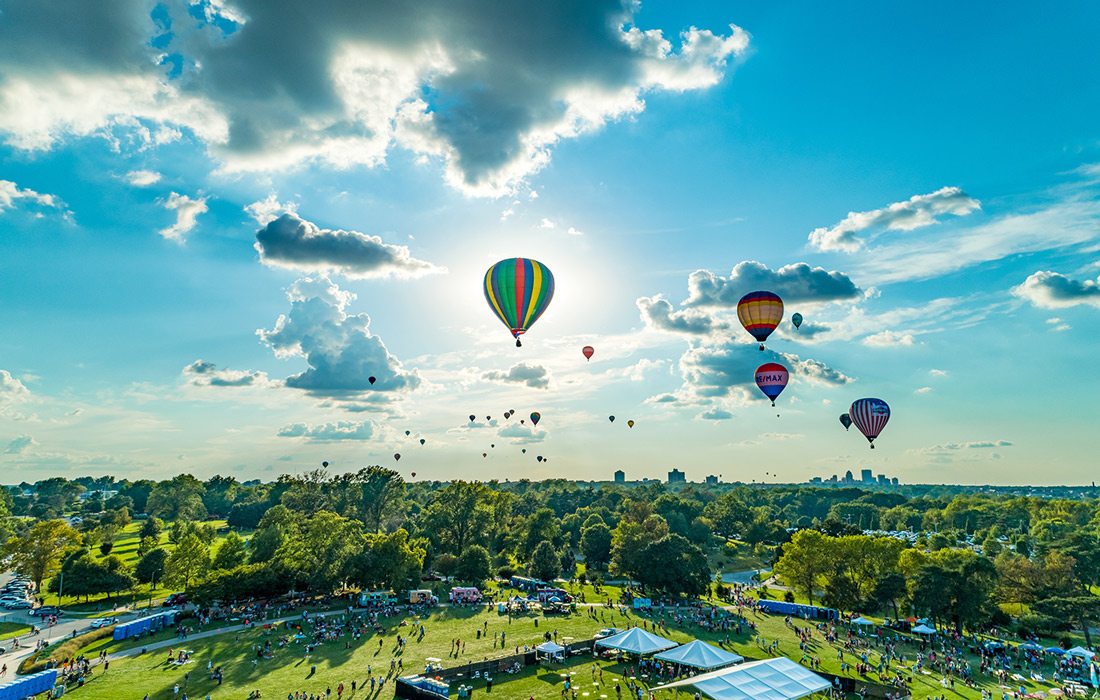 Grab some friends and head to The Great Forest Park Balloon Race in St. Louis, Missouri. There you can roam the city's famous park while sipping on a beverage from a local vendor and marveling at all the hot air balloons at this annual event that began in 1973.
On the first day, the glow portion of the event kicks off. Onlookers can bask in the glorious view of illuminations lit and glowing hot air balloons. Starting at sunset, the balloons shine like gigantic lightning bugs, truly a spectacle not to be missed.
The race portion of the event is the second day, when more than 50 hot air balloons launch from Emerson Central Fields and fly across the skyline. "Unlike a traditional race, the Great Forest Park Balloon Race isn't based on speed," says Jessica Stegen, director of communications and event production. "It is a hare and hound-style race." The launch time is 4:30 p.m., and all eyes will be on the PNC Bank balloon (the "Hare"), which launches first and lays out a large "X" on the ground next to where it lands. The other balloons (the "Hounds") then attempt to follow the PNC Bank balloon as closely as possible, and the pilot who is able to drop a bean bag as close to the center of the "X" as possible wins. 
Watch this exciting non-traditional race amongst more than 80,000 people and witness years of fun traditions. The newly adapted 30-acre area in the park is the perfect location to catch yourself oohing and awing as STL witnesses 50 years of family fun. This 2-day weekend event is a perfect weekend trip. Attendees can stay at hotels partnered with the event like Drury Inn & Suites (2111 Sulphur Ave., St. Louis) just minutes from the park.