Weddings
Tips for Planning a Dream Outdoor Wedding in the Ozarks
Wedding planner Celia Duncan, of Unions with Celia, and bride Cheyann Horton give advice on how to make your dream outdoor wedding a reality in southwest Missouri.
By Karen Bliss
Jan 2020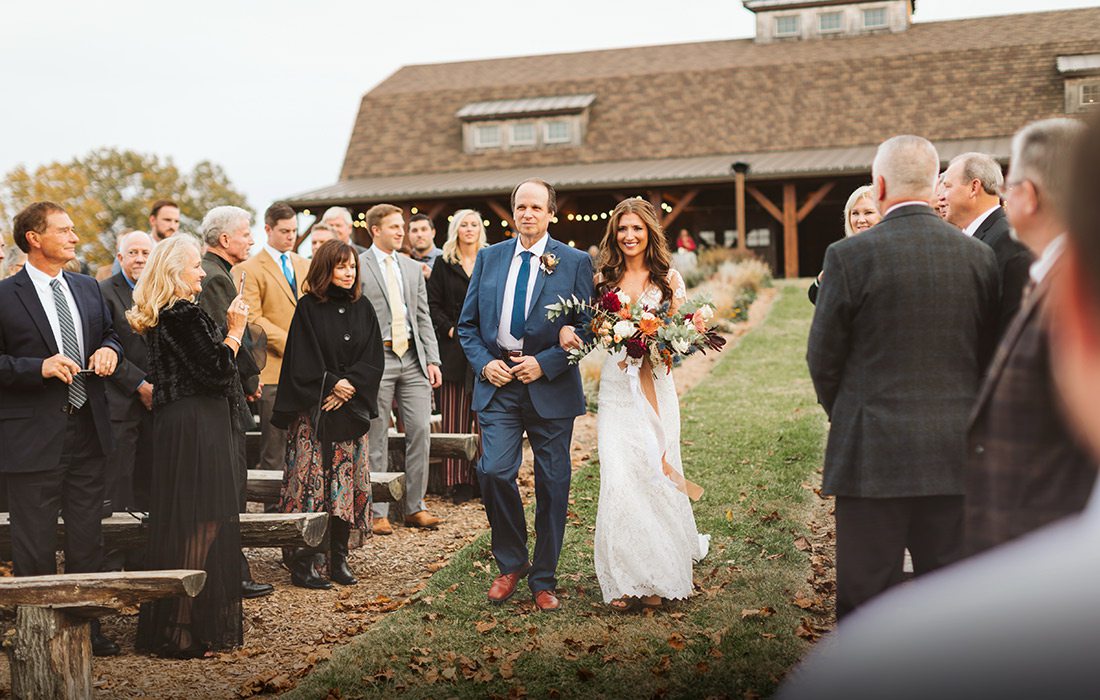 In photographs, outdoor weddings can look so magical, and they often are. But it doesn't just happen that way. What about rain? What shoes work best on grass? What do you do if it's windy? There are many things to think about if a couple really wants to make an outdoor wedding work. In the words of southwest Missouri wedding planner Celia Duncan, owner of Unions with Celia, you should plan for "anything and everything."
Choose the Right Time of Year 
Selecting whether you want a fall, spring, summer or winter wedding is a big part of pulling off a successful outdoor event. Duncan says the time of year can determine whether you need to provide shade to your guests, sunscreen and maybe even protection against bugs. "You might have to check with your venue on whether you can spray or whether they will spray for bugs before," she says. "No one wants to get eaten alive by bugs."
Plan on Bad Weather
If you live in Missouri, you probably already know this, but, as Duncan says, Missouri weather can be annoyingly unpredictable. It can be rainy or dry, hot or cold. That's why she says it's best to plan for rain, even if you don't think it will happen. "It's ideal if you can have a plan for a tent if it rains," she says. Duncan says that most venues can accommodate a tent, and some even have an indoor area you can use if need be. Just be sure to talk with your venue about their backup options so you know what you need to arrange for.
Duncan says if it's going to possibly rain, you could even do something as simple as order clear umbrellas from Amazon for your guests, and return them if you don't have to open them. As an added bonus, she says umbrellas can provide a fun effect for an outdoor wedding.
Another tip Duncan suggests is picking a cut-off day for making weather-related changes to your big day. Why? Because you need time to find alternatives such as tents or an indoor venue if you think rain is a high possibility. So save yourself the headache, and pick a day on the calendar when you have to pull the trigger on any rain or wind additions or alterations.
Pick the Proper Attire
Everything from the bride's dress to the shoes the bridesmaids wear needs to be considered when you're outdoors.
"It sounds so silly, but think about the shoes so they don't sink into the ground," says Cheyann Horton, a bride who was able to have her dream wedding outdoors. A quick solution is clear heel stoppers you can order online or find at most bridal stores. They're inexpensive, and they keep your heels from sinking into the ground.
Also, the bride needs to be prepared for stains on her dress. After all, you're outside, and as Duncan says, stains are going to happen. "You need to plan on grass stains," she says. "It doesn't matter if it's rain or shine, you'll have mud, so maybe you would rather be indoors if dress stains are going to stress you out."
Think about the needs and comforts of your guests
Yes, it might be the happiest day of your life as a couple, but you don't want it to be a miserable one for your guests.
Horton agrees, and says it's important to think about the comfort of your guests, because no one wants to go to a wedding where they are freezing or are too hot.
When you are thinking about your guests, consider their bathroom needs. Is there a bathroom on-site? "Are you okay with just bringing in clean port-a-potties, or do you want to bring in a more luxurious bathroom?" Duncan says these are a few things you need to ask yourself, because, well frankly, everyone needs a bathroom at some point.
Think About the Food
Duncan says one of the most important elements of an outdoor wedding is safe food storage and preparation.
Duncan says to talk with your caterer about temperature. Maybe you need a generator on-site, refrigeration or hot boxes. She says if you don't have a caterer and are doing a potluck, you can still consult with a caterer.
Don't Let People Talk You Out of It
Horton says that if an outdoor wedding is really what you want, you shouldn't let others talk you out of it. After all it is your day. "If it's what feels right, don't let people scare you into not going for it," she says. She says weather changes so often that you can't be afraid to go for it if it seems special to you, and nine times out of 10 it works out. Horton says even her own wedding was supposed to have bad weather, but instead it turned out to be sunny and 60 degrees in late fall.