Things to Do
Meramec Caverns
Meramec Caverns is the largest commercial cave in Missouri and is well worth the trip.
by Sony Hocklander
Aug 2023
Travel Time
160 miles northeast of Springfield
Tough Stuff
The 1.25-mile tour includes ramps, one flight of stairs and occasional low ceilings. Tour guides briefly show visitors what total cave darkness is like.
Itinerary
Kids can pan for fool's gold, fossils and gemstones; choose sweets at Granny's Candy Store; or get ice cream at the diner (open seasonally).
Don't Miss
Meramec Caverns has many ancient formations including the rare "Wine Table," which developed completely under water in what's now known as the Wine Room.
You'll drive a little farther to visit Meramec Caverns, but if you want to explore the largest commercial cave in Missouri, it's worth it. In fact, you can make your visit to the seven-story-tall cavern a full-blown vacation.
Located in Sullivan near Stanton, Missouri, there's a lot to do during warm months. In addition to the cave tour, Meramec Caverns offers a climbing wall, ropes course, zipline, float trips and a canopy-covered 30-minute river cruise. Not only that, you can camp at Meramec Caverns or stay in lodging nearby.
The cavern, of course, is the centerpiece. A nearly 90-minute guided walking tour along a 1.25-mile path reveals several levels of cave rooms and formations including the "ballroom" (once a dancing area with live music). Tours leave every 20 to 30 minutes beginning at 9 a.m. and include the rare Wine Table, which developed completely under water in what's now known as the Wine Room. There's also a patriotic presentation and LED light show inside the cavern's Theatre Room.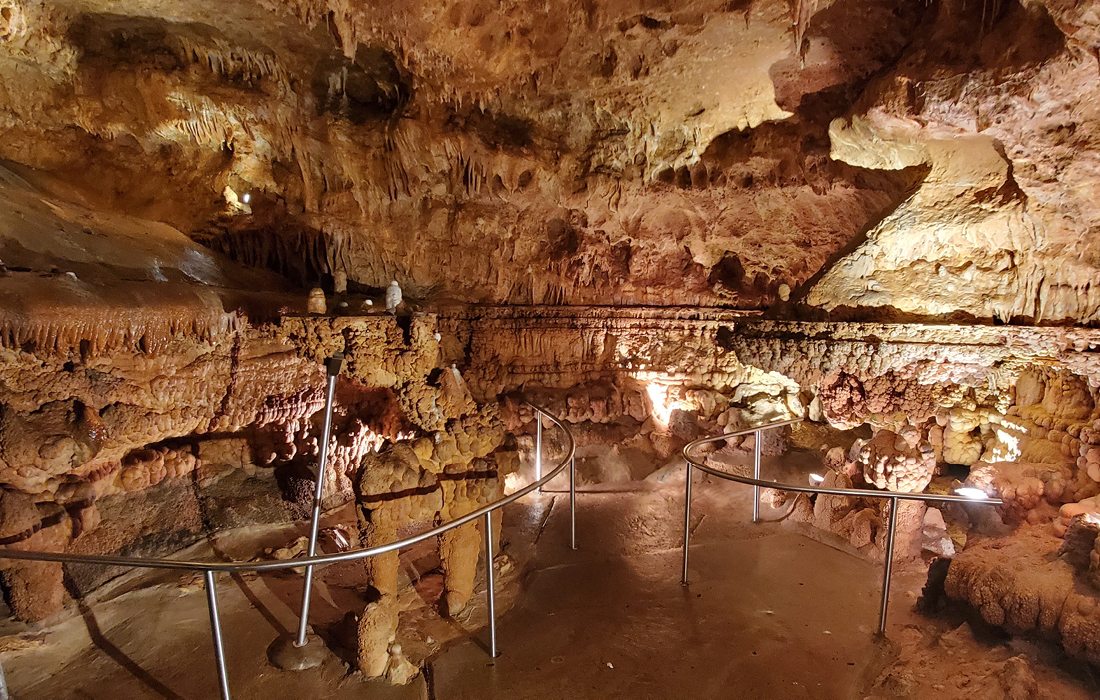 Meramec Caverns stretches over 4.6 miles.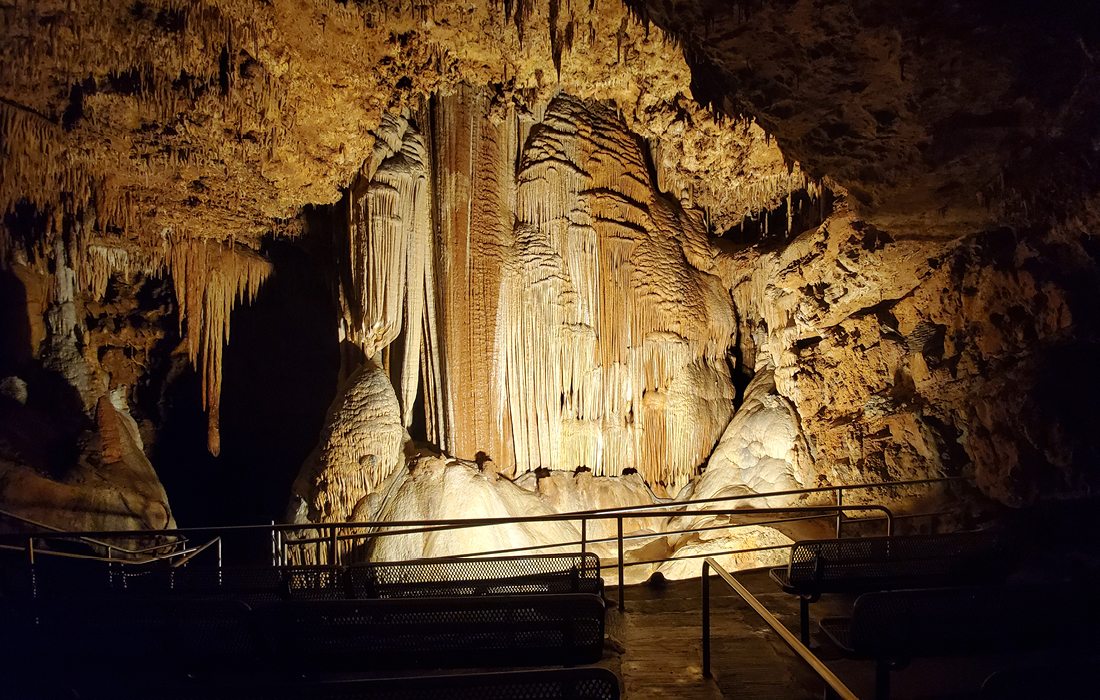 Meramec Caverns is filled with amazing rock formations.
Photos courtesy Meramec Caverns
Meramec Caverns, stretching over 4.6 miles, was originally known as Saltpeter Cave, with an entrance that was 50 feet wide and 20 feet high. After members of the Osage tribe showed the cave to French explorer Philipp Renault in 1720, saltpeter was mined to manufacture gunpowder for 144 years, until the Civil War.
Starting in the 1890s and early into the next century, locals in Sullivan and Stanton held summer cave parties in the large cavernous "ballroom" to cool off. In 1933, Lester Benton Dill purchased the cave, renamed it Meramec Caverns and soon after opened it to the public for tours. The cave complex remains owned by his family today.
It was Dill who discovered that the cave was larger than he imagined, with more caverns filled with amazing formations. Among them was what became known as the "Stage Curtain," now the backdrop for the LED Light Show. In 1941, during a drought when water levels dropped, Dill discovered another section of the cave, plus 1870s artifacts attributed to the outlaw Jesse James, leading to the cave's new claim to fame as a Jesse James hideout. Then in 1947, a lower level was opened with even more passages to view. The caverns, which date back 400 million years, even have a Hollywood connection: A portion of the early '70s movie Tom Sawyer was filmed in the cave.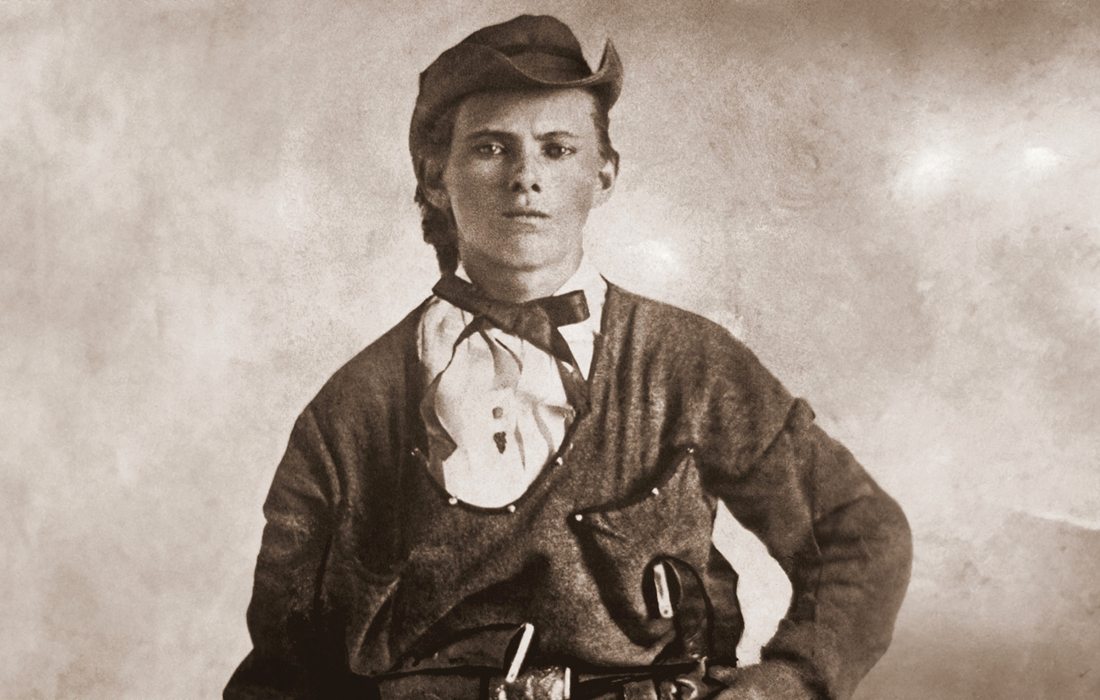 Loot Rock in Meramec Caverns
Photos courtesy Shutterstock, Meramec Caverns
The Jesse James Connection

When it comes to the famous outlaw Jesse James, plenty of communities claim a little piece of his story. "There used to be a standing joke that they think Jesse and Frank James must have visited every cave in Missouri," says Lester Turilli, whose family has owned Meramec Caverns since 1933. Turilli's grandfather, Lester Dill, found Jesse James-related artifacts in Meramec Caverns in 1941. And even before that, Turilli says, local stories placed James in the area.
Meramec Caverns isn't the only Missouri cave that claims to have ties to Jesse James. The outlaw was also said to hide in Hannibal's Mark Twain Cave while heading for Independence to form a new gang of outlaws. The cave even bears his name dated Sept. 22, 1879—16 days before his next train robbery. Some historians and Jesse James enthusiasts say the cave connection is overblown or even mythical. But today, his legacy is still talked about at these Missouri tourist attractions.
Born in 1847, James grew up on a Clay County farm where his family supported the Confederacy during the Civil War. After an encounter with Union soldiers, the James brothers joined a guerrilla unit where Jesse learned how to strike and hide. After the war, he began robbing banks, stagecoaches and trains to wide acclaim and terror until he was fatally shot at age 34.
Because of James' notoriety, another Missouri cave has a more glamorous connection. In 1938, Hollywood descended upon Pineville while shooting the movie, Jesse James. Some filming took place at a private cave about two miles northeast of town along Big Sugar Creek. The movie was an economic boon to McDonald County, says Phyllis Chancellor, president of the McDonald County Historical Society. "Thousands converged on Pineville, Noel and Southwest City during the filming, hoping to see Tyrone Power, Henry Fonda, Nancy Kelly and Randolph Scott," she says. Today, Pineville continues to hold an annual Jesse James Festival.