Things to Do
Smallin Civil War Cave
Smallin Civil War Cave offers a rich history once you step inside its impressive entrance.
by Sony Hocklander
Aug 2023
Travel Time
17 miles southeast of Springfield

Tough Stuff
Actually, not so tough! A tour of Smallin Cave is a half-mile walk on a gently sloping path with no stairs. The path is accessible to wheelchairs and other mobility devices. 
Itinerary
Stop by the Osage Trading Post gift shop in the visitors center for an inexpensive souvenir. And ask to visit Fielden Cave, a smaller cave nearby.
Don't Miss
The limestone formation Indian Ladder looks like it has graffiti, but the signatures are part of the cave's history with many local family names from the 1800s.
Tucked into the hills near Ozark, Smallin Cave offers an accessible one-hour tour that goes back half a mile along a gentle slope without stairs. While it may take less effort, Smallin is no less impressive than other tour caves, especially when you factor in its history. Plus, you can easily add it to a fun day out, including a visit to the nearby downtown Ozark Square or Finley Farms.
The wonder starts before you enter the arched mouth of the ancient cave. At roughly 55 feet high and 100 feet wide, it's among the largest entrances in Missouri. The experience changes with the level of a cave creek that emerges and grows after rains. When the creek is low or relatively dry, more adventurous visitors can take a Wild Cave Tour, and in the fall, Civil War Lantern Tours are offered.
Once inside, tour guides share the cave's rich, well-documented history. Fossils from ancient sea creatures are embedded in the ceiling, and when the creek is down, you'll see large sections of rimstone dams—a calcite deposit on the floor of the cave created from the creek's ebb and flow.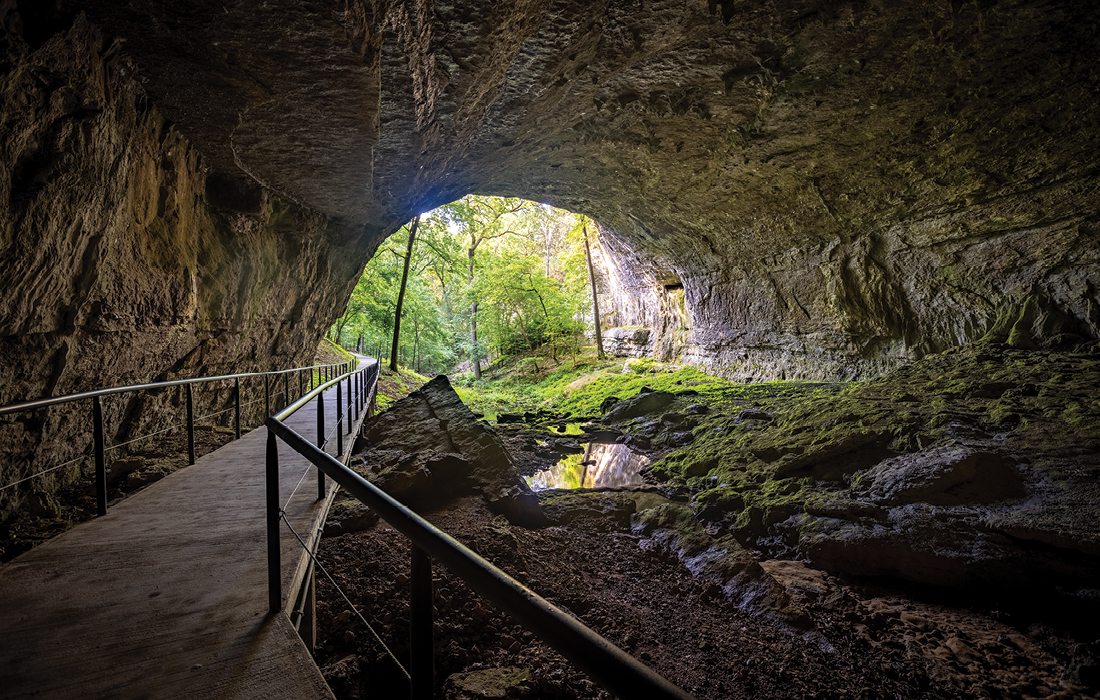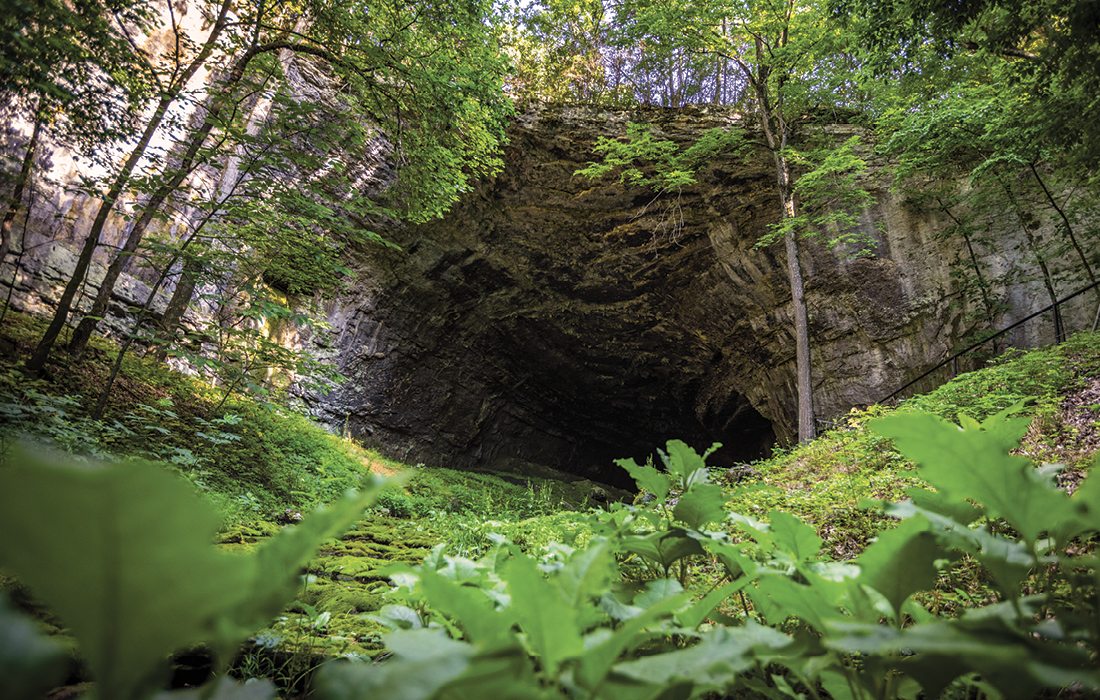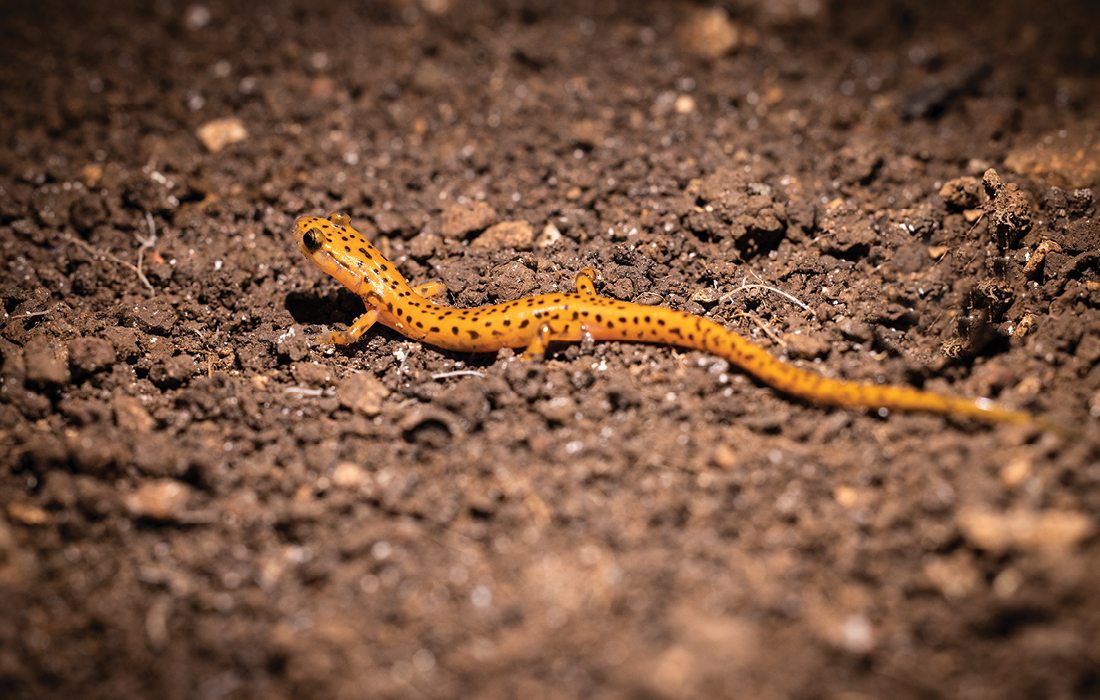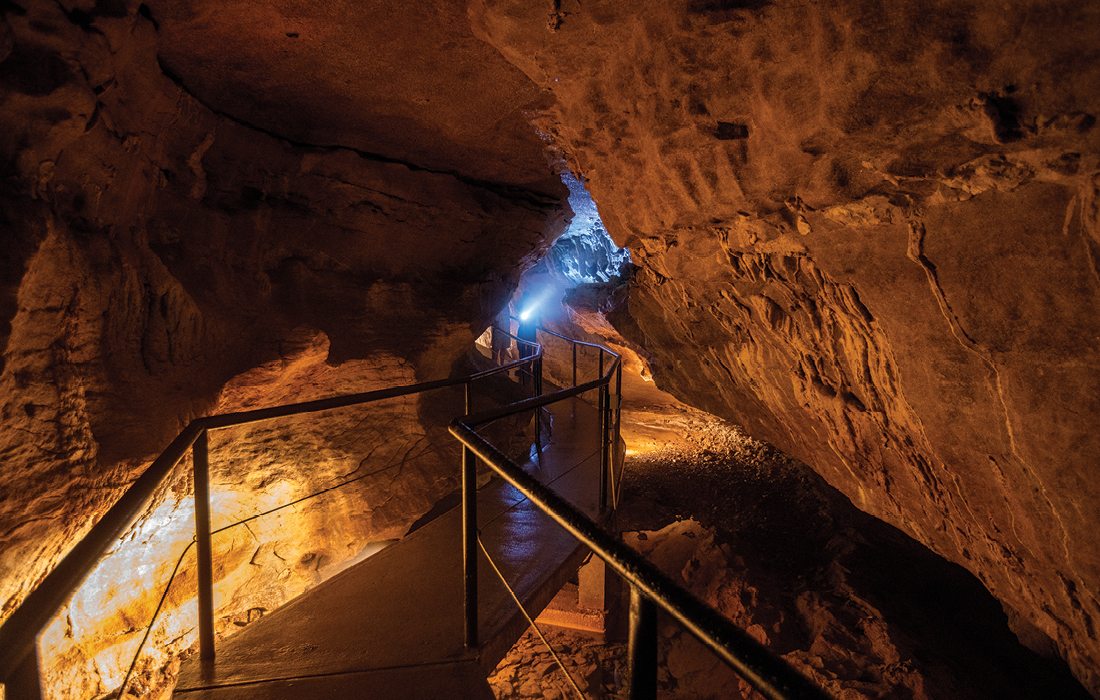 Perhaps the most impressive attraction is a large dome-like formation called Indian Ladder. Handholds on one side show evidence of early cave occupation. Many signatures on the formation were placed there in the mid-to-late 1800s by people known from local history, including the recently discovered Quincy A. Smallin, son of the original homesteaders, Jerry and Jane Stapp Smallin.
Evidence of human use for centuries is part of Smallin Cave's story. Studies determined it was used by various people for more than 8,500 years and the cave bares carvings, inscriptions and ancient petroglyphs. The first documented cave in the Ozarks, it was described two centuries ago by explorer Henry Rowe Schoolcraft in early 1819. Since Schoolcraft's time, there are accounts the cave was used by Native Americans, by soldiers during the Civil War and by 19th and 20th century families for washing and for taking picnics.
Joseph Bulger purchased the property in the early 1960s and opened the cave for commercial tours. After he died in 1966, the land and cave were used privately until purchased in 2009 by current owners Wanetta (who wrote a book about the cave) and Kevin Bright.
The cave and its surroundings were recognized as a Historic District in the National Register of Historic Places on March 8, 2018, and today's visitors can see many of the same wonders described by Schoolcraft in 1819.