Things to Do
Fall in Love with Rutledge-Wilson Park
This park profile focuses on Rutledge-Wilson Farm Park, a Springfield spot that is stellar year-round—but for different reasons every season.
By Katie Pollock Estes
Oct 29 2021 at 8 a.m.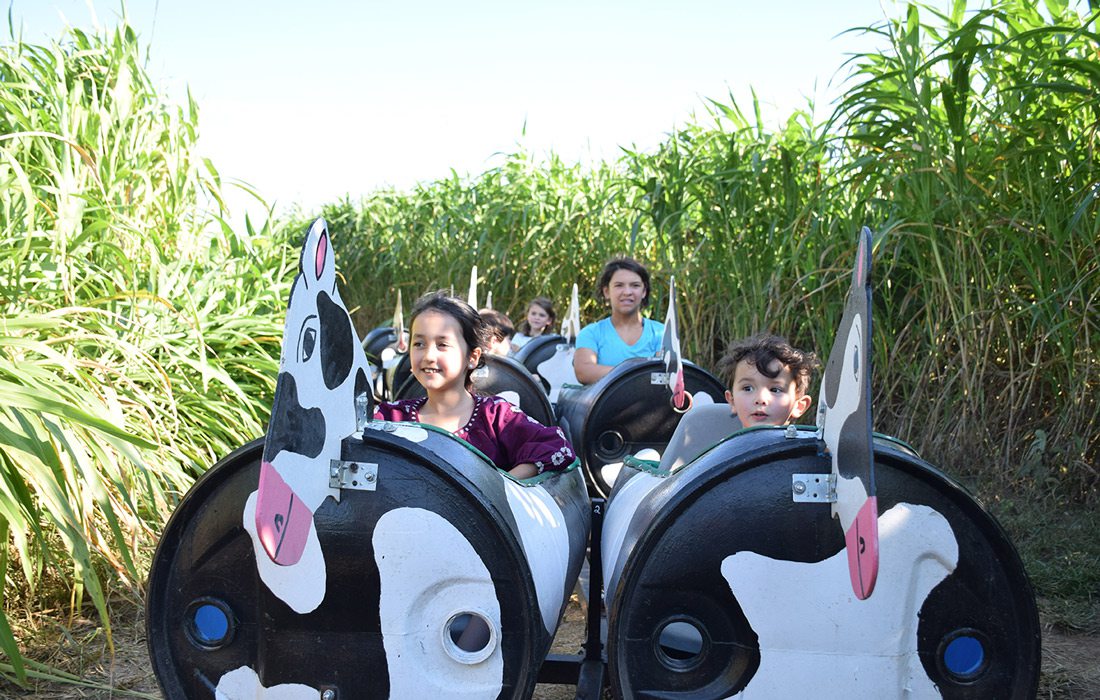 It's hard to pick a park to profile that's as much fun in the winter as it is during more temperate seasons. But Rutledge-Wilson Farm Park (3825 W Farm Rd 146, Springfield, 417-837-5949) falls squarely into that category. We love it for its family-friendly versatility and its events that bring the community together for seasonal fun.
Any time of the year, the 207-acre park offers farm-themed activities that kids go wild for. There are goats, mini horses and sheep to pet and lots of other animals to view, like chickens, pheasants, cows and wallowing pigs. Even the multi-level playground is farm-themed, with the look of a big red barn and lots of places to climb, slide and hide. You can visit the gift shop (or avoid it like the plague if you're that kind of parent). And while the kids are getting their fill of all-things-animals, you can get your steps in while you trail them on their adventure.
So as you enter chilly winter days and need inspiration for some outdoors fun, check out one of the very best year-round, kid-friendly attractions in town.
For Animal Lovers
This is the heart and soul of Rutledge-Wilson Farm Park. Kids who visit the 207-acre park get a chance to view farm animals like pigs wallowing in the mud, goats climbing around their enclosures, mini horses and mini donkeys, fluffy sheep and feathery friends like chickens and turkeys. There are opportunities to learn about farming during special events and in the animal barn where they can pretend to milk a dairy cow.
For Cozy Nights Out
Who doesn't love the autumn trifecta: hot marshmallow s'mores, cool fall air and a starry night sky. At Rutledge-Wilson Farm Park, you can make an appointment to book one of the park's bonfires at their cozy outdoor fire pit. You get wood for the fire and benches to sit on, but it's up to you to bring the marshmallows, hot dogs and roasting sticks.  
For Holiday Fun Seekers
Although fall fun like Rutledge-Wilson's Harvest Fest—with its pumpkin patch and corn maze—has come to a close, the winter holiday fun is about to begin. Every year, the park hosts Candy Cane Lane, a drive-through lights display featuring more than 10,000 lights spread across numerous farm-themed scenes. The event starts next month: December 3–5, 10–12 and 17–19 from 5–8 p.m., and admission is $5 per vehicle.
For Adventuresome Kids
Active kids who want to run around can also explore the park by climbing around on the multi-story barn-themed playground. And if they don't get all their wiggly energy out there, they can hop over to the area near the visitor's center that has pedal tractors. Plus, they can trek down to the pond for some fishing for $5 per person. It's stocked with fish, and you can rent bait and equipment at the visitor's center. The fishing is catch-and-release only—so they get all the fun of fishing, but you don't have to haul anything home with you.