Things to Do
Fall in Love with Rutledge-Wilson Park
This park profile focuses on Rutledge-Wilson Farm Park, a Springfield spot that is stellar year-round—but for different reasons every season.
By Katie Pollock Estes
Nov 01 2019 at 8 a.m.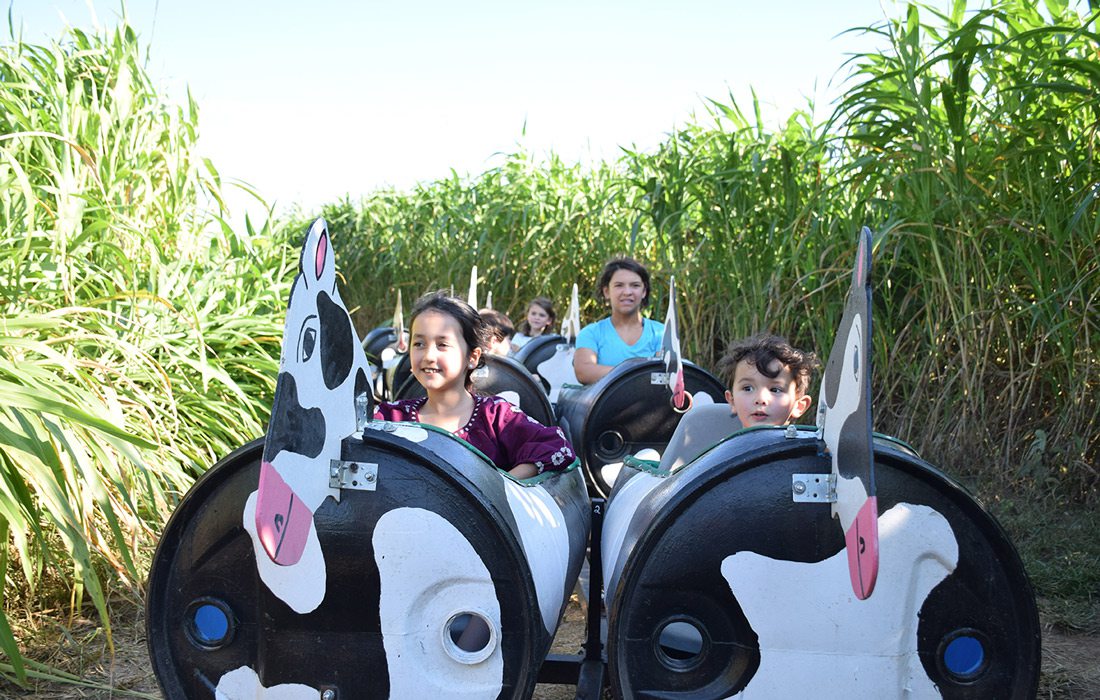 It's hard to pick a park to profile that's as much fun in the winter as it is during more temperate seasons. But Rutledge-Wilson Farm Park (3825 W Farm Rd 146, Springfield, 417-837-5949) falls squarely into that category. We love it for its family-friendly versatility and its events that bring the community together for seasonal fun.
Any time of the year, the 207-acre park offers farm-themed activities that kids go wild for. There are goats, mini horses and sheep to pet and lots of other animals to view, like chickens, pheasants, cows and wallowing pigs. Even the multi-level playground is farm-themed, with the look of a big red barn and lots of places to climb, slide and hide. You can visit the gift shop (or avoid it like the plague if you're that kind of parent). And while the kids are getting their fill of all-things-animals, you can get your steps in while you trail them on their adventure.
So as you enter chilly winter days and need inspiration for some outdoors fun, check out one of the very best year-round, kid-friendly attractions in town.
What to Do in the Winter
During the month of December, Rutledge-Wilson Farm Park transforms into a holiday lights trail called Candy Cane Lane. For $5 per car, you can meander through the park and view 10,000 twinkling lights in farm-themed displays. Spring for a hot chocolate to make the effect extra-cozy. Additionally, the park's bonfire rentals are available year-round but are an especially fun way to warm yourself on a cool but not-too-cold evening. Visitors can reserve them for a two-hour minimum and pay $40 per hour (plus extra after 5 p.m.) for pit access, wood to burn and benches to sit on. Bring your own roasting sticks and marshmallows.
What to do in the Spring and Summer

When the warmer months roll around, it's all about outdoor fun. The park's pond is stocked with fish. You don't need a fishing license to catch and release lil' swimmers at Rutledge-Wilson, and you can even rent rods, reels and bait for $3.50 per hour. After some pond-time, walk around the park's trail or admire the 20 acres of native prairie land. The summer is also great for farm-centric kids camps to keep your little ones busy when school is out.
What to do in the Fall
Fall is one of the best seasons at Rutledge-Wilson because Harvest Fest seems to last forever—and offers so much to do. It runs through the month of October and incorporates just about every fall activity into its sprawling space. The lawn is packed with carnival games and inflatables (the giant slide is a favorite), along with snack vendors. You can get lost in a corn maze or hop onto a hayride before you choose a pumpkin from the patch and call it a day. At night, there's a haunted trail walking path and bonfires, and the hayrides continue into the evening. Around Halloween, one of the Harvest Fest days is devoted to Halloween activities—and kids are encouraged to come in costume.