Things to Do
Take a Stroll in Dominion Gardens & Arboritum
Pat and John Horner's stroll garden on Historic Walnut Street is a labor of love that they share with the public.
By Tessa Cooper
May 2023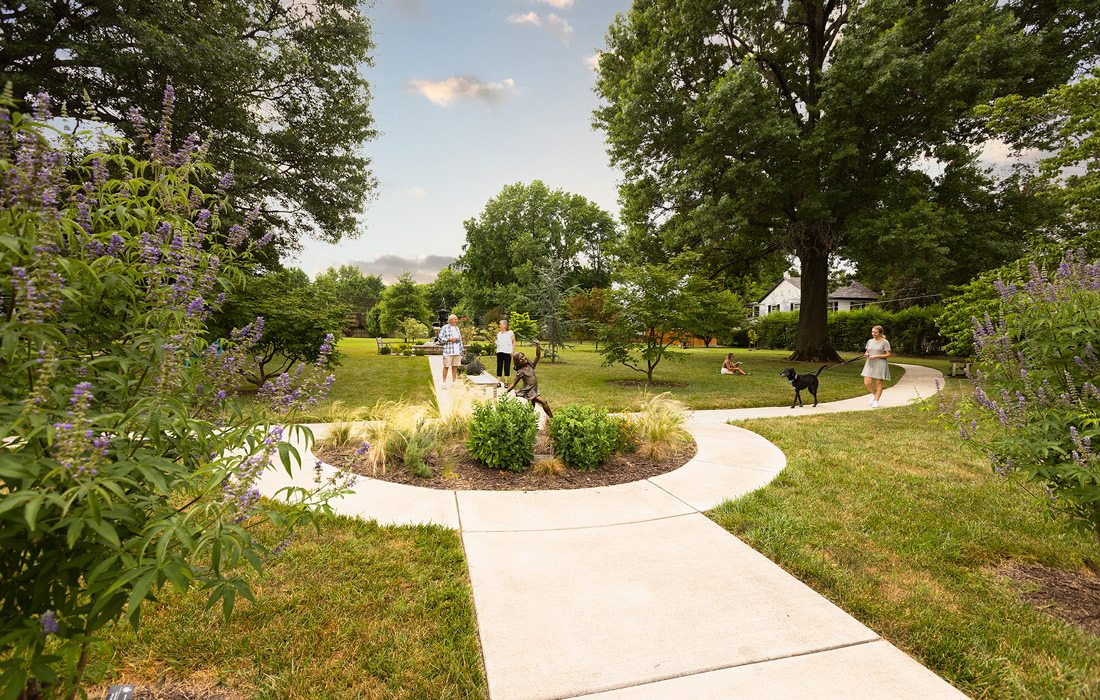 A century-old home with a double lot near the center of Springfield is a rarity, but Pat and John Horner are the fortunate owners of one. When the couple purchased their home and its adjoining parcel of land in 2016, they had several choices on what to make of their lot. They could have kept this precious piece of real estate to themselves or built another home to turn a profit. Instead, they transformed it into Dominion Gardens, a 1.25-acre park that is open to the public to enjoy.
Pat and John got the idea to create this strolling garden within their neighborhood after visiting Seattle, where small public parks nestled in neighborhoods are a common sight. "We thought that to just keep it to ourselves and try to keep people out would be kind of selfish," says John. "If you get something like this, why not let other people enjoy it?"
An iron gate with ornate scrollwork and a sign that says "Visitors Welcome" are some of the first visions that greet guests as they enter from historic Walnut Street. Beyond the gate, a paved strolling path that spans ⅛ of a mile wraps around a patinaed bronze fountain (pictured opposite) imported from Europe, and 85 trees, 35 shrubs and 125 perennials are there for your viewing pleasure. 
Aside from just seven of the 85 trees, none of these touches of beauty were there prior to Pat and John's ownership of the lot. They had room to work with after doing some necessary clearing, so they asked Tulsa-based landscapers at R.L. Shears Company, P.C. to prepare the initial conceptual landscape plan. The couple hired local landscapers to plant many of the trees and shrubs, but they have added several with their own two hands as well. 
John's brother owns Ozark Custom Engravers, so John commissioned him to make signage throughout the garden. Some of the signs are educational, and some contain inspiring scripture verses and quotes. One of the signs displays a Robert Breault quote: "I sit in my garden, gazing upon a beauty that cannot gaze upon itself. And I find sufficient purpose for my day." Pat and John placed benches throughout the park for that very reason. "People will come out here and sit around that fountain and just ponder," John says.