Things to Do
U-Pick Strawberry Farms in Southwest Missouri
Check out these U-pick strawberry farms—where the fruit hits its peak in May—and collect some of nature's candy for you and your family.
By Zachary Raines
May 01 2022 at 8 a.m.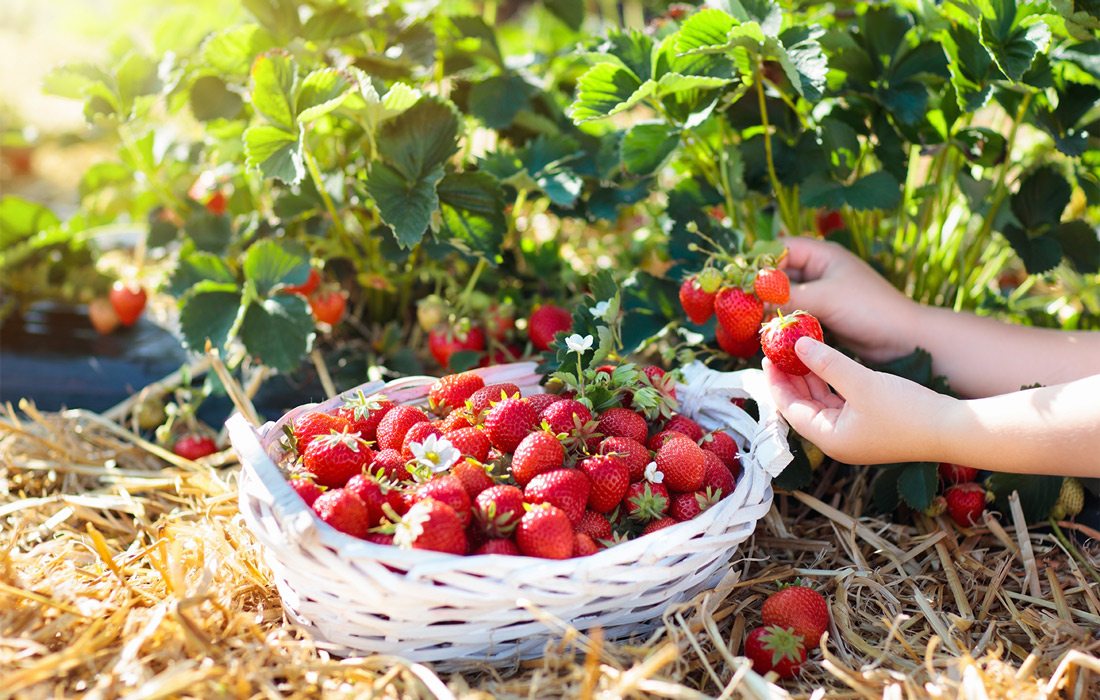 This page was updated with new information, 04-29-2022. All farm hours vary depending on weather and availability.

5935 Hwy. M, Miller, MO, 417-452-2400
Celebrating their 26th season this year, the Browns know an early start is key to picking the best strawberries. That's why the gates open Monday through Saturday at 7 a.m. and close at 7 p.m., and open 1 p.m. to 7 p.m. on Sundays. Strawberries will be ready in early May through early June. Throughout the strawberry season, the farm also offers potted flowers and hanging baskets for sale, along with freshly made baked goods like bread, cakes and pies.

30558 US 60, Pierce City, MO, 417-669-7792
Get out in the sun at Crafty Farms. Due to their ever-bearing strawberry plants, the season gets an extension, meaning you could be picking strawberries in October. Crafty Farms is a family-owned business that offers U-pick for strawberries, blueberries and blackberries. Take your family out for the day and enjoy some fresh fruits and vegetables. Be sure to call ahead during inclement weather or to check for the berry of your choice's availability.

879 Crabapple Road, Ozark, MO, 417-229-1090
Strawberries are ready for picking at High's Berry Farm this May to pick delicious strawberries for you and your family. Family-owned and operated, High's Berry Farm is a U-pick and pre-pick strawberry farm located south of Ozark, just west of the 65 and EE exit. The farm opens early and closes late to ensure you can pick strawberries any time of day. The farm also keeps pre-picked berries on hand for last-minute shoppers; call ahead for large orders.

2097 S. Highway PP, Republic, MO, 417-536-5656
Think of Missouri Berries—417-land's newest u-pick berry farm—like a springtime version of a pumpkin patch. With grain bin basketball, an obstacle course, walking trail and picnic tables, this is the perfect spot to spend a beautiful spring day outdoors with your crew. The family and veteran owned farm has over 50,000 strawberry plants which should be ready to pick by mid may. Berries are $4.25 per pound for u-pick and $5.00 for pre-picked.

2949 Pleasant View Road., Highlandville, MO, 417-443-3343
Head down to Ozark Mountain Orchard to pick your own strawberries. Ozark Mountain Orchard opens at 10 a.m. and closes at 6 p.m. Monday through Saturday, 11–4 on Sunday. Ozark Mountain Orchard is a family-owned and operated business growing various fruits and vegetables.  In addition to strawberries, they have berry picking for blueberries and blackberries.  Be sure to check in beforehand to see if the berries you want to pick are available.