Trails
The Ozark Mountains' New Mountain Bike Trail
Guests from around the country have fallen in love with a new mountain biking park tucked into the Ozark Mountains.
By Michelle Lewis
Dec 2022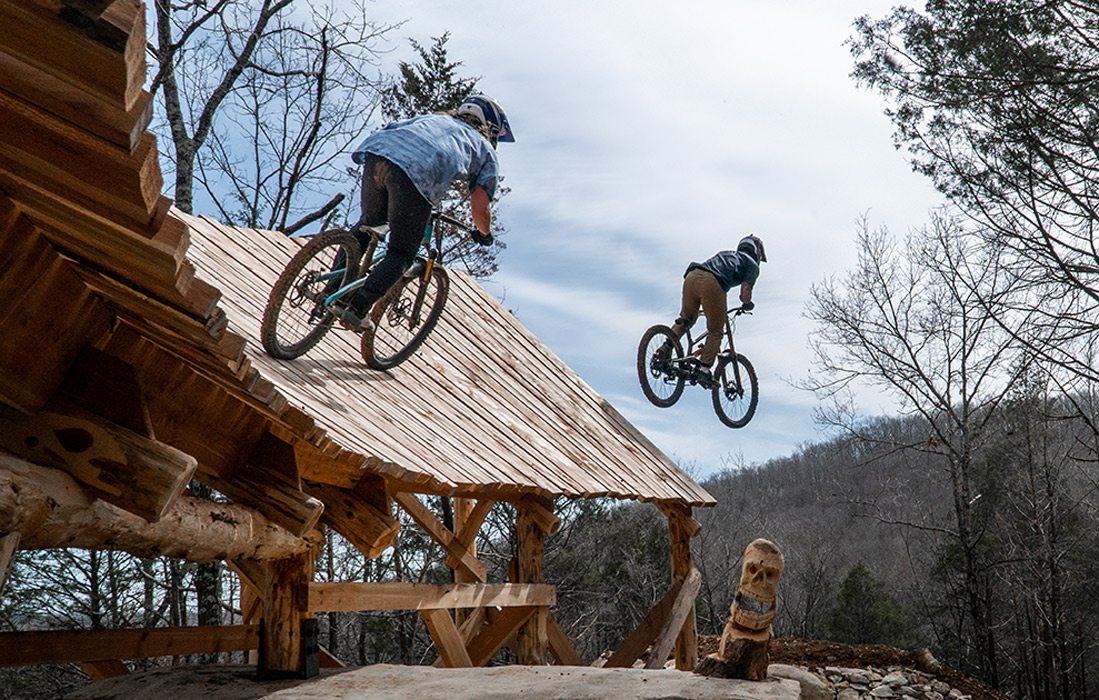 For some, Missouri may not be the first state that comes to mind for mountain biking adventures. But those local to 417-land know the area offers exceptional hills and thrills to anyone who desires them—and an ever-growing network of trails and mountain biking hot spots.
In 2020, Max Penny opened Mountain Movement, a local bike shop with the mission of growing mountain biking in the Midwest. As the shop grew, Max and his team wanted to create a place where their customers could grow as riders. When they stumbled upon land just north of Branson, the vision was able to become a reality. 
Built in just over a year, Howler Bike Park offers a variety of trails for every level of mountain biker. The seven trails that the park currently hosts take riders through beautiful surroundings and provide progression for every biker. Riders can get started on the Scroller Coaster, a green circle rated trail that can introduce new riders to the sport or act as a warmup for more experienced riders. On the other end of the spectrum, experienced riders can find exhilarating double black diamond trails with sculpted jumps and steep banked turns. 
The core value of family-owned Howler is to create ever-changing and evolving trails. "We're always trying to keep moving," says Penny. With a full-time maintenance crew, the park creates rider-oriented trails that offer new experiences for every visit. 
While the world of mountain biking may be a daunting one to enter, Penny encourages new riders to give it a shot. Howler offers rentals for everything you would need, so all you need to bring is yourself. Plus, you can plug into a mountain biking community. Riders ride up the mountain in a shuttle together, where new riders can feel more comfortable and get to know others. 
After burning calories on the trail, visitors can try the Howler Burger at The Growl, Howler's onsite restaurant. Travelers or those looking for more than just a day trip can book one of the Howler Glamping sites that host canvas tents with a queen size bed.
Penny hopes to raise the trail capacity of the park and continue to introduce advanced and modernized mountain biking trails.