Profiles
Carmelita Jeter Races into her New Role as MSU Track Coach
Sprinter Carmelita Jeter has been named the fastest woman alive—and she's got the Olympic medals to prove it. Now she's grooming the future of the sport as assistant women's track coach at Missouri State University.
By Jeff Houghton
Mar 2019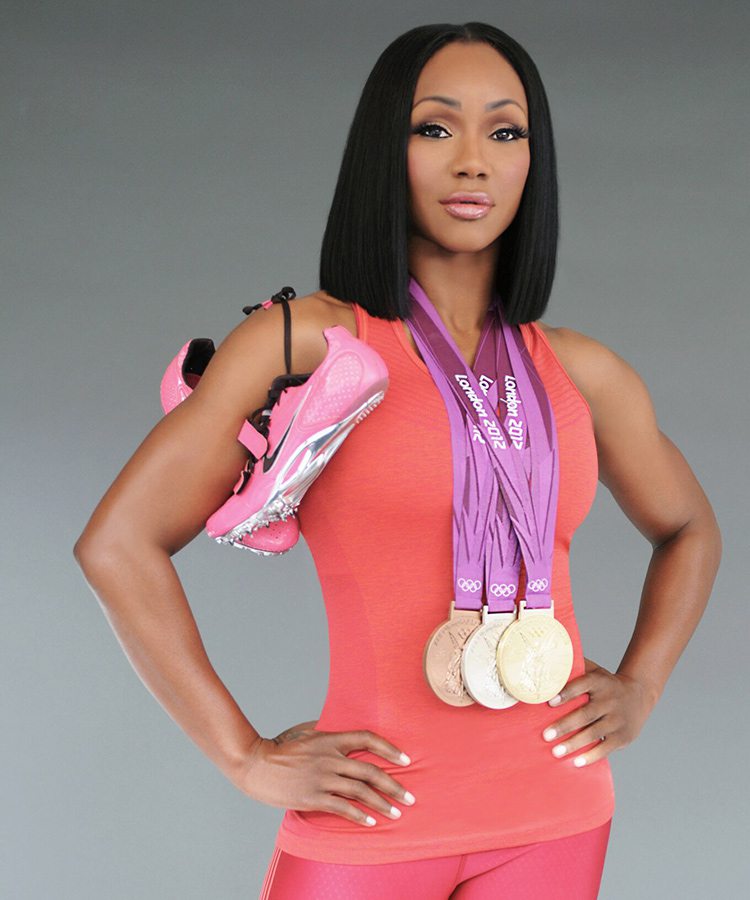 Carmelita Jeter has been dubbed "the fastest woman alive," and it's easy to see why. Jeter currently holds three of the top 10 fastest 100-meter dash times in history. During the 2012 Summer Olympics held in London, she won gold in the 4x100 relay, silver in the 100-meter dash and bronze in the 200-meter dash. As much as she seems uniquely made for sprinting, she also seems made for coaching. Now Jeter is getting her first shot at it as an assistant women's track coach at Missouri State University.
417 Magazine: How did you end up at Missouri State?
Carmelita Jeter: That's the million-dollar question everyone asks me. Honestly, I wanted to start a career in collegiate coaching, and I wanted to be at a program where I could really show my skills and grow a program. MSU was just a great fit.
417: What was your first impression of Springfield and the MSU track program?
C.J.: When I flew in for the interview I was like, "I am not going to live in Missouri." I come into this little airport, but when I got off the plane, I said, "Wow, I'm moving to Missouri." I already knew it. Then meeting coach Jordan Fife, the athletic directors, everybody was just great.
417: Was it hard to decide you were ready to be done competing when it was time?
C.J.: No, not at all, and the reason was that I had done so much. I was complete. I put everything I had into 2016, and I did that on purpose because I never wanted the shoulda, coulda, woulda moment some people have. I was okay with walking away.
417: When did you know you were faster than everyone else?
C.J.: Growing up I was just a tomboy. [I] played with the boys all the time, and I was faster than a lot of them, but I didn't start track until I was 14. I didn't know that I was going to be great until the 2004 Olympic trials. I didn't make it out of the first round, but I knew I belonged. 


417: What was the first team you qualified to be part of?
C.J.: I made the World Championships team in 2007 when I was 27.
417: That's old for that, right?
C.J.: Hey now, we're not going to say that.
417: Sorry, it just came out...
C.J.: We're going to say that I was experienced.
417: When did you make it on to your first Olympic team?
C.J.: I made the team in 2012 when I was 32. I always tell people do not put an age on what you want to do. I got three medals and a record at [age] 32.
417: How do you bring your experience into coaching?
C.J.: For my coaching style, I just put everything I liked from my coaches in one person. The No. 1 thing I brought to the Missouri State athletes is, "I believe in you. I don't have to yell at you or curse at you, belittle you. My job is to build you."
417: Looking back, what do you consider your proudest moment of your career?
C.J.: When I ran 10.6, the second fastest time ever by a woman in 2009 in Thessaloniki, Greece. 
417: What other moments from your career stand out to you?
C.J.: Making the team in 2007, because I gambled with that one, and I won. I had a contract on the table that I didn't think was enough, and I said, "I'm going to wait until after the race." One thing I will always do, and I teach this to my girls, is you always bet on yourself. After the race I made the team, so they had to up the contract.
417: Are there any races that still nag at you?
C.J.: At the 2012 London Games, I took silver in the 100. I barely missed it. I beat myself up for weeks, but you know what? I had to check myself. With track and field, it's either your day or it's not.
417: So you gave yourself a pep talk to get past the disappointment?
C.J.: Right, I had to give myself a pep talk and say, "Shake it off. You're going to sit here and question yourself? What are you doing?"
417: When running 100 meters, do you have time to think about what you're doing, or do you just have time to run?
C.J.: You just go. All the mental stuff is before the race. If you're thinking in the race, you've lost because you're looking around.
417: Did you have a go-to pump-up song you'd listen to before a big race?
C.J.: It depended on my mood. I could go from "Benny and the Jets" to Tupac to Jay-Z to Adam Levine.