Profiles
Debbie Ophoven Shares Tips for Raising a Student Athlete
Debbie Ophoven is a successful sales rep and mother of volleyball star Ashley Ophoven, a senior at Ozark High School who committed to play at Missouri State University. Debbie dishes on her journey of raising an athlete and a 4.2 GPA student.
By Ettie Berneking, Katie Pollock Estes, Gerri Mack and Savannah Waszczuk
Mar 2015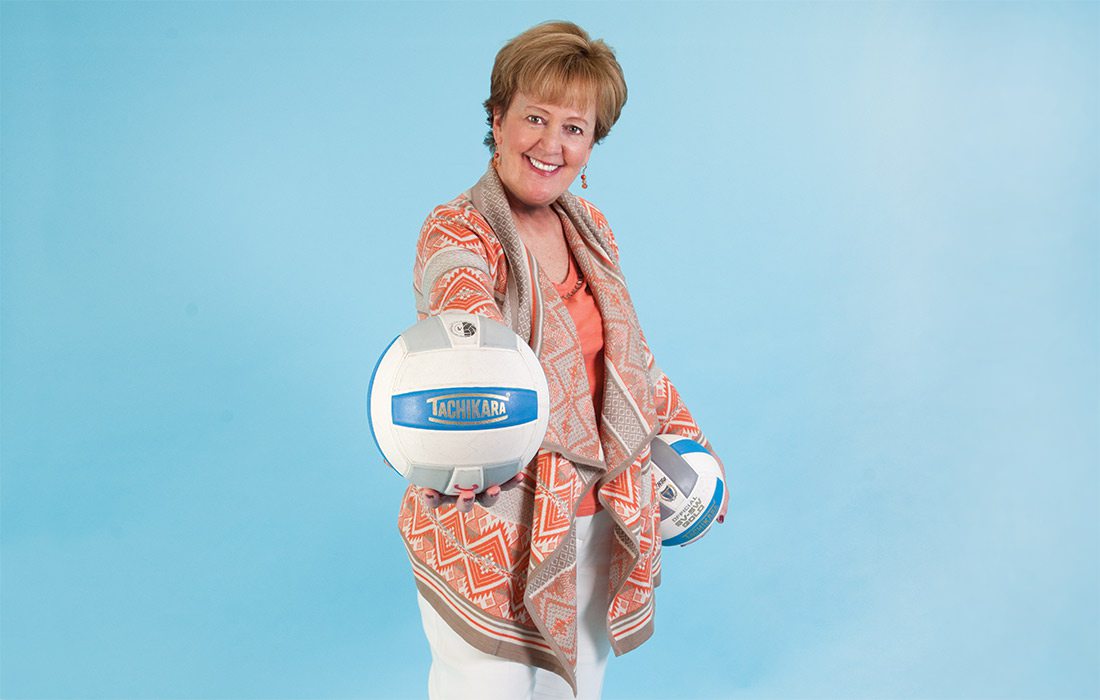 417 Magazine: How did you help Ashley develop her volleyball skills?
Debbie Ophoven: We signed her up for a program called CODP, a Community Olympic Development Program, which is the only Olympic-sanctioned program for volleyball in the country. And it's in Springfield. Later we got her into a competitive league, and she played competitively from seventh grade on. She also went to college camps between sophomore and junior year. Everyone told us that college camps were a good way to get college coaches to look at your kid. 
417: How did you, as a working mom with a full-time career, balance practices, games for both school and competitive leagues and a slew of other activities in Ashley's super-demanding schedule?
D.O.: I'm fortunate because my job gives me some flexibility, and I don't have to stay in the office until 5 p.m. every day. In high school, the freshman team would play at 4 p.m., and I didn't miss very many games. Even if it was traveling to Neosho or Webb City, I would cut out of work at 3 p.m. and travel to see the games. But before she got her license, it was a lot of traveling back and forth for practices, games and everything else. It was definitely a commitment for all of us.
417: What was your biggest challenge is raising a daughter who was so involved in volleyball?
D.O.: Keeping her focused on the right things, and not letting her get too focused on any one thing. We knew it was important for her to be able to keep friends who weren't volleyball players, and that she couldn't just live in this one little bubble. We wanted to make sure she had a well-rounded life and make sure she enjoyed other things outside of athletics. We didn't want her to get burnt out of it. It's easy to burn out.
"I think the best part about being a mom is being able to enjoy all of the different stages that your child goes through… I still think, right now, this is the greatest stage ever."
— Debbie Ophoven
417: When did it go from playing for fun to "Wow, she has a future"?
D.O.: Between sophomore and junior year. Her club coach that year was very proactive and really believed in her. Because of that and the tournaments she was playing in, she had a lot of college coaches looking at her and contacting us.
417: When it became real and colleges were interested in Ashley, how did you feel?
D.O.: Well, it was scary because you think about your kid making that commitment. I was certainly very proud, excited and anxious, all at the same time. So much of what happens in college determines your direction for the rest of your life. You will decide on a career, and your college will likely help you find your first job. Often times you'll even find your spouse. All of those things sort of blossom from this one decision, and it is scary. A lot of prayer goes into that.
417: How are you preparing for an empty nest?
D.O.: Well, I don't know. It's kind of scary, but at the same time, it's exciting. We were older when we got married and didn't have Ashley right away, so we had a time when we played a lot of golf. We also love to travel. There's a lot of things like that we haven't been able to do because we have been so consumed, so we are looking at this as an opportunity to get back to having some fun together again. Just the two of us.
417: What advice do you have for other moms who have kids who play sports?
D.O.: Start early, stay active and stay involved. Also, talk to as many people as you can. 
417: What are three words that describe your life as a mom?
D.O.: Prayerful, joyful and proud.
417: What's your favorite thing about being a mom?
D.O.: I think the best part about being a mom is being able to enjoy all of the different stages that your child goes through. I remember when she was very little, I would go, "Oh my gosh, she's 6 months old, this is the greatest stage ever." Then at a year, I thought it was the greatest stage ever. And I still think, right now, this is the greatest stage ever.
Quick Resources for Moms of High School Students
When it's near time to send your kiddo off to college, boosting his or her ACT score is crucial. These local resources can help boost their score.


Meet other local inspiring moms and gather little nuggets of wisdom along the way.