Profiles
Meet Alison Brawner, Springfield Mom and Camp Barnabas Advocate
This mom of three has an extended family of hundreds thanks to the loving group of campers and staff at Camp Barnabas.
By Ettie Berneking, Katie Pollock Estes, Gerri Mack and Savannah Waszczuk
Mar 2015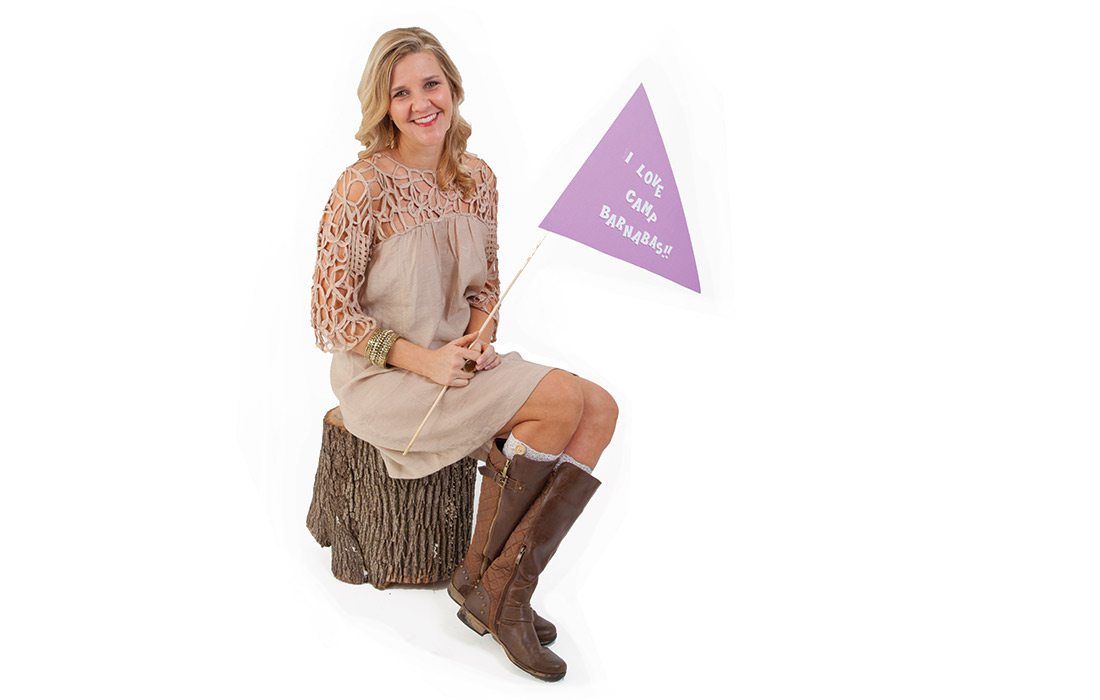 Meet Alison Brawner's family: 11-year-old Jackson, 8-year-old Mollie-Jane, 5-year-old Smith, and her husband, Jason. And you can't leave out the loveable lab mix, Hank, who wants nothing more than a good scratch on the head, and the ancient-but-still-adored English Bulldog, Winston, who rarely leaves his cozy spot next to the family room couch.
With a growing young family romping around inside, this Springfield home is rarely quiet. And when you start to include the dozens of campers and staff from Camp Barnabas who have essentially been adopted into the Brawner family, Alison has her hands full. But there's nothing else she'd rather be doing.
With plenty of laughter and never without a smile, Alison is full of joy, and you can see it mirrored in her kids as they pass through the house while buzzing with chatter and excitement, eagerly meeting the newest person to ring the door bell.
Until Jason took over as director of Camp Barnabas in 2009, the Brawner family was living a typical suburban life, but that all changed. "If you had asked me 20 years ago if we would be doing this, I would have said no," Alison says. "We will support ministry and will be involved, but running a ministry, no. I saw myself living a very normal country club life, which is not what we live now, and I wouldn't have it any other way."
Barnabas was started 21 years ago as a place where campers with special needs could enjoy the action of summer camp in a safe and welcoming environment. Two decades later, and there's a lengthy waiting list of campers.
As soon as school lets out, Alison packs the family van and picks up the kids from school, then it's off to camp! Outside of her full-time job as a licensed professional counselor at CC Counseling in Nixa, Alison dubs herself the camp's P.R. agent as she meets and greets campers, their parents and donors who have never seen the camp before. Even the Brawner kids have roles. Mollie-Jane spends her time in the camper cabins getting to know everyone. Jackson helps in the kitchen, and Smith is just a hugger.
Their years working with the Barnabas family have shaped the Brawner family in ways they never expected. Alison has seen her priorities shift. She's seen the social events take a back seat as she focuses instead on the ministry and teaching her kids the importance of looking at people not for their differences, but for who they are. "My daughter has become best friends with a camper named Rhonda," Alison says. "And when my daughter draws pictures of Rhonda, nine times out of 10, Rhonda isn't in a chair. She's just there. Mollie-Jane doesn't see that Rhonda is in a chair. She just loves Rhonda, and she's 45, and she's in a chair… Where some kids might be embarrassed or weirded out, my kids just don't know any different."
Quick Resources for Families of Kids with Special Needs
An accessible camp and so much more, 417-land has organizations that are here to help the region's special needs kids of all ages.


Meet other local inspiring moms and gather little nuggets of wisdom along the way.