Desserts
Applesauce Cake
Plus an applesauce recipe from apple pro Elizabeth Aselage of A&A Orchard.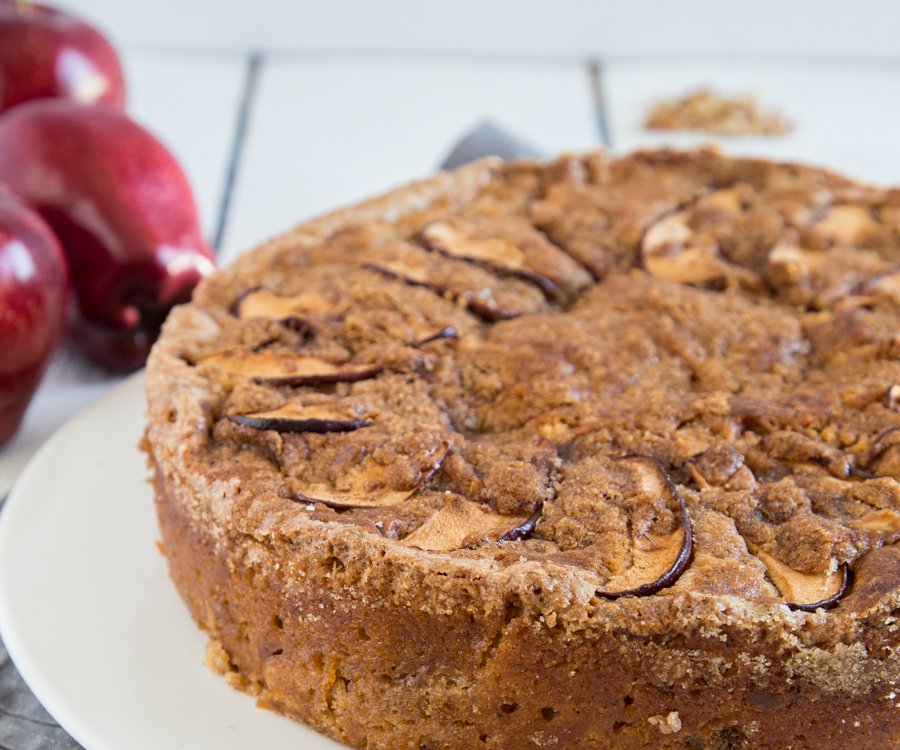 "This cake is super easy to make and is yummy, especially after it's refrigerated overnight. (I did adapt this recipe from one I found in an old issue of Martha Stewart Living.) There are a few steps, but the final product is worth the effort."—Elizabeth Aselage of A&A Orchard
Ingredients
1 cup plus 3 tablespoons butter, divided, plus butter to coat pan
2 cups plus ¼ cup granulated sugar, divided
2½ cups applesauce (see instructions below)
2¾ cups plus 3 tablespoons all-purpose flour, divided
1½ teaspoons cinnamon
½ teaspoon nutmeg
Pinch of ground cloves
Pinch of salt
1¾ teaspoon baking powder
1 cup chopped pecans or walnuts, toasted
1 teaspoon vanilla extract
2 tablespoons Calvados (a French apple brandy)
*Chef's note: I substitute our orchard apple cider.
1 large apple, peeled and very thinly sliced. Mutsu is a good variety because it keeps its body.
¼ cup light brown sugar
¼ teaspoon ground ginger
To Prepare
Heat oven to 325ºF. Brush a 10-inch springform pan with soft butter. Coat pan with ¼ cup sugar, lightly tapping out the excess. Set the pan aside. Combine 1 cup of the butter and the remaining sugar in the bowl of an electric mixer. Beat on medium speed, scraping down the sides of the bowl with a spatula, until the mixture is light and fluffy. Carefully fold in the applesauce. Do not overmix. In a separate bowl, sift together 2¾ cup flour, 1 teaspoon cinnamon, ¼ teaspoon nutmeg, cloves, salt and baking powder. Save remaining cinnamon and nutmeg for the topping mixture. Fold the dry ingredients and toasted nuts into the applesauce batter. Add the vanilla, Calvados (or cider) and apple slices. Mix until just combined. Transfer the batter to the prepared springform pan. In a separate, small bowl, combine the remaining 3 tablespoons butter, 3 tablespoons flour, ½ teaspoon cinnamon and ¼ teaspoon nutmeg with the brown sugar and ginger for the topping. Mix the topping ingredients with your fingers until just combined, and then sprinkle lightly over the cake batter. Place the cake in the oven and bake about 1 hour and 50 minutes. Test with a toothpick. Let stand and cool completely before serving.

Applesauce Ingredients
A variety of in-season apples (Elizabeth recommends Jonathan, Melrose and Golden apple varieties because they are tart and sweet)
A few tablespoons of fresh lemon juice
Sugar to taste
Cinnamon to taste
To prepare
Preheat oven to 375–400ºF. Peel and slice the apples, and then put them in a roasting pan. Cover the pan with parchment and foil and bake the apples until they are soft. Elizabeth likes her applesauce to have body, so she leave the apples fairly chunky, simply mashing them with a fork. Mix in a couple of tablespoons of lemon juice and sugar and cinnamon to taste.