Lunch
Beef Bossam and Leftover Banh Mi Sandwiches
Wow your guests with an impressive spread using last night's crockpot meal.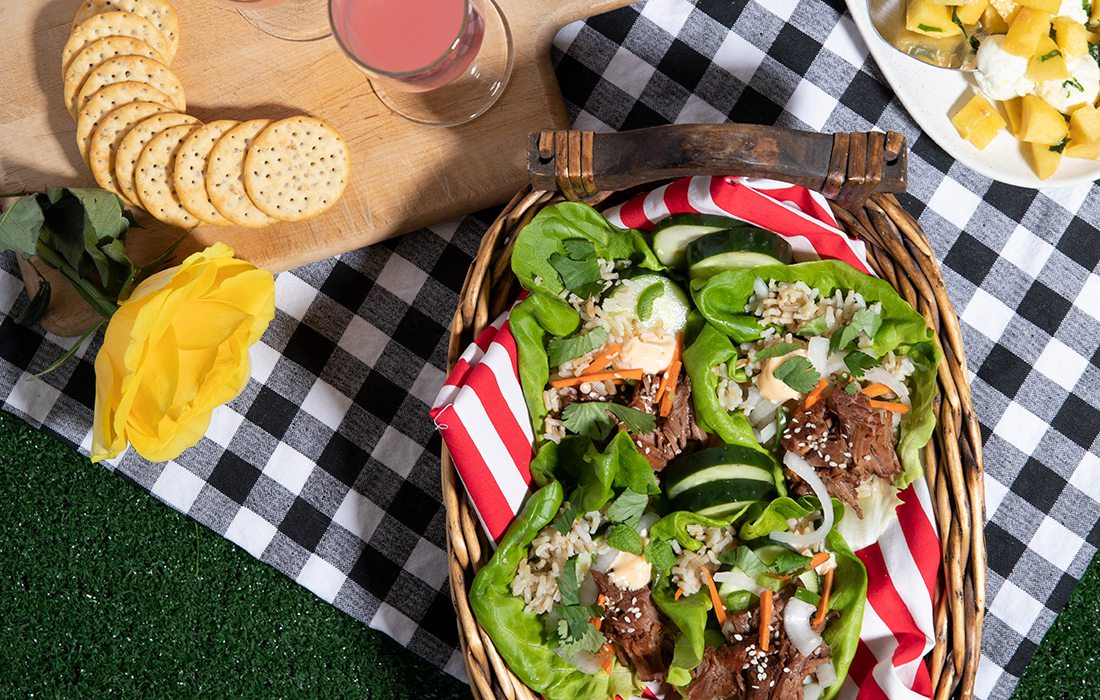 Recipe by Daniel Ernce of Progress 
Serves 4 with leftover sandwiches 
Ingredients
1 cup hoisin sauce 
½ cup Sriracha 
¼ cup soy sauce
2 cups beef stock
8 cloves garlic, chopped
3½ pounds beef chuck
1 teaspoon salt 
1 tablespoon sugar
1 tablespoon sesame seeds
1 cup rice vinegar
1 English cucumber, sliced ½-inch thick 
½ sweet onion, sliced very thinly 
1 cup shredded carrot 
1 jalapeño, thinly sliced (optional)
1 cup mayonnaise
2 heads Bibb lettuce
Rice, cooked as desired to include in wraps
1 bunch cilantro 
1 bunch mint 
French bread, as needed for picnic leftovers 
Directions
Combine ½ cup hoisin, 2 tbsp. Sriracha, 2 tbsp. soy sauce, beef stock and garlic in a slowcooker. Add the beef chuck and cook on low for 8 hours or until very tender. Meanwhile, whisk together salt, sugar, 1 tbsp. sesame seeds and rice vinegar until dissolved. Then, marinate cucumbers, onions, carrots and jalapeño in the whisked mixture while the beef cooks. 
Make Sriracha mayo by stirring together mayonnaise and Sriracha to taste. Reserve. 
Combine remaining ½ cup hoisin with 2 tbsp. Sriracha and 2 tbsp. soy sauce. Reserve. 
To serve the Bossam, shred the beef and build wraps using the Bibb lettuce, rice, Sriracha mayo, hoisin sauce mixture, pickled vegetables, sesame seeds and picked herbs, mixing and matching condiments for different flavors in each wrap. 
For leftover picnic sandwiches, spread Sriracha mayo on one side of bread, hoisin mixture on the other, and fill with leftover shredded beef, pickled vegetables, mint and cilantro.