Side Dishes
Buttery Leek Mashed Potatoes
With a heaping helping of chopped leeks, garlic and butter mixed in, each spoonful of these Swiss-style leek mashed potatoes is a true delight.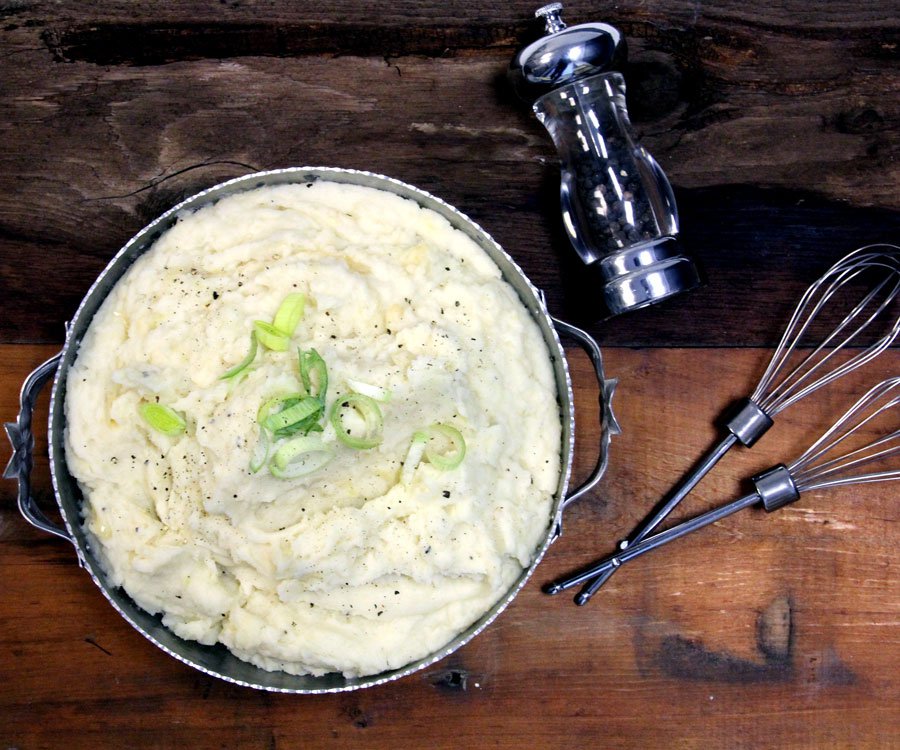 Recipe courtesy Executive Chef Robert Stricklin, The Keeter Center at College of the Ozarks 
Ingredients
4 pounds Russet potatoes 
Kosher salt
1 cup milk
2 leeks, with the white parts chopped
1 head of garlic, minced (Use more or less depending on taste.)
6 tablespoons butter
Freshly ground black pepper
To prepare
1. Peel the potatoes, and cut them into 1-inch pieces. Place potatoes into a pot of cold water. Add a big pinch of salt, and place the pot over high heat. When it comes to a boil, cook the potatoes until just cooked through, approximately 20 minutes.
2. While the potatoes are cooking, sauté the chopped leeks in 2 tablespoons of butter. Stir in the garlic and set aside.
3. Once the potatoes are finished cooking, drain them in a colander, then place them back in the pot and let them dry out over low heat. (The potatoes absorb water, and this dries the water back out.)
4. In a small pot over low heat, add the milk and remaining butter. Heat until the butter melts. Mash the potatoes with a potato masher and break up lumps, and season with salt and pepper. Stir in the sautéd garlic and leeks, and serve while still warm.