Small Bites
California Devils
Homemade pickled red onion and salty bacon take this classic potluck dish to a new level.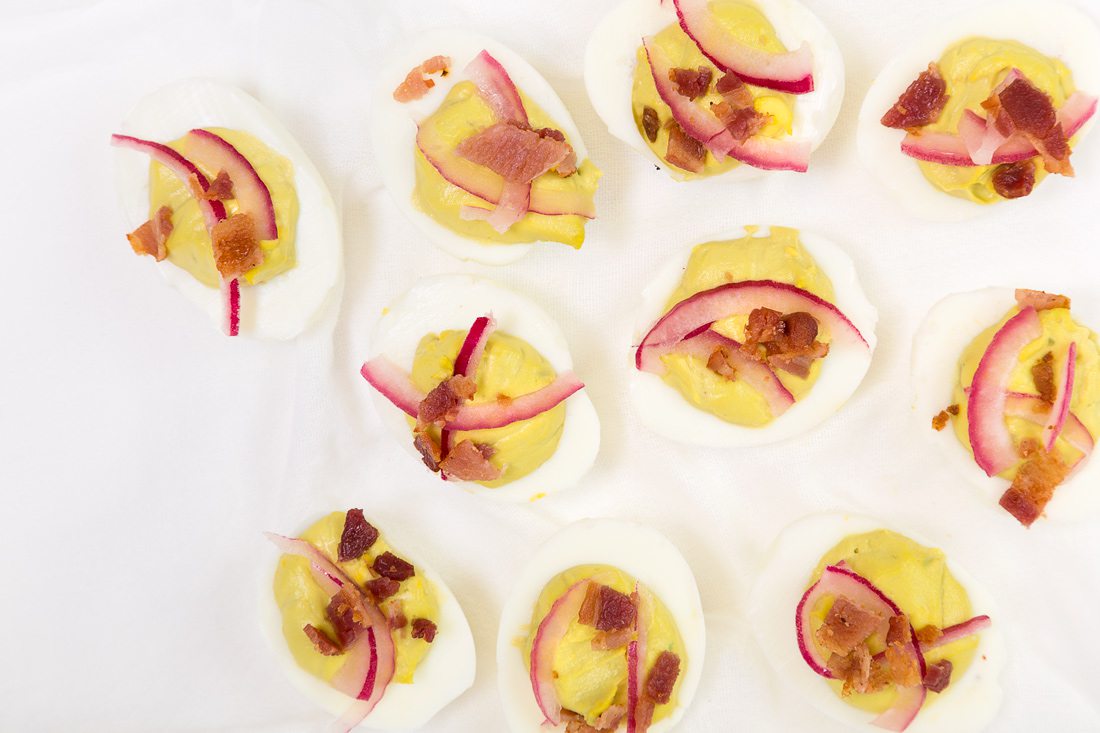 Recipe developed by Peyson Shields 
Serves 6 | 45 minutes
Ingredients
6 farm-fresh eggs
4 slices bacon
½ cup apple cider vinegar
1½ teaspoon salt
1 teaspoon sugar
¼ red onion, thinly sliced
1 avocado
¼ cup mayo
Salt and pepper
Directions
Carefully place eggs in the bottom of a medium-sized saucepan. Cover with water. Bring water to a boil, cover with a lid, remove from heat and set a timer for 10 minutes. 


Line a baking sheet with several layers of foil. Place bacon slices onto prepared sheet in a single layer. Place pan in oven and heat to 400°F. Roast bacon until crispy, 18 to 21 minutes.


While bacon roasts, combine apple cider vinegar, salt and sugar in a small bowl. Stir until salt and sugar have dissolved. Add red onion and stir to coat. Place in fridge until ready to serve. 


Fill a large bowl with ice and water. Once timer for eggs has gone off, use a slotted spoon to transfer eggs from pot to the ice water bath. 


Once eggs have cooled, about 10 minutes, remove them from the ice water and, one-by-one, gently crack each shell on the counter and remove the shell and peel under running cold water. Place peeled eggs on a paper towel to dry. Repeat until all eggs are peeled.


Slice eggs in half longways and gently scoop yolks into a medium-sized bowl. Place the whites, cavity-side up, on a serving tray. Add mayo and flesh from avocado to the yolks. Using a hand mixer, beat yolk mixture until fluffy and fully combined. Season to taste with salt and pepper. Scoop mixture into a zip-top bag and snip one corner with scissors. 


Remove pickled red onions from fridge. Chop bacon. Pipe the filling into each egg white and top with bacon and onion.