Small Bites
Hot Italian Cheese Spread
Serve this Hot Italian Cheese Spread with a baguette. It's a perfect Super Bowl party treat to impress your guests. Recipe courtesy Bryan Bevel at The Pitch Pizza & Pub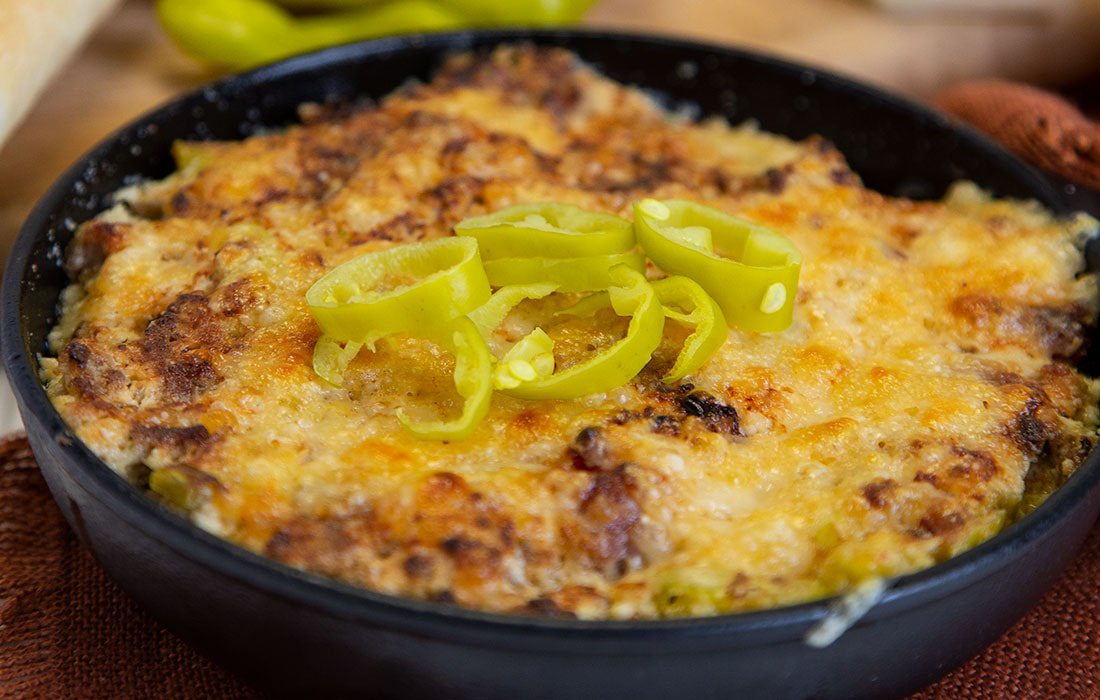 Recipe courtesy Bryan Bevel of The Pitch Pizza & Pub.
Ingredients
1 pound fresh Italian mild ground sausage
1 8-ounce package cream cheese, softened
2 5.2-ounce packages Boursin Cheese Garlic & Fine Herbs flavor
1/3 cup mayonnaise3 ounces sun-dried tomatoes (not in
oil), Italian herb flavor if you can find it, chopped
½ cup drained, sliced pepperoncini (they are sold sliced)3
tablespoons shredded Parmesan cheese½ teaspoon pizza
seasoning or Italian seasoning
1 baguette, sliced
Directions 
In a nonstick skillet, cook Italian sausage until nicely browned, breaking it up into small chunks as it cooks. Remove from heat and drain any fat. In a large bowl, blend cream cheese, Boursin and mayonnaise until well combined. Add sun-dried tomatoes and pepperoncini and continue blending. Stir in cooked sausage. Add mixture to a one quart baking dish and swirl the top with a small knife (just for looks). Sprinkle with Parmesan cheese and pizza seasoning. Bake for 25 minutes in a 350º oven until the top is golden brown. Serve with a baguette.