Entrees
Lamb with Parsley Oil and Artichoke Puree
Start this dish two hours prior to serving for best results. Recipe from private chef Anna Davis.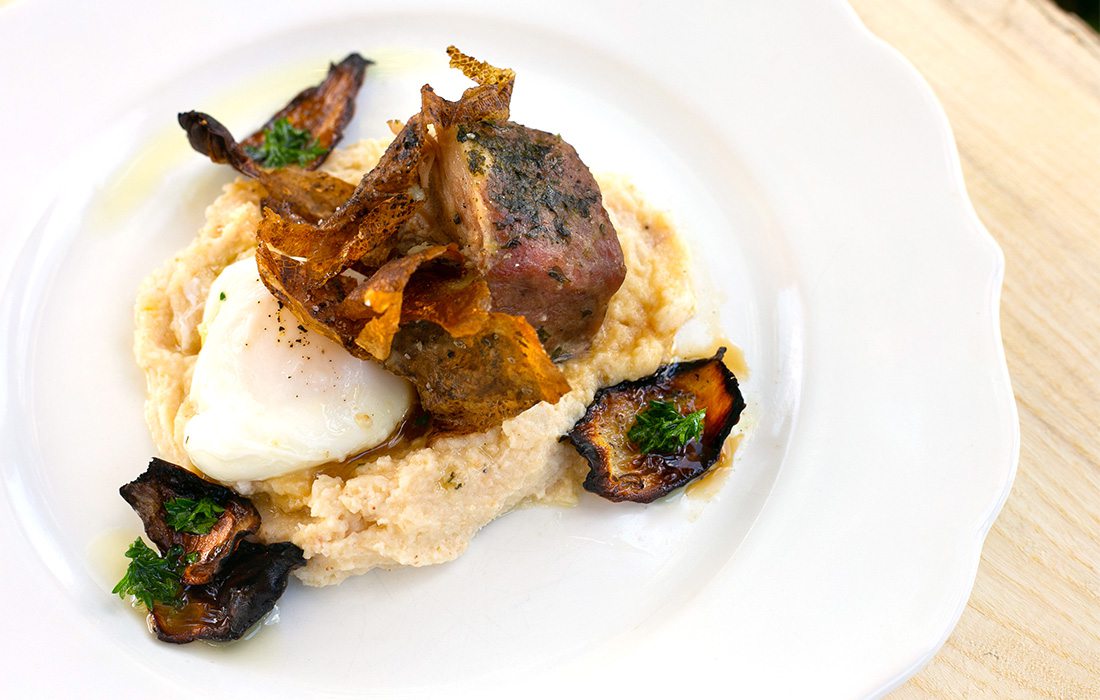 Serves six
Ingredients
2 bunches fresh parsley 
1 cup olive oil
3 red potatoes
2 russet potatoes
4 artichokes
6 garlic cloves
8 tablespoons butter 
¼ cup creme fraiche
3 tablespoons heavy cream
1 teaspoon salt, plus more to taste
½ teaspoon pepper, plus more to taste
3 shallots 
1½ pounds lamb neck bone meat or rib meat
6 duck eggs

To Prepare
Preheat oven to 275ºF. Finely chop the parsley. Place parsley on a cookie sheet lined with parchment paper. Season to taste with salt and dry in the oven for about 20 minutes. Reserve 2 tablespoons dried parsley. Take the rest of the parsley and place in a small bowl. Pour ½ cup olive oil over it and set parsley oil aside. 
Rinse and dry potatoes and artichokes. Cut off artichoke tips and stuff with four garlic cloves, 2 tablespoons butter, 1 teaspoon salt and ½ teaspoon pepper. Wrap potatoes and stuffed artichokes in foil and bake until artichokes are toasted and potatoes are soft, about one hour. Remove and let sit until cool enough to handle. 
Remove flesh from artichoke and puree by itself in a bowl. (An emulsion mixer is best for this, but a food processor or blender will work.) 
Remove potato skins and save for later. Place potatoes with the roasted garlic in artichoke puree and mash together. Add creme fraiche, 6 tablespoons butter, cream and salt and pepper to taste. Puree until light and fluffy, adding more cream if needed. The mixture might get a bit sticky, but more cream or butter will help this. Place in the fridge.
Peel shallots and slice in half. Take out the smaller pieces and save the larger for later. Put lamb in a baking dish. Fill halfway with water. Season with reserved dried parsley, two grated garlic cloves, small shallot pieces and salt and pepper to taste. Cover tightly with foil and bake at 275ºF until meat falls away from the bone, about two hours. 
Take larger shallot petals and potato peels and place on a cookie sheet lined with parchment. Drizzle with ½ cup olive oil and generously sprinkle with salt and pepper. Set aside. 
When meat is finished, reheat puree on the stove. Bring a pot of water to a light boil. Break duck eggs into water and poach for six minutes. Turn oven on broil and roast shallot petals and potato skins for about five minutes.
To serve, place puree in the middle of a plate. Top with lamb and some of the lamb broth. Lay poached egg beside lamb. Place shallot petals around puree. Drizzle with the parsley oil. Top with potato chip skins.
Notes from the kitchen: Lamb is best if started two hours prior to serving and cooked slowly at 275ºF. You can also use a crockpot and cook all day if you'd like. The flavor is not quite as rich, but this way, you can use your oven to bake the potatoes and artichoke and you don't need to refrigerate them in-between. If preferred, pork can be substituted for lamb.