Desserts
Mousse au Chocolat
This decadent dessert takes some work, but rewards anyone up to the task. Recipe courtesy Viking Cooking School.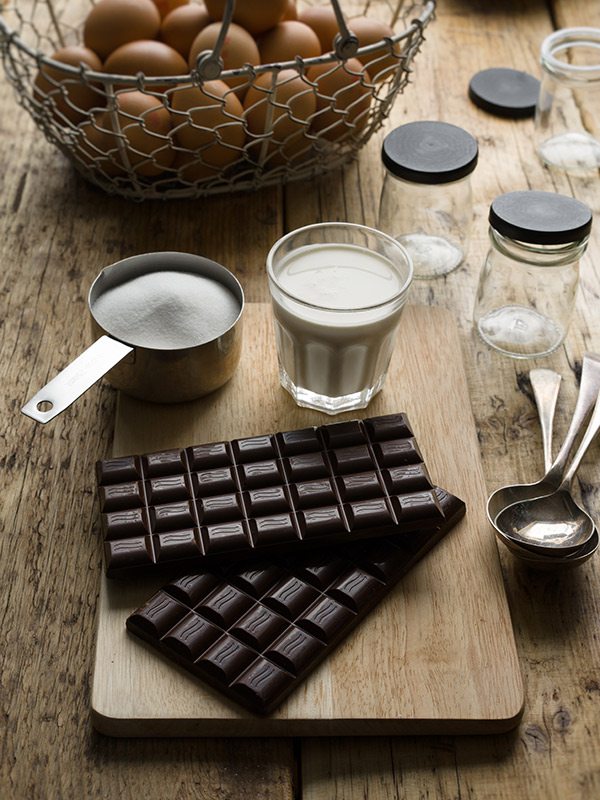 Recipe courtesy Viking Cooking School, Greenwood, MS
Serves 4

Mousse
3-ounces semisweet chocolate, chopped
2 T butter
1 pinch fine salt
1 t vanilla extract
1 T strong coffee
2 large eggs, separated
1 T granulated sugar
½ C heavy cream
To Prepare Mousse
Melt chocolate using method of choice (microwave or double boiler.) Stir chocolate until completely smooth. Whisk in butter one tablespoon at a time. Stir in salt vanilla and coffee. Whisk in egg yolks one at a time, making sure each is fully incorporated before adding the next. Set aside.
Place egg whites in clean bowl of electric stand mixer. Whisk until soft peaks form. 
Add sugar and continue whisking until stiff, glossy peaks form.
Whip cream to soft peaks, fold in the mousse.


Tuile Cups
⅓ C packed dark brown sugar
½ stick butter
¼ C light corn syrup
1 t finely minced orange zest
⅓ C cake flour
½ C finely ground almonds
To Prepare Tuile Cups
Preheat oven to 350 F. Line baking sheet with silicone baking mat.
Combine sugar, butter, corn syrup and zest in small saucepan. Cook over low heat until butter and sugar are melted. Remove from heat. Stir in flour and nuts.
Drop a heaping tablespoon of batter onto the silicone-lined baking sheet. Spread batter with back of spoon to form a circle approximately 3 inches in diameter. Repeat the process to form a second circle. Batter will spread during baking so only bake two at a time. Space them well apart. Bake until golden brown and bubbly, about 8 to 10 minutes.
Remove from oven. Let cool approximately 20 seconds. Test the edge of one of the tuiles to see if it will life easily. When it does working quickly, drape the tuile over the back of a muffin tin or ramekin. Press gently to conform it to the mold. Cool completely. Tuiles will crisp as they cool.
Repeat steps 3 and 4 with remaining batter. If batter becomes too think, place pan back on heat to warm and loosen it.
Store tuiles tightly covered.


Raspberry Sauce
1 C fresh or frozen raspberries, thawed
1 to 2 T confectioners' sugar
1 T freshly squeezed lemon juice
To Prepare Raspberry Sauce
Place raspberries, sugar and lemon juice in mini-food processor. Puree until smooth.
Strain through a fine mesh strainer, pressing on the solids to extract as much juice as possible.


To Serve Mousse au Chocolat
Spoon melted vanilla ice cream onto each dessert plate covering the entire plate with a thin layer.
Place mousse in a pastry bag fitted with a star tip. Fill each tuile cup with mousse. Place on filled cup on each dessert plate, just to the left of center 
Fill a small squeeze bottle with raspberry sauce. Place 5 small dots, just to the right of the center of plate. Place the dots in a curve, following the curvature of the plate. Using tip of a wooden skewer or toothpick, draw a line through the center of each dot, starting above the dot and drawing through the dot completely. This will transform the dots into small hearts. 
Garnish top of each serving of mousse with a single raspberry.
Serve immediately.