Entrees
Springfield-Style Cashew Chicken
It's no secret that Springfield-style cashew chicken is a local favorite. For a little at home challenge, try making the iconic dish yourself! Recipe courtesy Wing Yee Leong of Leong's Asian Diner.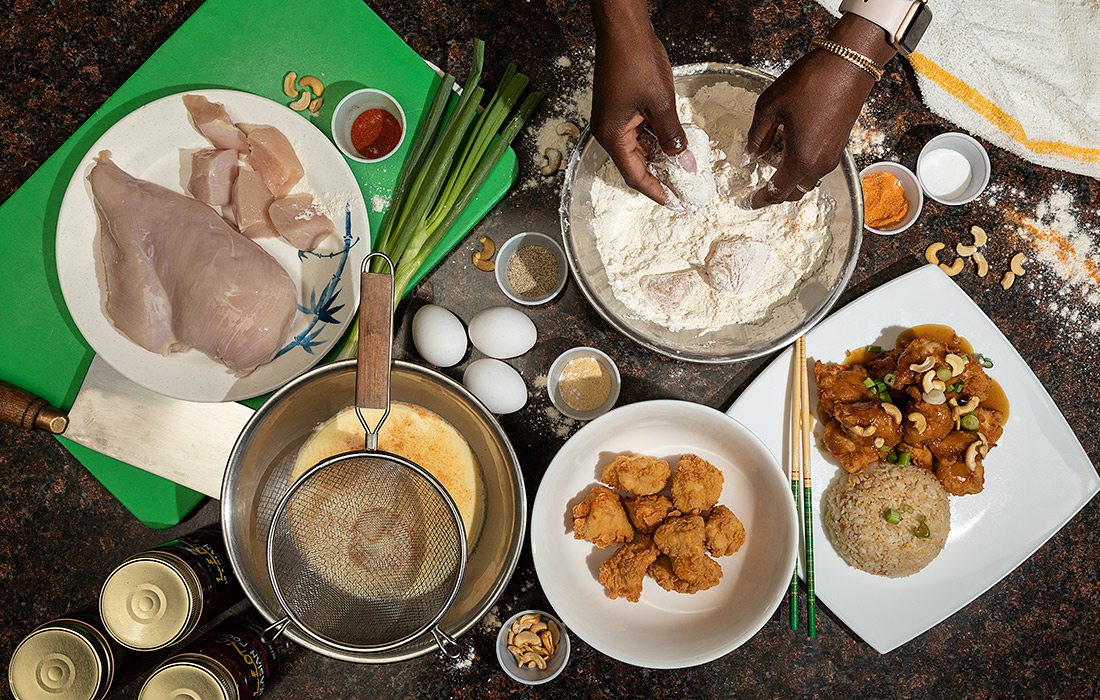 Recipe courtesy Wing Yee Leong of Leong's Asian Diner
Ingredients
2 pounds chicken breast, diced into 1 inch pieces
For the flour mixture
4 cups all purpose flour
1 tablespoon seasoned salt (Lawrys)
1 teaspoon ground white pepper
2 tablespoon granulated garlic
½ teaspoon cayenne pepper (optional)
For the milk batter
3 eggs
3 cups milk
1 tablespoon seasoned salt
½ teaspoon ground white pepper
For the cashew chicken sauce
3 ½ cups chicken broth
½ teaspoon salt
½ teaspoon sugar
¼ cup soy sauce (Kikkoman)
2 tablespoon oyster sauce
1 pinch ground ginger
⅛ teaspoon sesame oil
¼ cup cornstarch
¼ cup water
For serving
4 ounces cashew nuts
4 ounces chopped green onions


To Prepare
Heat fryer or oil to 350°F. Place all flour mixture ingredients in a medium bowl. Mix well. In another medium bowl, scramble the eggs and then add milk, seasoned salt and white pepper. Mix well. Place diced chicken into flour mixture, coating all sides, then dip into the milk batter, then place back into flour mixture, again coating all sides. Place all breaded chicken pieces on a cookie sheet until ready to fry. Blanch chicken pieces in the heated fryer or oil until ¾ of the way cooked, approximately 2 to 3 minutes. Place partially cooked chicken on a paper towel lined cookie sheet or on a wire rack to hold for service. 
To make the cashew chicken sauce, mix together chicken broth, salt, sugar, soy sauce, oyster sauce, ginger and sesame oil and bring to a boil. Add the cornstarch to the water to make a slurry, then add your slurry to the boiling mixture and whisk constantly until you reach a gravy-like consistency.
When ready to serve, fry chicken a second time for 2 to 3 minutes. Top with cashew sauce, cashew nuts and green onions.


Click here for the full story on how Springfield-style cashew chicken was first created.