Weddings
Deena Smulski & Joe Williams
June 16, 2012; St. Thomas The Apostle Orthodox Church, Springfield
Becca Huff | Photo courtesy Scott Cotton Photography
Jun 2013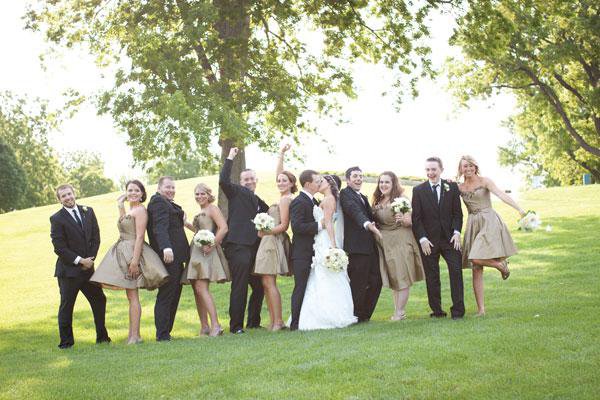 Joe Williams met Deena Smulski in college. Deena had just bought her first house, and Joe happened to purchase the house next to her two weeks later. They started going on coffee dates, and three years later, Joe proposed outside of Hammons Field as fireworks burst overhead. After a 14-month engagement, Deena and Joe were married June 16, 2012, at St. Thomas The Apostle Orthodox Church.
Deena is Greek Orthodox, so the wedding ceremony included some fun twists. In between the vows and the I do's, the priest united Deena and Joe with a stefana—two crowns connected with a white ribbon. The crowns symbolize the glory and honor bestowed from God, and the ribbon symbolizes their union.
Deena's bridesmaids wore gold-colored dresses detailed with a floral neckline. Her matron of honor, Lindsay Johnson, joined bridesmaids Deena Wallace, Lisa Wilson, Katherine Condos and Holly Williams. Joe's best man was Jacob Showalter, with groomsmen Gage Williams, Scott Smulski, Andy Marshall and Brandon Edmonds.  
Today, Deena and Joe live in Springfield, where Joe teaches in the biomedical science department at Missouri State University and Deena is an insurance agent at DFG Insurance.
Deena says she is convinced a wedding will be the fastest day of a bride's life, and amidst all the celebrating, it is important to remember the real reason of the event. "Try to soak in as much as possible, write about it when it's over, and remember that even after the celebration is over, when the flowers have wilted, and the dress is boxed, the day is about starting a life with the person you love the most," she says.

Joe and Deena's wedding party celebrates a heartwarming love story (above). Deena arrived at the ceremony alongside her father in an antique car, which served as a perfect photo prop.

The Flower Merchant, Ltd created simple-yet-eye-catching centerpieces to deck the reception tables.

The couple enjoys a personal moment after their wedding as they walk through streams of flower petals.

Deena had Pat Phillips at The Flower Merchant, Ltd lace family heirlooms and flowers from her grandmother's wedding veil throughout her bouquet.
 

 Deena and Joe wore the same Greek Orthodox stefana wedding crowns that Deena's parents wore at their wedding ceremony.

HOLE IN ONE: Deena and Joe share their first look outside of Deena's parents' house at Millwood Golf Club.
The Details:
Wedding Venue: St. Thomas Orthodox Church
Reception: Highland Springs Country Club
Catering: Highland Springs Country Club
Bride's Dress: Normans Bridal Shoppe
Flowers: Pat Phillips, The Flower Merchant, Ltd.
Wedding Planner: Lenette Kujawa, Aflair Events
Photography: Scott Cotton Photography
DJ: Pulse Productions
Live Music: The Detectives
Rings: Justice Jewelers and Mitchum Jewelers