Weddings
Angela Mast & Bradley Stillwagon
June 14, 2014, Rogers and baldwin historic venue, Springfield
By Kaleigh Jurgensmeyer | Photos by Tara Hailey Photography
Jun 2015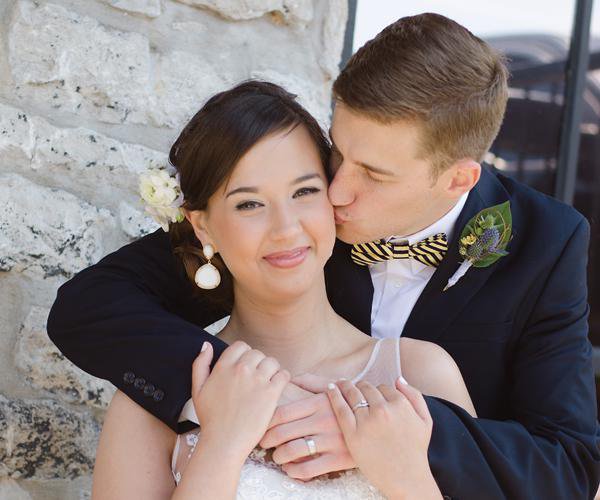 Young love developed into something much greater for Angela Mast and Bradley Stillwagon. The two met when they were only 14 years old at an American Legion Baseball game, and several years later they started dating at the end of their high school careers. They've been together ever since.
One month shy of three years together, Bradley proposed. The moment was nothing short of magical. After Angela got home from work one day, she found a letter with her name on it. "I began to read the nicest, most heartfelt letter I had ever read," Angela says. "It did not register with me until halfway through the letter what was happening. I just thought he was surprising me!" At the end of the letter, it simply said, "Follow the music."
Coldplay's "Til Kingdom Come" was playing, and Angela found Bradley in their backyard waiting on their deck, which was covered with vines and twinkling lights. As Bradley walked toward Angela, he said, "I love you. Are you ready for this?"After standing in the backyard for 20 minutes talking and laughing and not letting go of one another the happy couple called their families and then celebrated with dinner at Bambinos Cafe and dessert at Andy's Frozen Custard. "It further confirmed it was the best day ever," Angela says.
The couple's beautiful wedding, which gathered Angela's and Bradley's families from across the country, was celebrated in June following their college graduations. They danced, smiled and laughed with the people who made them who they are, and later honeymooned in Seattle. The two hiked, visited a market and kicked off their new life together in the perfect getaway location. Angela and Bradley currently live in Columbia, Missouri, with their 110-pound Saint Bernard, Ellie. Bradley is a computer programmer for Shelter Insurance, and Angela works for a letterpress company called 1Canoe2.
​

Orchard Hills Floral made a beautiful white and blue bouquet and used flowering peonies to fill out the arrangement. 

To decorate the guest book table (top right), the couple arranged photos of them taken during their courtship. 

The four-tier wedding cake made by Amycakes was topped off with a buttercream icing.

Bradley and his best men sported bow ties and suspenders on the big day. 

 Angela and Bradley's wedding was held at Rogers and Baldwin Historic Venue in downtown Springfield.
Caterer: Partyworks Catering
Cookies: Beth's Bake Shoppe & Tea Room 
Cake: Amycakes
Music/entertainment: COMPLETE Music
Flowers: Orchard Hills Floral 
Dress: Normans Bridal
Tuxedos: Men's Suit Mart
Rings: Justice Jewelers
Photographer: Tara Hailey Photography
Hair and Makeup: Karma Salon
Reception Venue: Rogers and Baldwin Historic Venue
Linens: SB Bonn
Invitations: Wedding Paper Divas