Weddings
Ali Hoover & Josh Jones
May 18, 2013. Family residence, West Plains
By Ettie Berneking
Dec 2013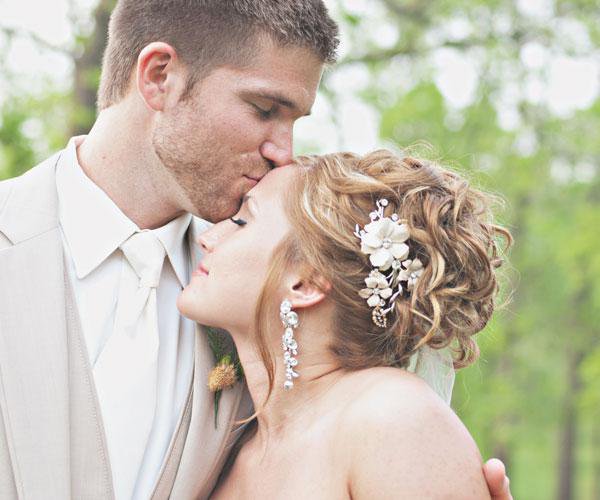 For Ali Hoover and Josh Jones, a happy ending was never in doubt. They grew up in the same town. They attended the same school, and Josh's mom was Ali's favorite teacher. "I always tell Josh I fell in love with his mom before I fell in love with him," Ali says jokingly. "She was my third grade teacher and my absolute favorite." With so many stars aligned, their paths were bound to cross. 
The star-struck lovebirds started dating during high school, and ever since then, their hearts belonged to each other. Even after eventually breaking up after only a few months, the two stayed in contact as their relationship was put on an indefinite hiatus. Several years later, when Ali was a sophomore in college and Josh was in his junior year of college, their romance resumed.
Three years later, Josh proposed with the help of Ali's family, best friend and her beloved yorkie, Gigi. After being lured out of the house under the false pretense that Josh's car had died, Ali returned home to find her family waiting for her. "I can't lie and say that the thought, 'Oh my God, he's going to propose!' didn't cross my mind, but I decided to stay rational because my birthday had just ended the day before," Ali says. But when furry little Gigi came romping across the yard with a small card attached to her collar that read, "Mommy, Daddy has an important question to ask you," staying rational was no longer an option. "When I turned around, Josh was down on one knee shaking like a leaf," Ali says. "He was so nervous he could barely make a sound." Finally, Josh uttered those four famous words. 
One year later, Ali and Josh were married at Ali's parents' home in West Plains. Today, the couple lives in West Plains where they both work for Ali's family business. Ali is also in the middle of putting the final touches to her style website called Know Chic Sherlock.
Love birds: Josh Jones and Ali Hoover first started dating in high school. They reconnected in college, and last spring, they had an outdoor wedding on Ali's parents' property.
Josh's nephew Benjamin Baker was the ring bearer at the wedding, and his niece Ava Campbell was one of the flower girls.
Ali and Josh's cake was from Style By The Slice and incorporated the wedding's color scheme. 

The floral arrangements were created by Cottage Flowers & Interiors in West Plains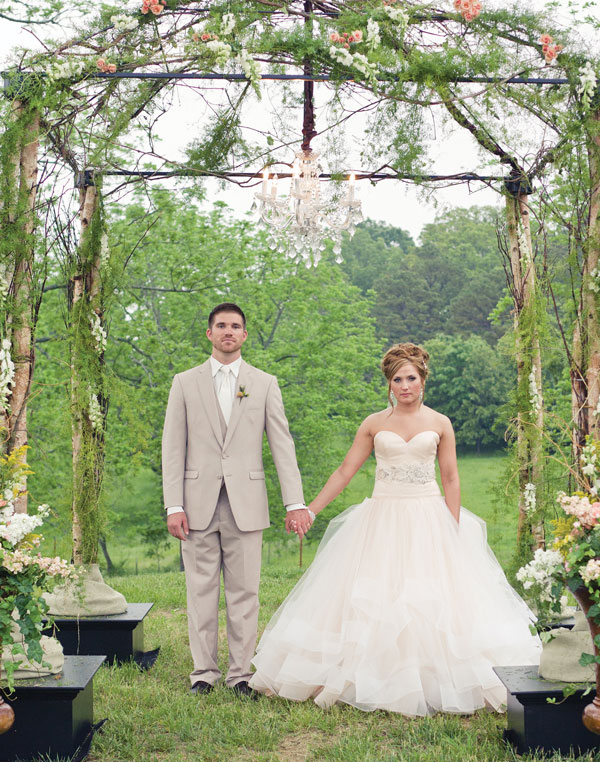 The ceremony and reception were held at Ali's parents' house in West Plains
Bride's Dress: Stardust Celebrations, Dallas
Tuxedos: Karl's Bridal 
Flowers: Cottage Flowers & Interiors, West Plains
Cake: Style By The Slice
Catering: Simply Delicious Catering
Videographer: Goodwin Films
Photography: Twin Town Studios
Music and entertainment: Travel Tunes DJs; Jack Bracket Band