Weddings
Allie Sheppard & Jimmy Sinacola
June 15, 2013 First and Calvary Presbyterian Church
By Julie Sedenko Davis
Dec 2013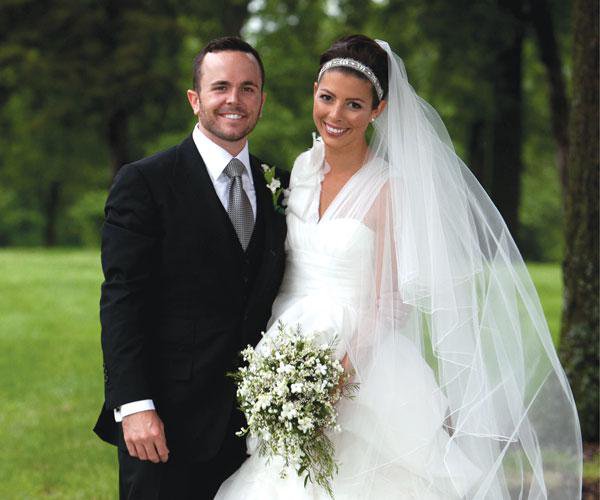 Alexandra "Allie" Sheppard and James "Jimmy" Sinacola's love story began after they met in Dallas, but their wedding plans started long before that in Springfield where Allie grew up. When Allie moved to Dallas to get her master's in education, she still saw herself moving back to Springfield. And there was no doubt in her mind that when she eventually got married, the ceremony would be back in her hometown. "All of my childhood memories are in Springfield," she says. "I grew up going with my family to Hickory Hills and have been going to First and Calvary since I was baptized. I couldn't imagine being married anywhere else."
After dating for nearly two years, Jimmy asked Allie to marry him. With a wedding to start planning but a school schedule that kept her in Texas, Allie turned to her mom for help. So taking the reins, Allie's mom and cousin became the de facto wedding planners. They helped Allie settle on the wedding's Italian theme, since the bride and groom are part Italian. They booked vendors and picked flowers, and the day of the wedding, Allie celebrated with her mom, cousin, grandmother and aunt with a relaxing retreat at Grove Spa. 
On June 15, 2013, Allie and Jimmy were married at Springfield's First and Calvary Church, where Allie had spent so much of her childhood. The reception was held at Hickory Hills Country Club, and the club's banquet room was transformed into an elegant Italian landscape with decorative topiaries, a gelato bar and a delicious Italian meal for guests to enjoy. 
The newlyweds live in Jimmy's hometown of Frisco, Texas. He works as an estimator, and Allie is a third grade teacher.
To go with the reception's Italian theme, Allie and Jimmy brought in topiaries as centerpieces and used wine bottles as table markers. The linens are from SB Bon Events.

The wedding cake was made by Price Cutter and was designed to reflect the soft folds of the bride's dress

Allie and Jimmy celebrated their wedding with family and friends at Hickory Hills Country Club where Allie spent time during her childhood.

 Allie's bridal bouquet was designed by Lilly's Floral and featured lilies of the valley
Wedding Venue : First and Calvary Presbyterian Church
Reception & Catering: Hickory Hills Country Club
Wedding Cake: Price Cutter Bakery
Flowers: Lilly's Floral
Linens: SB Bon Events
Hair & Makeup: Studio 417
Photography: Blair Photography
Gelato Bar: Benissimo! Gelato and Sorbet 
Rehearsal Dinner: White River Conference Center