Weddings
Winter Skelton & Marshall Kinne
April 11, 2015 Stone Chapel, Springfield
By Ren Bishop | Photos by Salt & Sky Studios
Dec 2015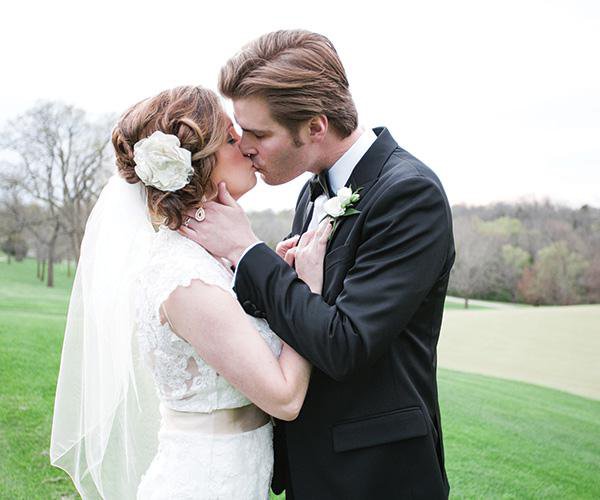 "We're just talking," Marshall Kinne would reply to his friends after they asked about his involvement with Winter. But they all knew it wasn't true. Winter and Marshall had fallen in love.
The two met in Rotaract, a Springfield group for young professionals under 30, and had their first date at the Hickory Hills Country Club Valentine's Dance. Marshall had called earlier in the week to ask Winter to go with him. He and all his married friends had a table. "I thought he just needed a date," Winter says. "He ended the conversation by telling me his parents were going to be there."
Incidentally, things went well with the parents because two and a half years later, they were breaking into Winter's home to set up the champagne and rose petals for a surprise engagement. Marshall had planned it all out, and the romantic setup was waiting for Winter when they returned from dinner one Friday night.
The wedding, held at Stone Chapel on the Drury University campus, was a simple and classic display of their love. The small ceremony was intimately charming, shared with only close friends and family, while the reception was much larger. The crowd gathered to munch on mini burgers, curly fries and a late night nacho bar while a live band got everyone out on the dance floor. 
Winter and Marshall's love story had been in the making for years, and the day those I dos were said was only the beginning of a lifelong happy ending.



1. One of Winter's friends designed her invitations for her. 2. Winter didn't really have an idea of the "perfect" dress, but she knew she wanted teal shoes. 3. Winter's simple and classic wedding day look was complemented by the delicate lace of her dress. Courtney Hiett at Salon Truth did her hair, and her maid of honor Jessie Tindall did her makeup.



1. Winter's sorority sisters from college traveled from all over the country to be with her on her wedding day. They've been friends for more than 10 years and take a girls-only vacation every year. 2. Winter and Marshall's photographer, Adie Gateley with Salt & Sky Studios, took advantage of the gorgeous midday lighting and took most of the couple's photos before the ceremony. Drury's Stone Chapel was the perfect backdrop for the couple's first look photos. 3. The bride's mother gave her only child a heartwarming letter filled with love, advice and well wishes. She asked that Winter read it before the ceremony.


1. The white cake with a pop of color was yet another simple and elegant touch to the Kinne wedding, featuring a delicious raspberry filling inside. 2. Dressed in his tuxedo, Marshall looked dapper for the day's events. 3. Beautiful cherry blossom stems poured out of the tall vases used as centerpieces on each table. Pale flowers were featured at the ceremony while the bright pink tulips were saved for the reception.



1. Live music by Almost Famous provided a fun, upbeat atmosphere that helped get guests on the dance floor. 2. The big day featured many moments to remember, including the traditional cutting of the cake. 3. Brandon Corn and Mason Kinne served as Marshall's groomsmen, while Jessie Tindall stood by Winter's side and even did her makeup for the big day.



Surrounded by close friends and family, the Kinnes make their grand exit from the ceremony. The small ceremony of 75 guests made way for a larger reception of 250.
---

Resources:
Caterer: Hickory Hills Country Club
Cake: Cameo Cakes 
Music: Almost Famous
Flowers: Ron Johnson at The Nest
Wedding Planner: Stephanie Weiss
Dress: Ella Weiss Wedding Design
Tuxedos: Men's Wearhouse
Rings: Maxon Fine Jewelry
Photographer: Salt & Sky Studios
Hair: Courtney Hiett at Salon Truth
Rentals: A to Z Rentals
Car: J. Howard Fisk Limousines