Weddings
Special Wedding Details
Couples in 417-land are getting more and more creative with special details in their weddings. We love these features from the real weddings in this issue.
By Rose Marthis | Photos by Mandy Evans Photography, Elise Abigail Photo
Dec 2016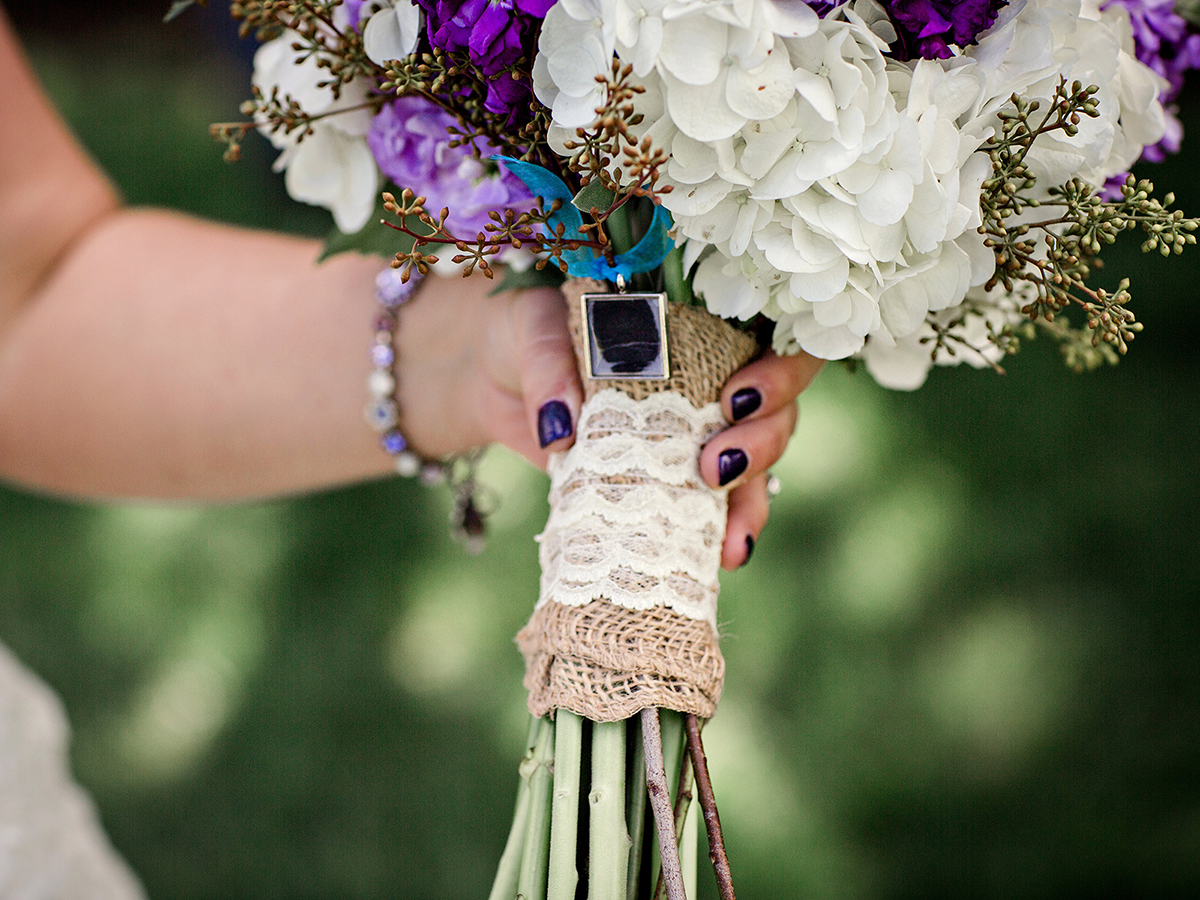 Chelsea and Josh Cantrell: Special Bouquet Charm 

Chelsea's "something blue" was adorned to her bouquet and featured a blue ribbon tied to a print of her brother Tucker's thumbprint that was taken at the hospital before he passed away in 2012. The print was given to her as a surprise from her father on her wedding day. 


Megan & Jesse Schulte: Wooden Details 
Custom made wooden slabs were used as decoration throughout the Schulte wedding to bring in a personal touch. Megan's mom designed the dessert display table and Jesse cut the wooden rounds with the help of his best man. Wood was also used as the couple's guest book, which now hangs in their home as an artful reminder of the people who
celebrated with them. 


Dr. Geoff Stanczyk and Tony Hawn: Memorial in Ceremony 
Dr. Geoff Stanczyk and Tony Hawn's wedding mass was filled with people close to the couple for the readings, but our favorite part is the dedication. Dr. Dennis Stanczyk, Geoff's father, did a special presentation in memory of Judy Ann Stanczyk, Geoff's late mother. The wedding was on October 9, the anniversary of Judy's passing. This special honor is one of the most memorable moments to Geoff. 


Drink Up: Jonathan and Stephanie performed a Southern tradition to ensure good weather on their big day.


Stephanie and Jonathan Wisdom: Burying the Bourbon 
Stephanie and Jonathan Wisdom brought a timeless Southern tradition to 417-land by burying the bourbon. The tradition says to ensure good weather on their wedding day, the couple must bury a new bottle of bourbon upside down at the wedding site one month before the ceremony. On the actual wedding day, Stephanie and Jonathan dug up the bourbon and drank from it. It worked, as there were only sunny skies. 


Megan and Victor Jantz: Doggie Joyride 
Megan's dog, a Cavalier King Charles Spaniel named Ebony, rolled down the aisle in a buggy pulled by a flower girl. Originally, the youngest flower girl was supposed to get in the buggy. But when she didn't want to, Ebony happily filled the role to catch a ride down the aisle.