Designers
Best Rendering Come to Life 2022 Winner
Nathan Taylor of Obelisk Home re-imagined a dated kitchen into a fresh bright flex space for an artistic client.
by Heather Kane Kohler
Mar 2023
Winning Designer: Nathan Taylor, Obelisk Home
Project Goal Summary
The goal of this project was to give the client an updated second kitchen that complemented their other full kitchen.
After completing a homeowner's condo renovation, Obelisk Home was tasked with the challenge of updating the adjacent condo's kitchen so the homeowner could use that space for grandchildren and as an art studio. "The client wanted us to find a way to create a mirror image of her previous project, as close as possible due to different floor plans," says Nathan Taylor of Obelisk Home. Most projects at Obelisk Home start with an idea and then that idea begins to come alive on paper. The team had to be creative when working with the layout. "The biggest challenge was working with existing plumbing lines and not being able to jackhammer up the floor. Being a condo building it was difficult to find a way to make that work," says Taylor.
While the team aimed to create two kitchens that spoke to each other, they also wanted to give the space its own unique look. The vision of a bright and airy space was achieved by using white marble countertops and a light subway tile backsplash. The large, scaled island became a place to gather around for family and an additional workspace for their artistic client. Finishing touches include silver hardware and modern pendants.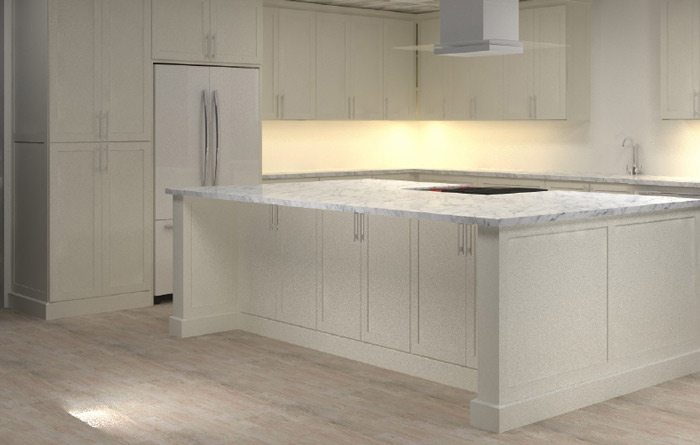 Render courtesy Obelisk Home
Photo by Jeremy Mason McGraw, Global Image Creations