Designers
Most Creative Lighting Throughout 2022 Winner
Check out the beautiful lighting that won Most Creative Lighting Through in 417 Home's 2022 Design Awards.
by Heather Kane Kohler
Dec 2022
Winning Designer: Fernanda Edwards, GMI Design Group

Project Goal Summary
The goal of this project was to make the space look and feel bigger, modernize the space, optimize storage opportunities, make it low maintenance, and reflect the owner's edgy minimalistic clean taste.
With this primary bath remodel, designer and homeowner Fernanda Edwards wanted to open up the space and make it function better for her everyday use. "It was very outdated," says Edwards. "The bathroom was very small for a master suite and it didn't have good lighting."
The first challenge she faced was the small size. "I needed to make the space look bigger without adding square feet," says Edwards. She ultimately decided to borrow a small amount of space from the primary bedroom to expand the bath. "We moved the back wall only 18 inches," says Edwards. "This allowed us to create a bigger shower, but we only really added 7 square feet of space." The original space had a small shower and separate bathtub. The new layout made room for a large shower and bigger vanity. To make the space look bigger, Edwards opted for a zero entry shower with a minimal shower enclosure. "All the same flooring, not having a curb and one solid material throughout the room made [it] feel so much bigger," says Edwards.
The other challenge that needed to be addressed was the lighting. "Anytime you increase lighting, you increase how big your room looks," says Edwards. To create more natural light, the small window in the space was expanded. Edwards added more lighting throughout the space as well. "We added two can lights in the shower as well as can lights in the rest of the bathroom," says Edwards.  "We also added a modern decorative pendant." 
Edwards also looked for a large vanity backlit mirror for the space, but came up empty handed. "I couldn't find anything that was both backlit and large enough on the market," says Edwards. "I had to get creative and take two smaller mirrors and overlap them to create the illusion of a bigger mirror."  Together they measured almost 6.5'. To hang the mirrors they had to build a platform behind the mirrors. That platform was then attached to a stud, and then the mirrors were attached to the platform. "A lot of configuring and planning was involved in the installation," says Edwards. Not only do the mirrors really make a statement, the smart lights on the mirrors are app activated or voice activated and you can change the colors and intensity of the light as well as the temperature. Or simply flip the switch on the wall.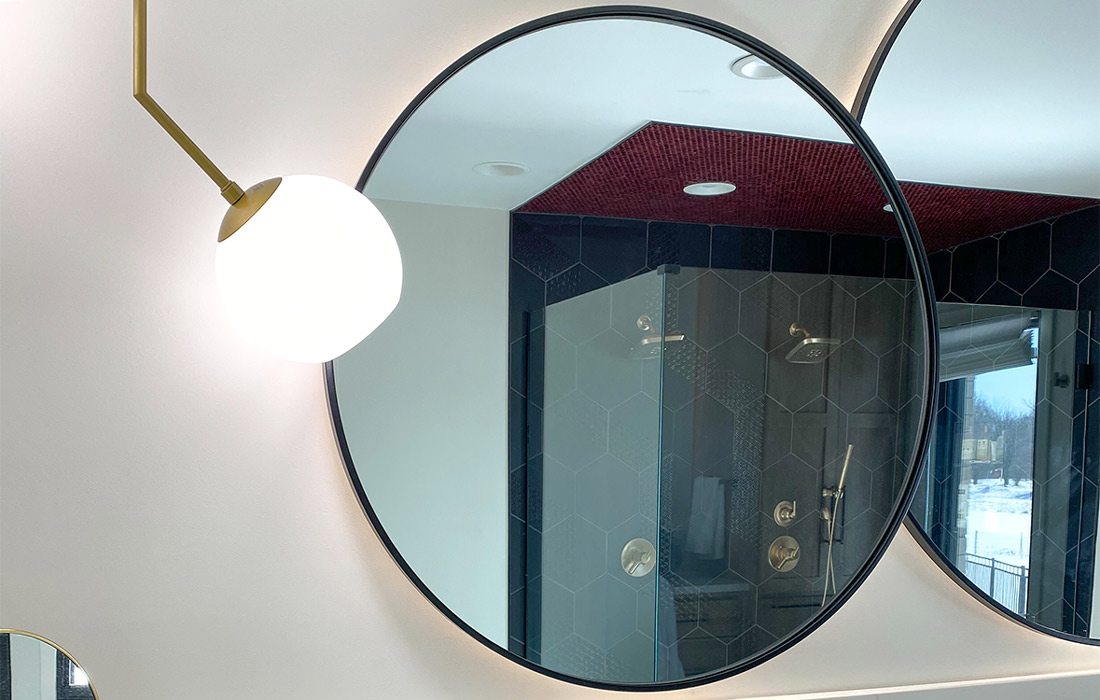 RESOURCES
Lead Designer 
Fernanda Edwards, GMI Design Group
Photography of Property
Watson Media House
417-824-1894

Builder
Harris Custom Homes
1410 E Kearney St # C, Springfield, MO 65803
417-831-7800

Hardware
Amerock
Plumbing Fixtures
Delta - Edge Supply
1920 E Trafficway St, Springfield, MO 65802
417-862-7082

Cabinetry
Quality Cabinets
6013 W Farm Rd 114, Springfield, MO 65802
417-866-8301

Countertops
Wilgus IQ
3045 S Scenic Ave, Springfield, MO 65807
417-581-8775
Stone and Tile
Tile Bar & ProSource Wholesale
2745 B, S Kansas Expy, Springfield, MO
417-203-0544

Paint
Sherwin Williams

Shower Enclosure 
College St Glass
1005 W College St, Springfield, MO 65806
417-414-1519