Outdoor Spaces
How to Create a Pet-Friendly Backyard
This fall, take time to create a Fido-friendly deck for you and your furry friends to enjoy long after the last leaf falls.
By Haley Phillips
Sep 2019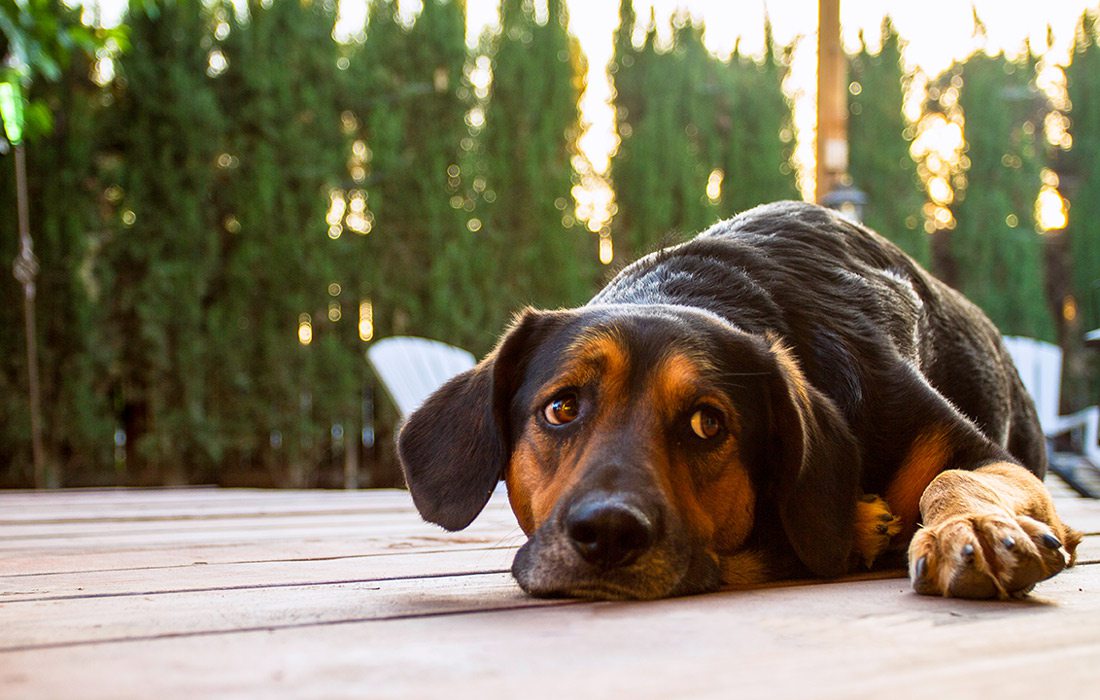 Amidst entertaining friends or relaxing with family, we forget to make the deck a haven for our pets to enjoy, too—after all, they're practically family. The first thing to do when planning a pet-friendly patio is to choose the right materials for your foundation. Heavy traffic from four-legged family members can take a toll on your deck. Slow down the wear and tear by choosing quality and durable materials. For a low-maintenance option, Charlie Coleman, Sales Estimator for MMC Fencing & Railing, suggests vinyl or aluminum railing. Wooden decks, although durable, require more upkeep to maintain.
Aluminum and vinyl are also good choices when considering the temperature of your back deck. "We want to make sure that it's going to be basically semi-cool to the touch and that the pet has shade if they're going to be out there on hot days," Coleman says. Be aware, the darker the color of the deck, the warmer it can get.
Coleman also recommends creating easily accessible entry and exit areas for your deck to discourage pets from finding alternate routes to exit the deck. Placing furniture away from deck railings can also help prevent pets from using the table and chairs as leverage to reach the top rail, increasing the risk for injury if a pet is left unattended.
There are a few safety tips that you should also think about before you get started:
Plants Toxic to Pets
Although we might not know it, many of our favorite plants can be dangerous to our pets. Brandon Paynter, perennial manager at Wickman's Garden Village, warns against planting toxic varieties around your deck like daffodils, tulips and lilies. Instead, use sun-loving, potted indoor plants, like African violets and peperomia, for a safe alternative to help spruce up your deck space.
Measure Your Deck's Railing
Most decks are installed with a 36-inch-tall railing with spacing in between posts just short of four inches. For large pets, this width won't be a problem, but for small dogs and cats, Coleman cautions the area in between the posts could be just large enough for them to squeeze through. "If they can get their head through it, they can get their body through it," Coleman says. An easy fix? Measure your pet's head to construct a safe width for your deck's railing.
Use Organic and Natural Pesticides
Paynter also advises using organic and natural pesticides when possible and to check for pet-friendly approved labels when buying supplies. Diatomaceous earth, a non-toxic powder used for pest control, doubles as an inexpensive flea and tick preventative for your pet when applied to its coat or a healthy skin, hair and nails supplement when ingested, so you can feel good about using it around your deck.