Featured Homes
Homes of the Year 2021
Southwest Missouri builders, architects and designers sent us their most innovative and creative work for our annual 417 Homes of the Year contest. We're in awe of each of these impressive local homes, and we think you will be, too.
By Tessa Cooper
Dec 2021
Each year, we invite the builders and architects beautifying southwest Missouri to submit their best work for our Homes of the Year contest. It's a tradition we look forward to, because the creative entries always reimagine the idea of home and leave us inspired. To select the 2021 winners, we recruited judges from the Home Builders Association of St. Louis and Eastern Missouri, and they narrowed it down to one winner for each of the five categories. Learn about the makings of a dream home featuring a bathroom with luxurious marble walls, a rustic woodland retreat, a new build that looks historical and much more.

Dream Project, Dream Home
Category: $2 Million or More
Winning Team: Builder | Travis Miller of Travis Miller Homes, LLC; Home Designer | Dale Peer of Home Design, Inc.; Interior Designer | Nathan Taylor of Obelisk Home
Travis Miller, owner and builder at Travis Miller Homes, LLC, describes working on this project as a "once-in-a-career opportunity."
Some new builds are challenging from a technical standpoint, and other projects are simply fun. Travis Miller, owner and builder at Travis Miller Homes, LLC, says implementing the creative ideas for this project was both.
Take the interior floating stairwell as an example. The sleek minimalism gives off a simplistic look, but creating this unique and structurally sound feature took thoughtful strategy. "The stairway was a head-scratcher for a while, so we got together with the subcontractors and figured out how to make it look how the client had envisioned," Miller says.
The clients weren't short of inventive ideas themselves, and they collaborated with Nathan Taylor, owner and principal designer at Obelisk Home to curate a unique blend of art and modern furniture to fill the home. Taylor and his team also helped with interior finishes and material selections for the exterior as well.
"It was a phenomenal project in the fact that the clients really trusted Travis as a builder and trusted us as a design team," Taylor says. "They were so gracious and kind and respectful of the design and the building process, and they wanted this to be their forever dream home."
Q&A with Travis Miller
Can you tell us a bit more about the grandiose fireplace in the living room?
"That fireplace was something we had to track down to get the look they wanted. It's a linear fireplace that needed to be seven feet long with a three-sided viewing area. The facade on it is a format tile. It really sets off the living room and gives it a lot of height, and is definitely a focal point in the living room."
What was the project goal for the outdoor space?
"The homeowners wanted to be able to have a lot of people out there to enjoy the outdoors with the greenery and the pool, and the pool was a big undertaking. It feels resort-style with an infinity edge."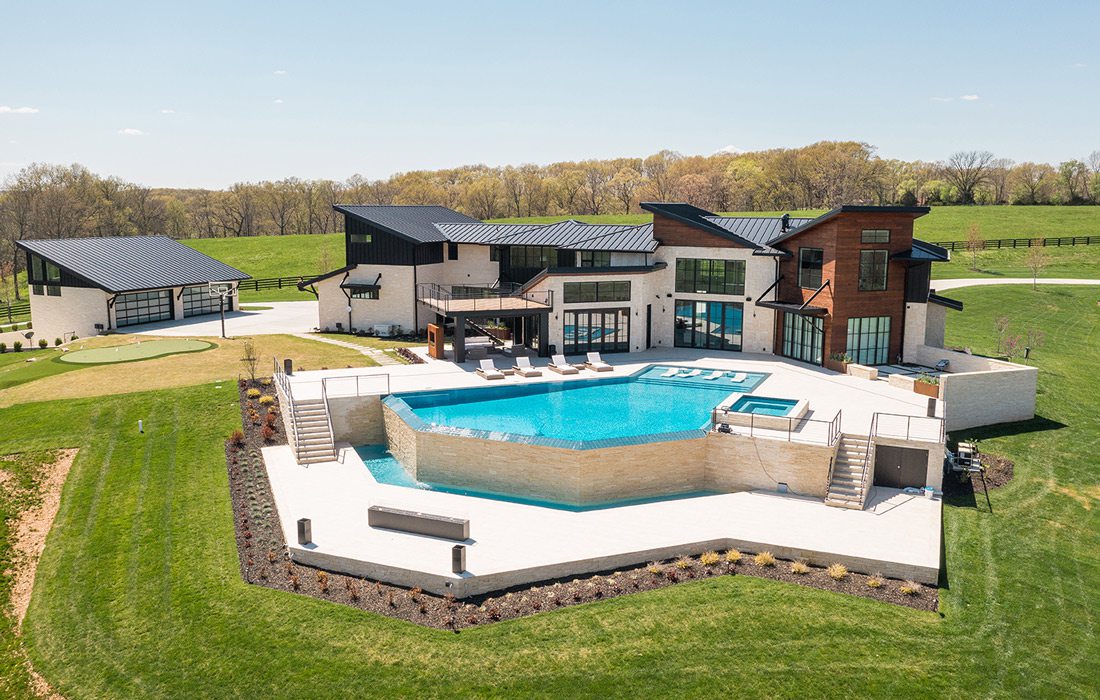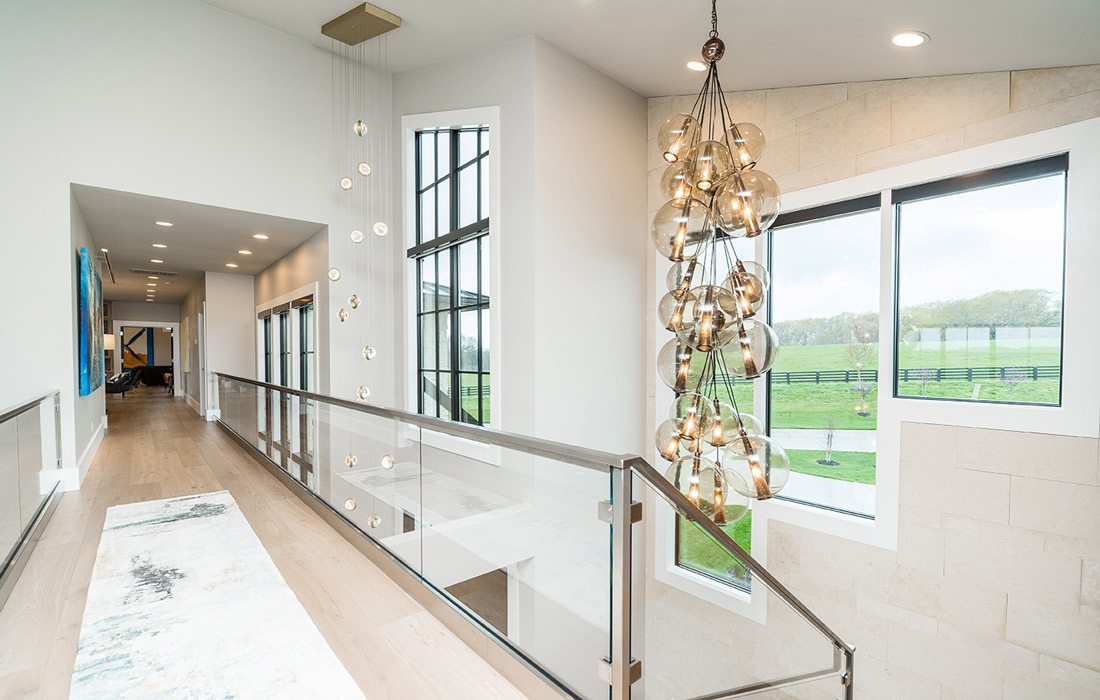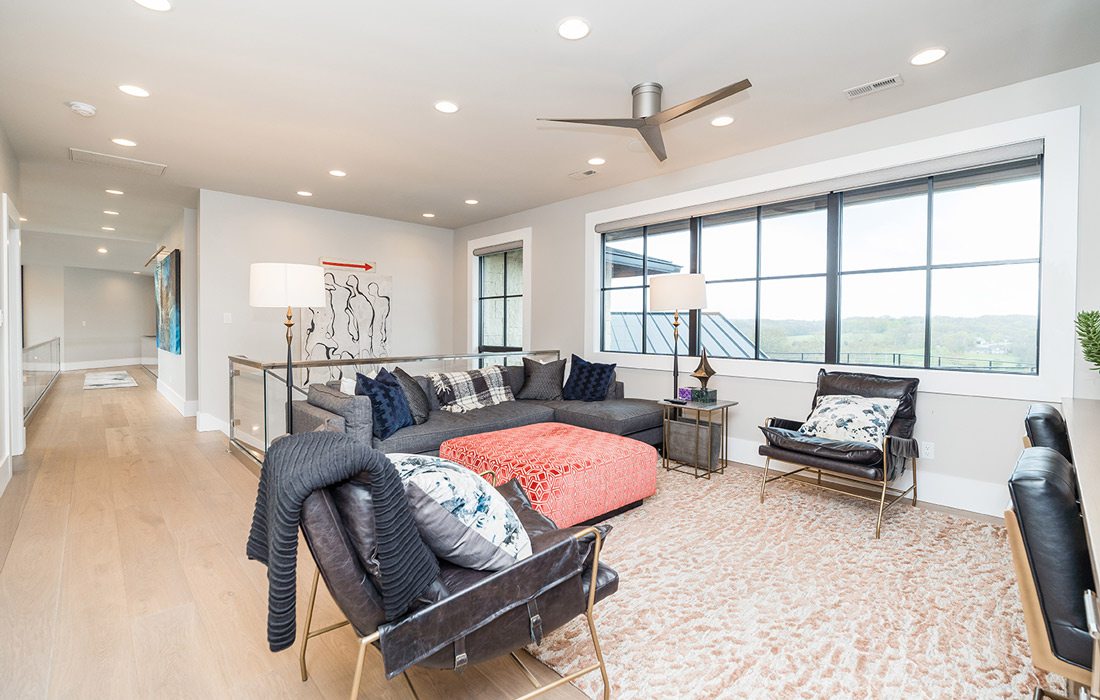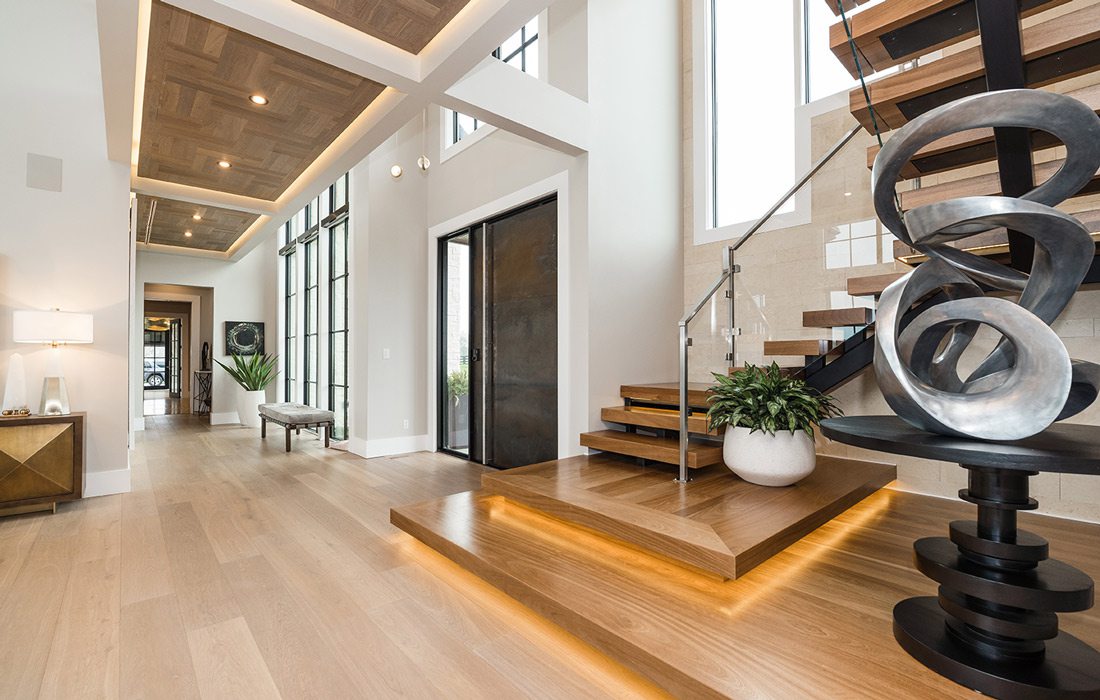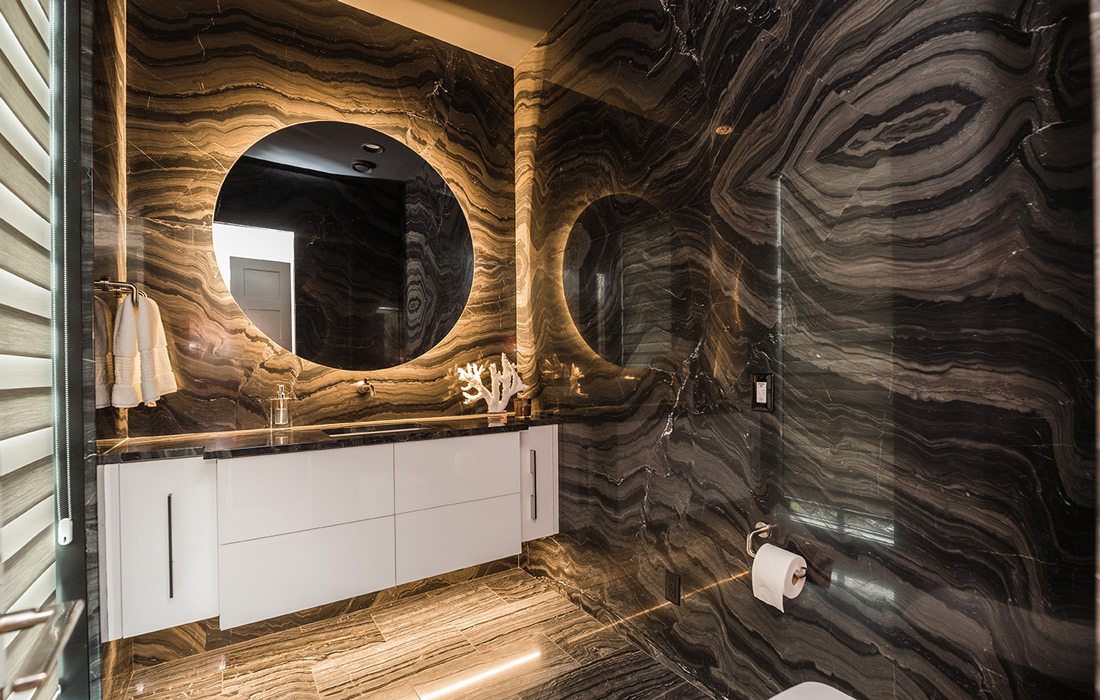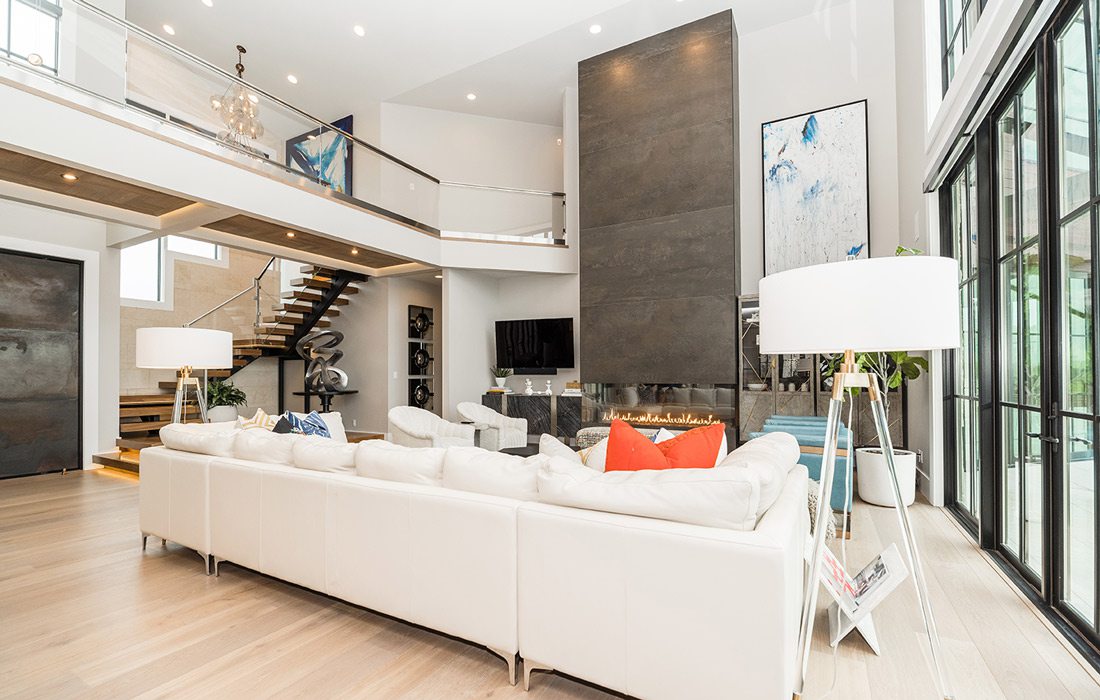 A Woodland Retreat
Category: $1,000,000 to $1,999,999
Winning Team: Builder | Bryon Weber of Weber Home and Land LLC; Home Designer | Jason Thompson of J.L. Thompson Design Group, Inc.; Interior Designer | Leila Herrera of Design One
Although this home lies near the convenience of the city, its interior and forest setting make it feel off-the-grid.

The southwest Missouri area is rich with rolling hills and lush, green forests. So when constructing any new home, builders must tailor their plans to fit a less-than-ideal terrain for construction. But in this home's case, the surrounding landscape ultimately guided not just the layout but also nearly every aspect of the design.
"Measuring for the proper fit always starts with a topographical survey," says  home designer Jason Thompson of J.L.Thompson Design Group, Inc. "Designing a home to fit perfectly is not an accident; it takes enormous effort."
The home displays rustic minimalism. It's far from stiff or cold thanks to its natural wood and stone elements with warm undertones.
"The homeowner wanted very natural feeling material," says Bryon Weber, who worked as the builder on this project. "But we also have a kind of unique blend with his home. We have a little bit more of a mountain-type home on the exterior. But then, we have very clean lines on the inside."
When guests visit, they enter through the custom-designed front doors that mirror the personality that runs throughout the home. Upon entering, a large window that leads all the way up to a vaulted ceiling highlights the captivating woodland view.
Q&A with Bryon Weber
What are some ways you played off of the home's surrounding landscape?
"A lot of the windows are very large. The inspiration was to bring as much of the outside inside, and use a lot of the materials on the interior that were used on the exterior. There is a cohesive feeling of being part of the outside environment while you're on the inside."
Did the landscape present any challenges? 
"The home was really modeled around one-level living, and in the Ozarks, we have terrain challenges. It's always a challenge getting your home to appear that it's sitting on a flat lot. When we started the project, there was a slope that we had to work around. It was also such a heavily wooded forest. Our other biggest challenge was trying to position the home within the forest and deciding what tree could be sacrificed."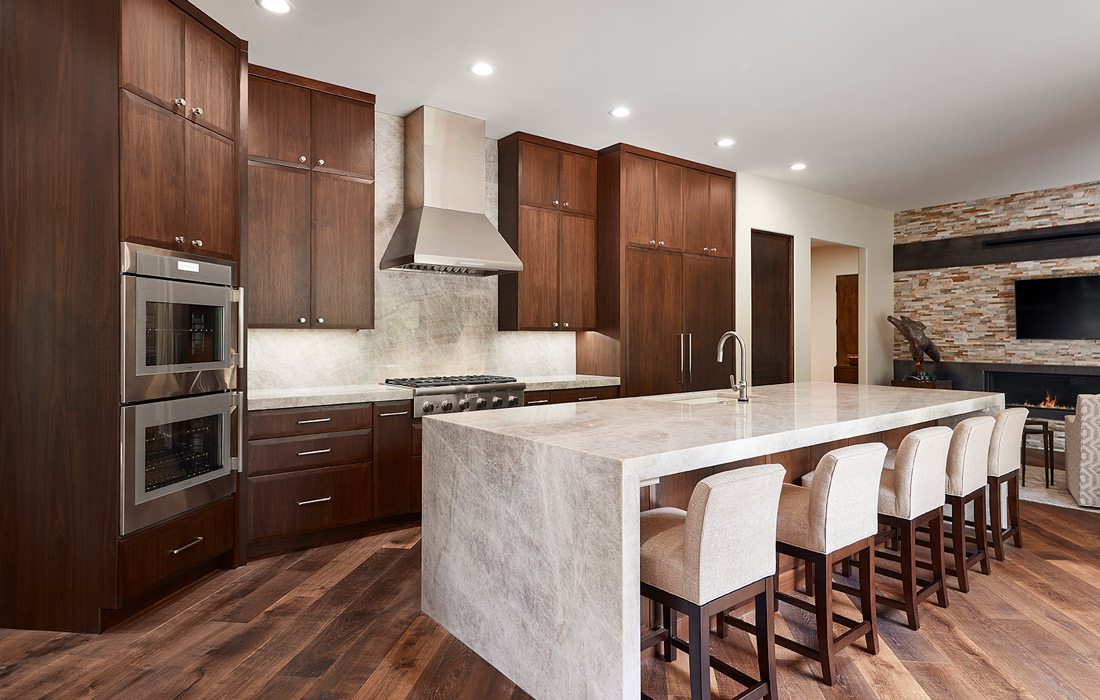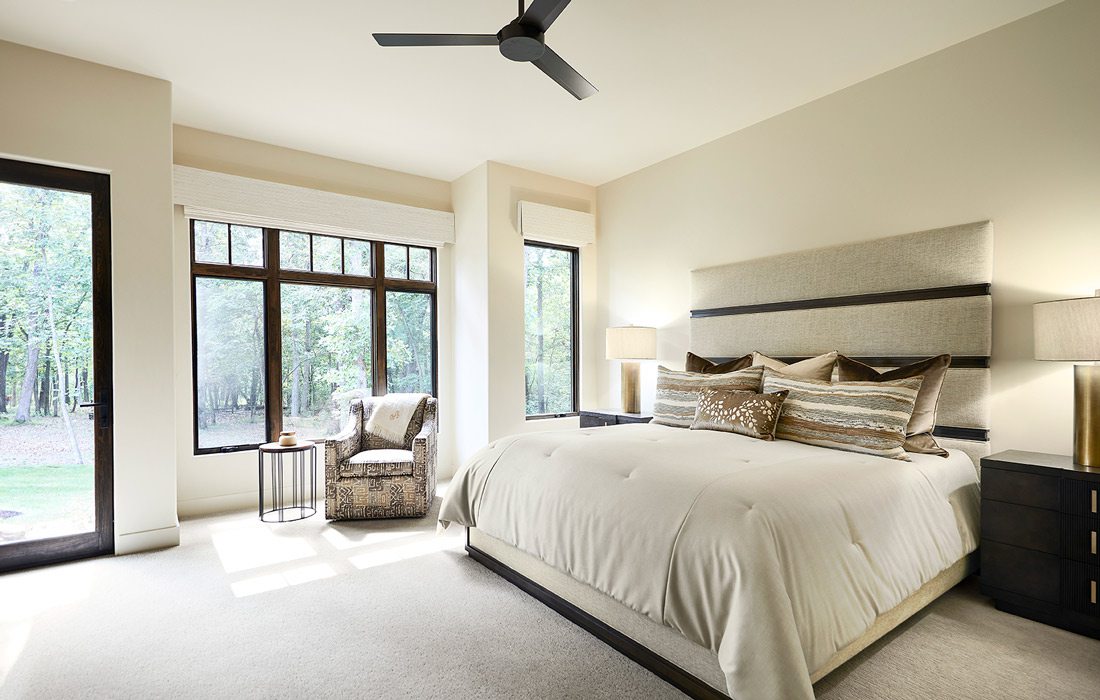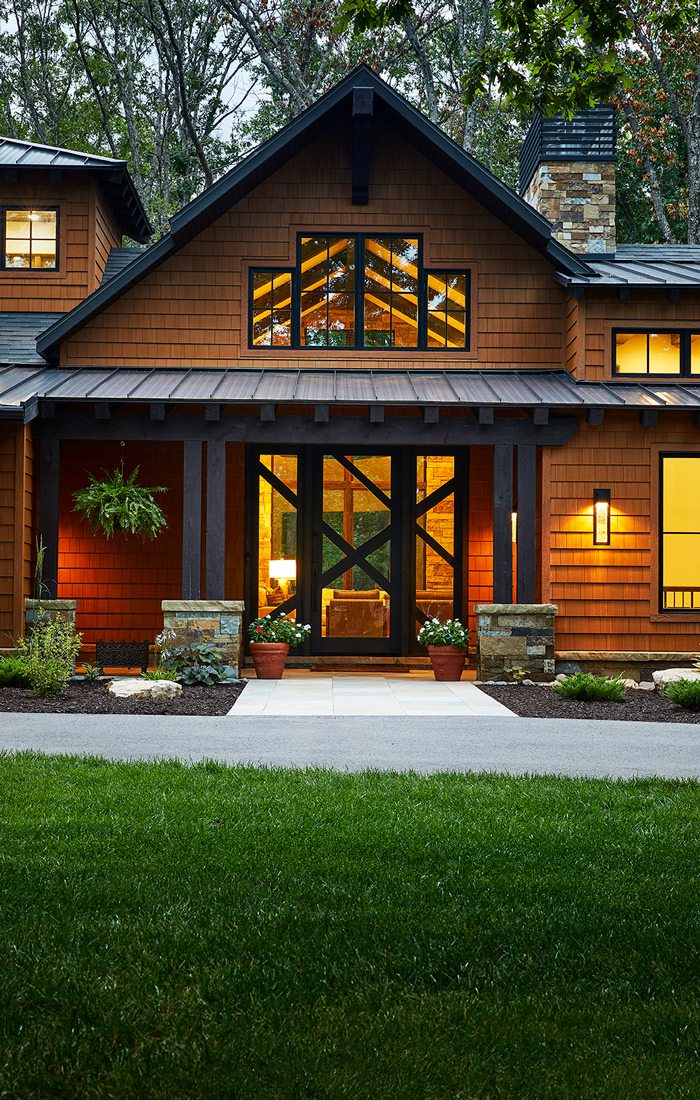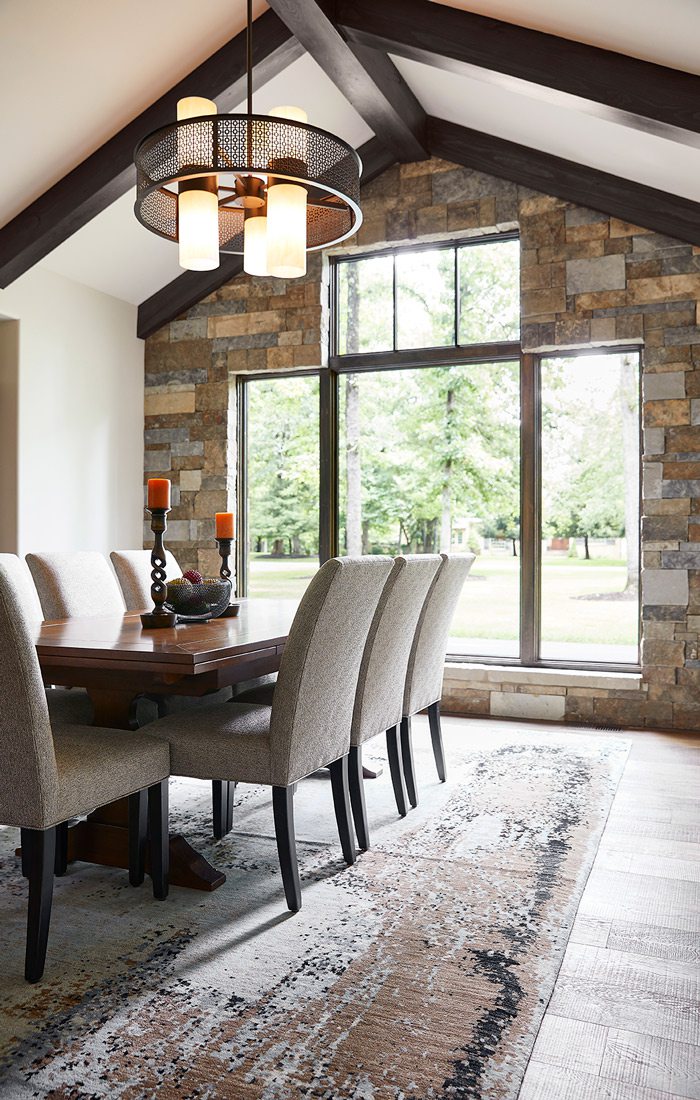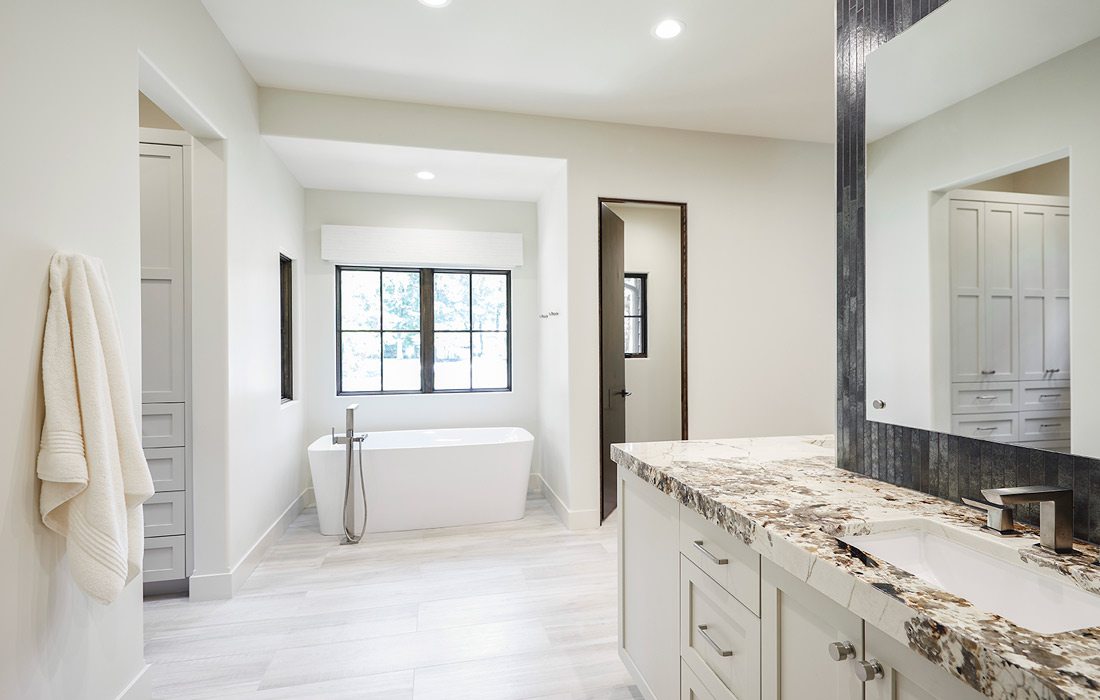 A Modern Cottage
Category: $500,000 to $999,999
Winning Team: Builder | Jeff Fahrlander of Fahrlander Custom Homes Inc.; Architect | Chris Ball of Ball Architects PC; Interior Designer | Jacque Ramsey of Ball Architects PC
Ball Architects and Fahrlander Custom Homes helped these homeowners downsize to a cozy cottage without forgoing their affinity for clean lines and spacious rooms.
If downsizing with comfort and luxury in mind is possible, and this modern cottage is proof. In this project, architect Chris Ball laid the plans for large open spaces that flowed into one another, which prevented the home from feeling too small or cramped.
Although the home only features three bedrooms and three bathrooms, the liveable square footage totals 2,500. The extra space allowed interior designer Jacque Ramsey to select large furniture with warm, earthy tones, which gave a nod to the traditional cottage look.
Making room for the new build required tearing down a few trees, but Jeff Fahrlander of Fahrlander Custom Homes worked with Knot2Rustic to repurpose the wood to build tables, island tops and the front doors.
Throughout the home, picture windows tucked away in unique places invite nature inside. For example, an atrium above the kitchen funnels light from all cardinal directions, creating an airy look no matter the time of day.
"The whole house was designed to feel much bigger than it is, and to provide a constant connection to the outdoors from almost every space that we could," says Chris Ball, architect at Ball Architects.
Q&A with Jeff Fahrlander
What are some of your favorite features of this project?
"Number one would be the kitchen area with the open concept. We spent a lot of time working on the ceiling in the kitchen, and we're very proud of it. Also, the pool and the outdoor kitchen area was a lot of fun, but also challenging to fit in that limited space."
Did you add any special features to the small pool?
"[The clients] wanted a lounging pool. So we designed seating inside the pool so if they want to have a glass of wine or converse with friends, that's a good area to hang out. The pool is only about three feet deep, but it's a great area to entertain with outdoor eating and such."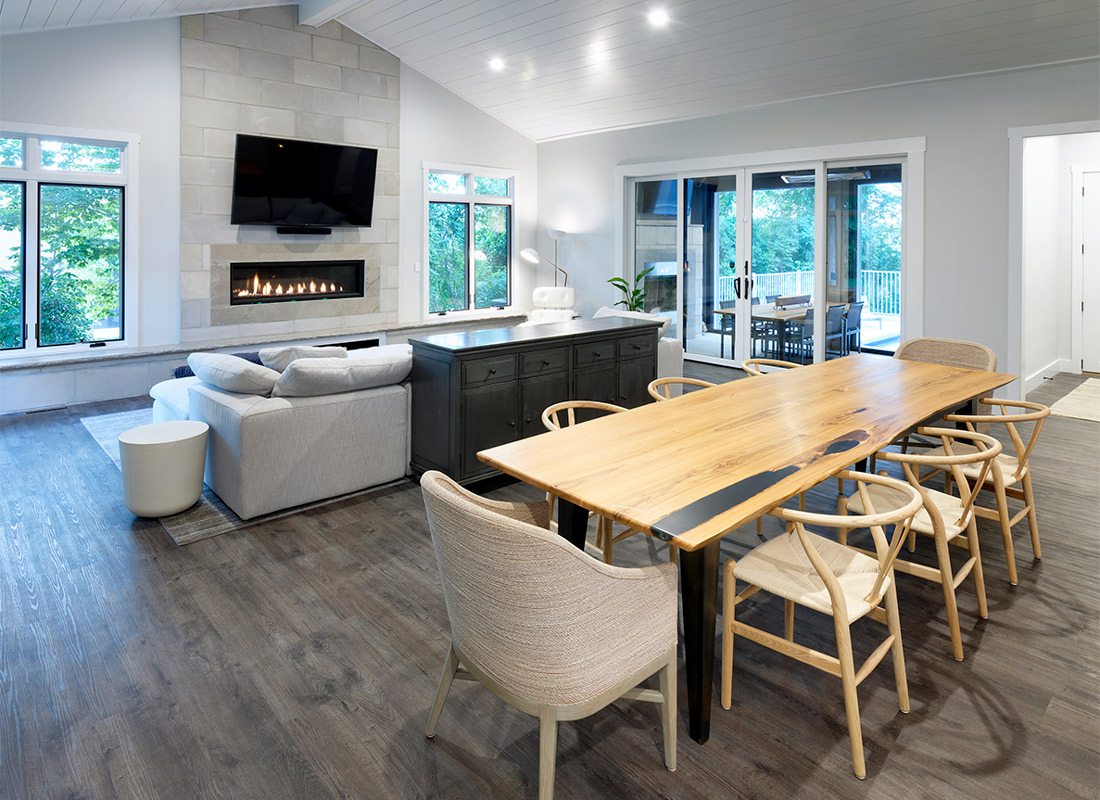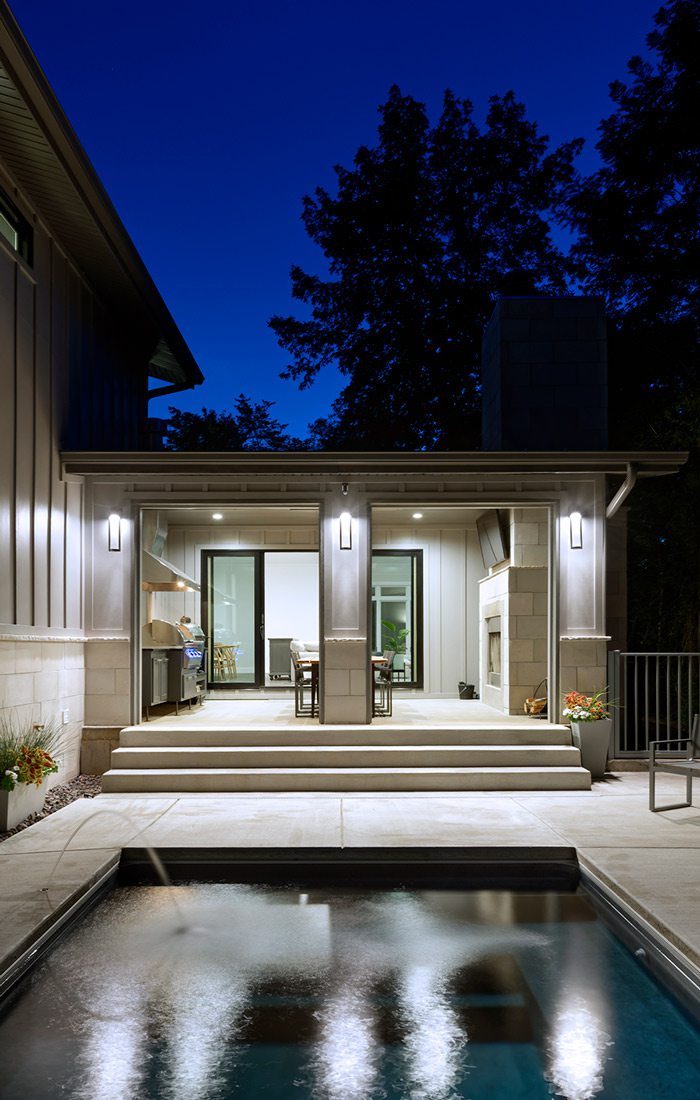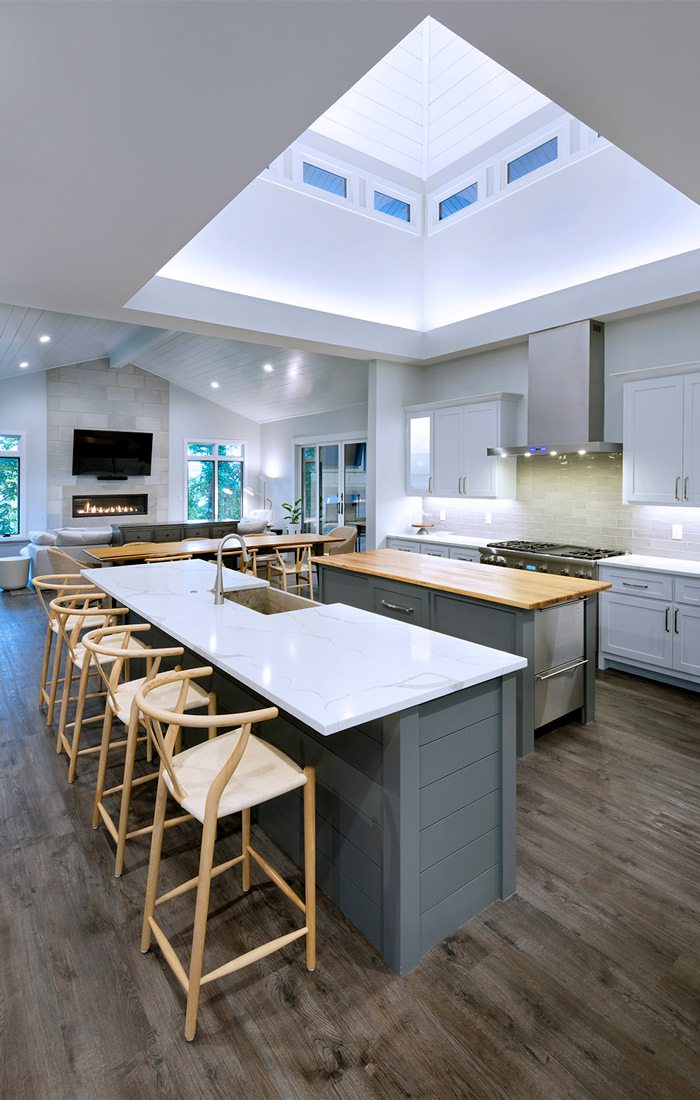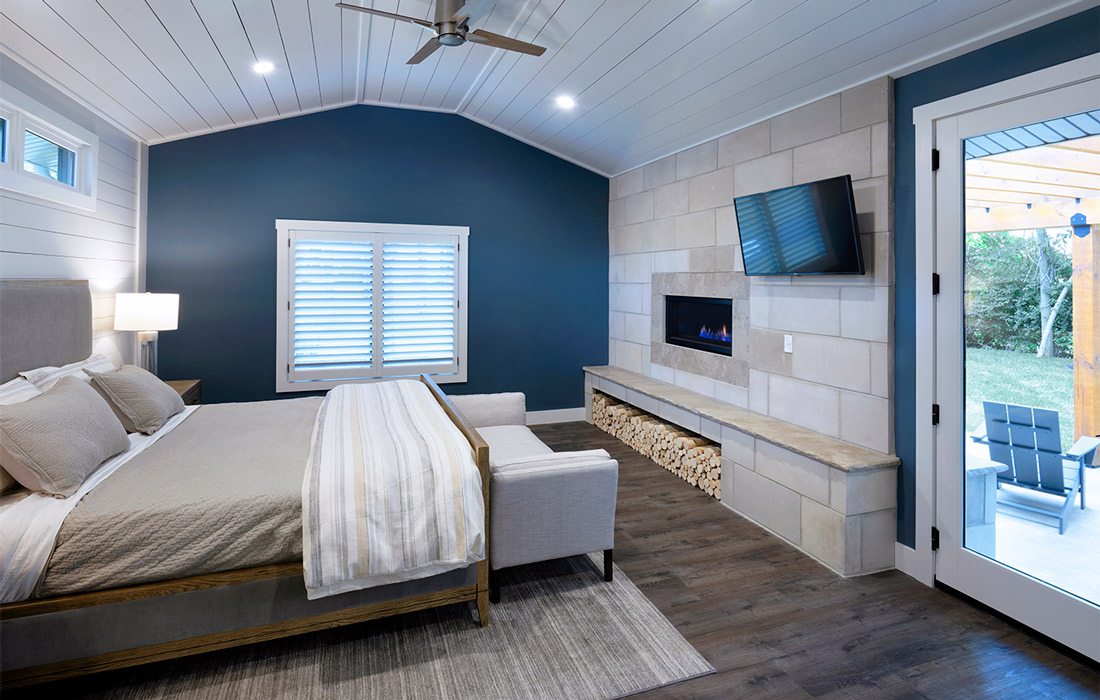 New House, Old Tricks
Category: Less than $500,000
Winning Team: Builder | Adrian Rhoads of Rhoads Design and Construction; Architect | Adrian Rhoads of Rhoads Design and Construction
This modern build with a bygone vibe is right at home in one of Springfield's oldest neighborhoods.
In Springfield, Adrian Rhoads and the Rhoads Design & Construction team have positioned themselves as go-to professionals for renovating homes in the Rountree, Delaware and Phelps Grove Neighborhoods. While Rhoads often creates something new out of something old, he did the reverse in this project. The result is this home that blends in seamlessly between mature trees and homes that date back to the 1920s.
In fact, Rhoads says even some of the subcontractors assumed the home was a renovation project rather than a new build.
"[Subcontractors] are only seeing their portion of the project," Rhoads says. "So, somebody that's installing countertops doesn't know the history of what's been going on––they're just coming to do countertops. After we got going, it was fun to see the amount of people that would come through the home and just automatically assume that it was a remodel."
The empty lot was prime real estate and had been undeveloped in Springfield's Rountree neighborhood for decades. The aspiring homeowners loved the location, so they reached out to the landowners, who were fortunately willing to sell.
"Our client wanted the new modern amenities, energy efficiency and their own layout and style," Rhoads says. "But they also really wanted to honor the fabric of the neighborhood as well.
Q&A with Adrian Rhoads
What was your creative process for choosing historically accurate details?
"Carefully selecting the materials was key, but so was leaning on our experience in remodeling. A lot of the time we're reproducing details because we're remodeling a home and trying to duplicate details from the past. This time it was unique because there wasn't anything to match or blend to. We were creating it all new, so we were having to rely on our past experience and research to mimic and create those new details to look like old."
Since this home is in Rountree, was there a certain architectural style you aimed to emulate?

"[Rountree] has of course bungalows and some craftsman roots. And then you also get into some colonial and federal-inspired homes as well. For this project, we were most inspired by the bungalow architecture."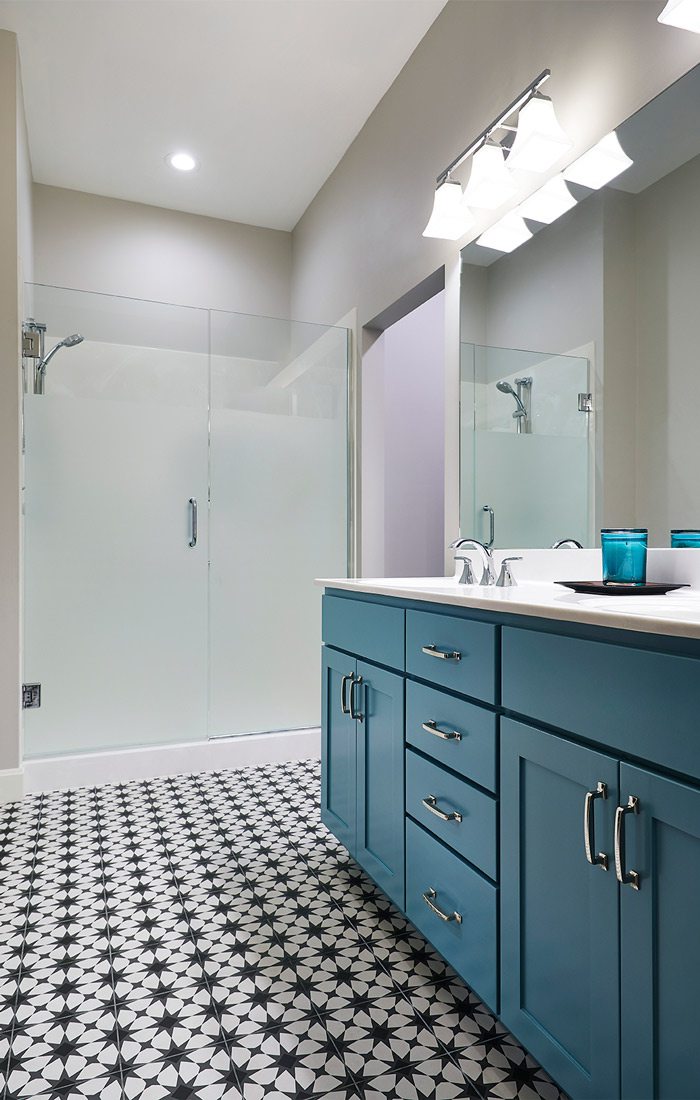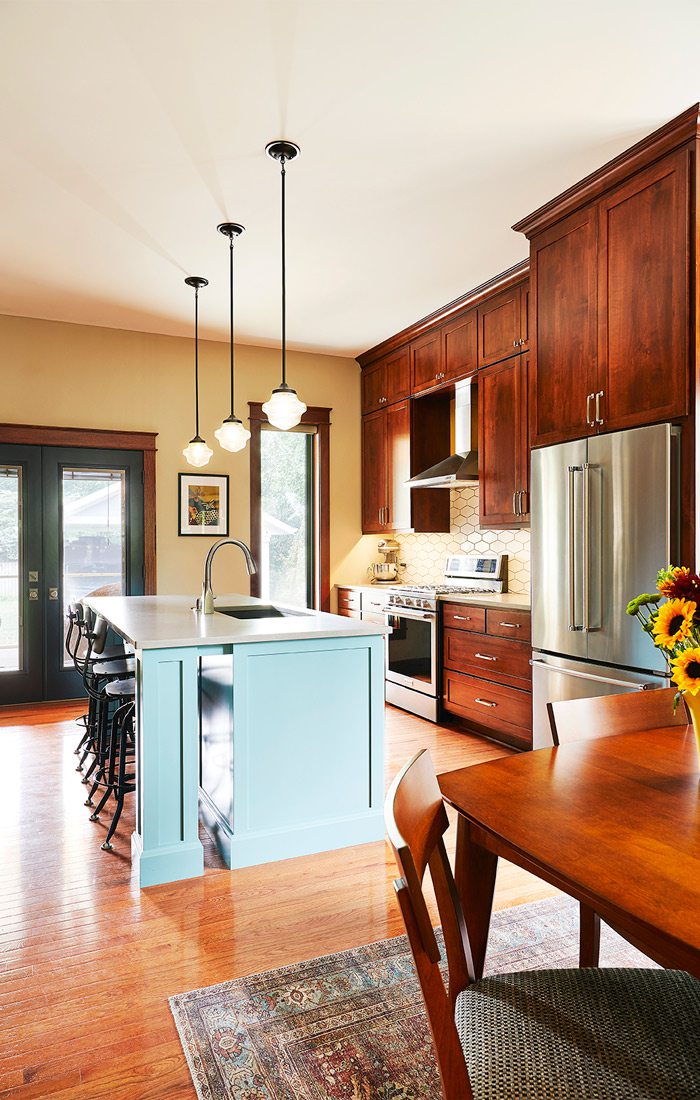 History Meets Practicality
Category: Best Renovation/Restoration
Winning Team: Builder | Jason Bekebrede of Monticello Custom Homes and Remodeling; Interior Designer | Nathan Taylor of Obelisk Home
For this remodel, Monticello Custom Homes created an addition fit for a family of seven, and also fit for a Don Russell Home.

The name Don Russell strikes a chord among eclectic mid-century architecture fans in Springfield. Russell designed several homes around the city around the 1920s into the 1990s, and according to local historian and realtor Richard Crabtree, Russell homes feature a unique blend of styles. Crabtree describes them as "French-Country meets Frank Lloyd Wright."
Making alterations to a Don Russell home is a feat that requires careful planning and implementation, and Jason Bekebrede of Monticello Custom Homes and Remodeling rose to the occasion. "The homeowners loved the house, they loved the property and they liked the materials," he says. "But they have five kids, and the old house just was not set up for a family of seven."
Rather than parting ways with the home, the clients invested in a remodel and addition. Bekebrede had previously helped the family with a basement remodel, so he was a natural choice for this additional project. Bekebrede collaborated with Nathan Taylor of Obelisk Home to create a comfortable, yet stylish interior.
The team at Monticello Custom Homes and Remodeling took the existing garage, small laundry and powder room and transformed these areas into a gym, spacious pantry, larger laundry area and powder room. They even added more livable space by converting an attic into a loft bedroom and adding dormers. The end result was a place for everyone in the family.
Q&A with Jason Bekebrede
What was the main goal for this addition and remodel?
"This [project] was driven by the need for more space. Since they have seven mouths to feed, they needed a nice pantry, they needed a great place to drop stuff off and they needed a laundry room that was substantial enough to keep up with the load that the household produces." 
This home was originally designed by renowned Springfield architect Don Russell. How did you honor the thoughtful, original details in this project?
"It involved a lot of pulling parts of the old and having things refabricated. For example, we matched the metal at the bottom of the siding to the copper on the old [part of the] house. It began to look just like it had always been there."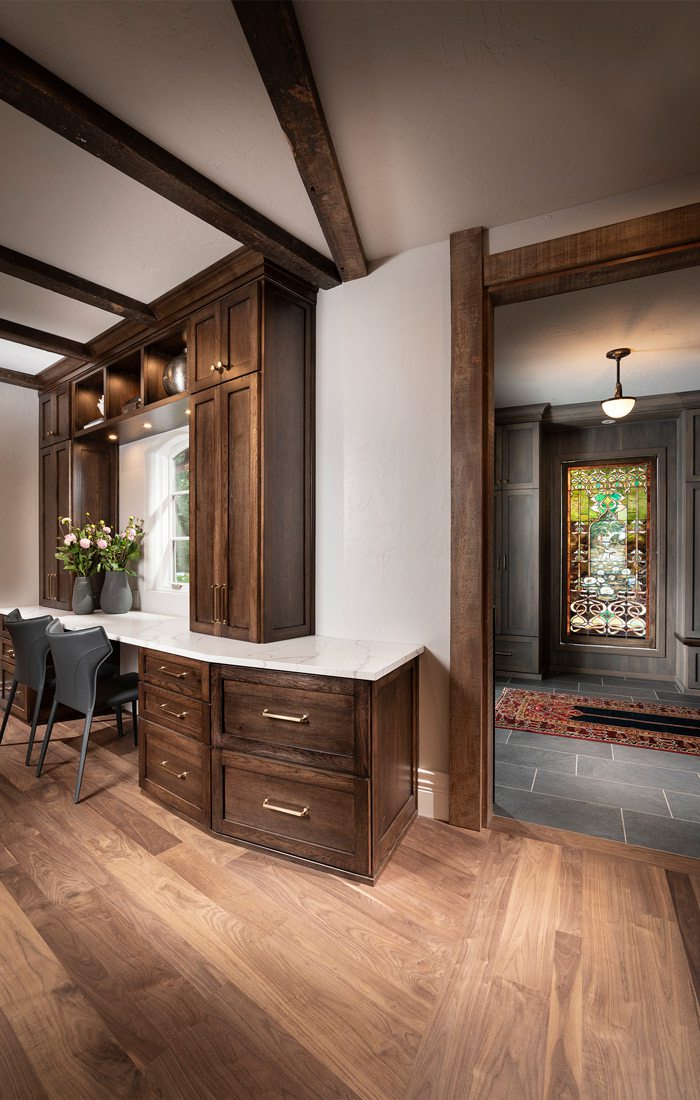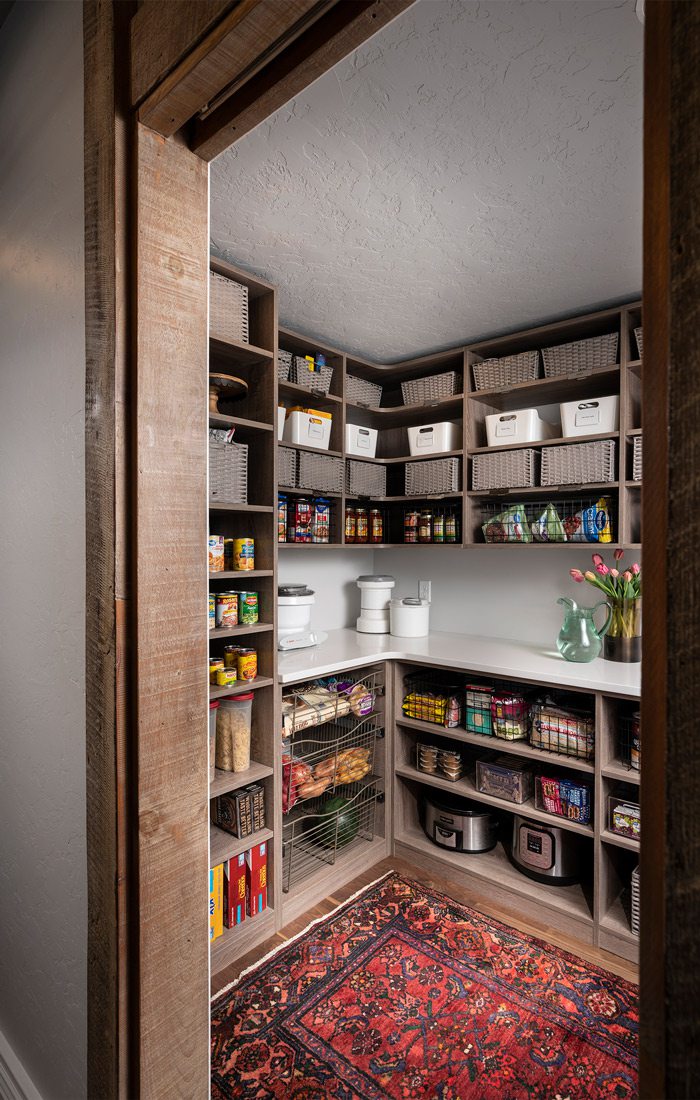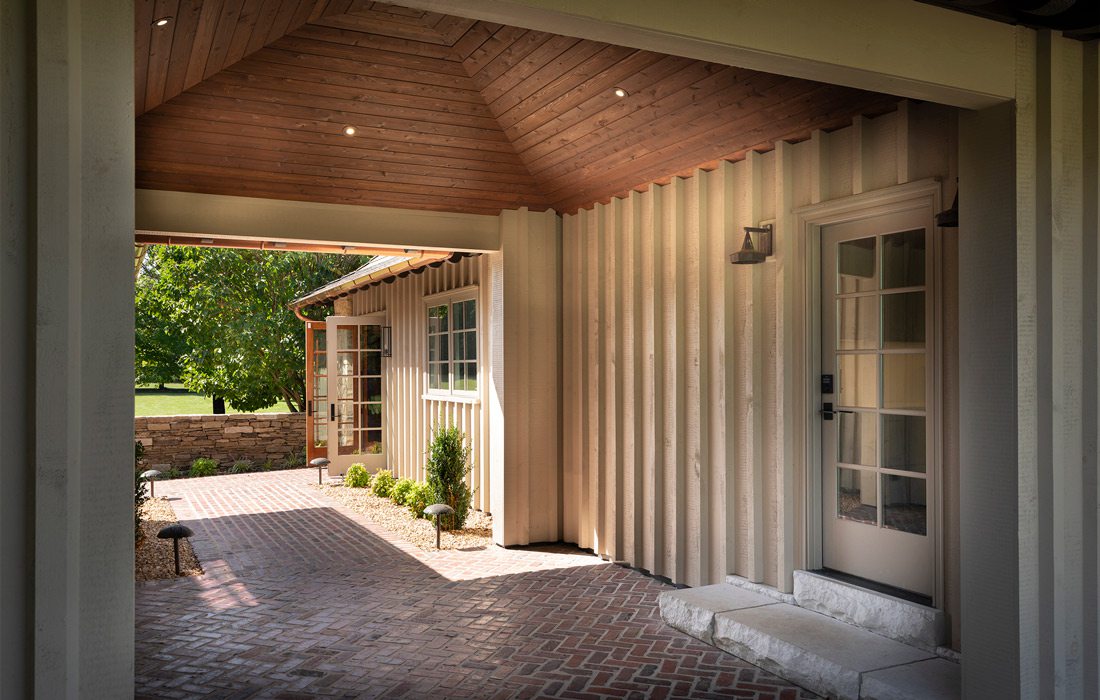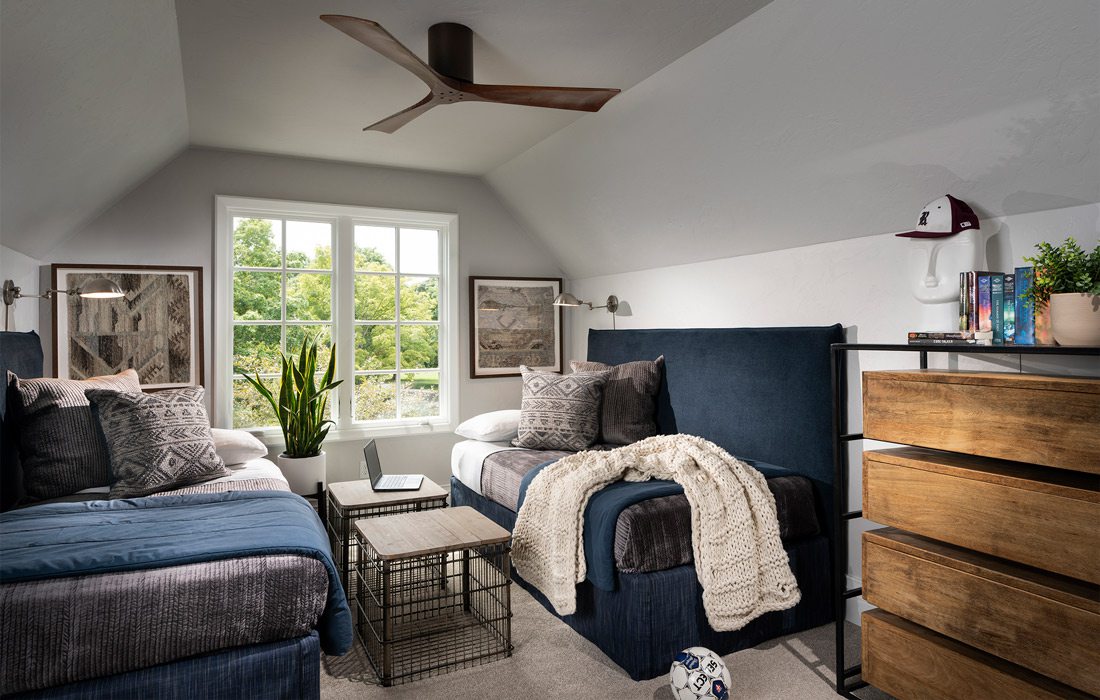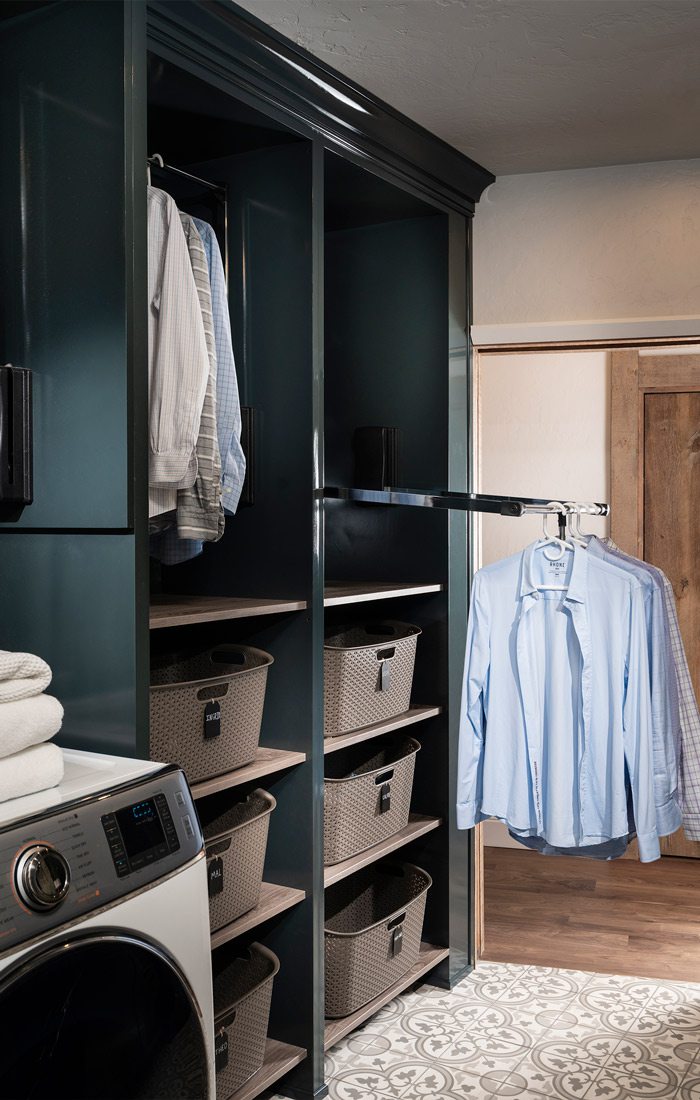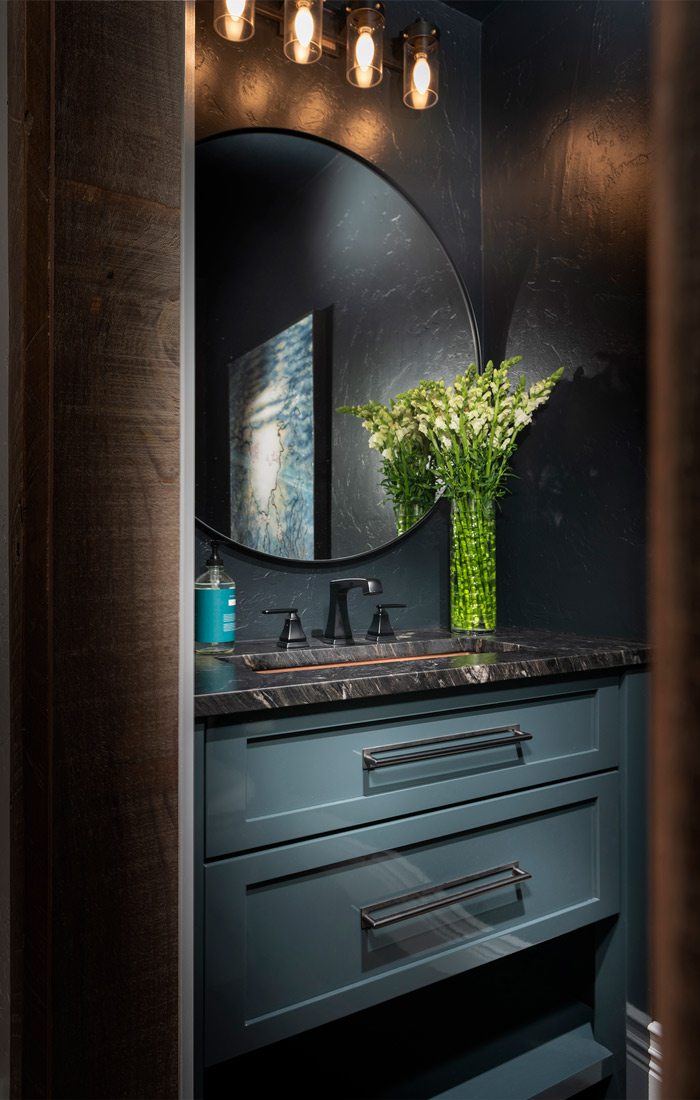 HOMEBUILDING TIPS FROM SWMO PROS
Do you have a trade secret for emulating the character found in older homes into a new build? "Prior to starting the design, we research and learn about the specific architectural style that we are wanting to emulate. The most important aspect is identifying the historical details of that time period so that they can be properly integrated into the home." 
—Adrian Rhoads, Rhoads Design & Construction
What advice do you have for creating an addition that feels seamless with the rest of a home? "Play off details inside and outside the home and carry those into your new space. This could be trim details inside that complement adjoining rooms or small architectural details inside or out that you can tie into the addition that, while subtle, make the space feel like it has always been there."
—Jason Bekebrede, Monticello Custom Homes and Remodeling
What are some things a homeowner should consider when communicating requests to a builder?
"Make sure you understand how you and your builder will discuss the project and its progress. Many builders encourage guided walk-throughs of the house at critical stages of construction. In addition, find out how the builder feels about informal meetings, phone calls and emails."
—Jeff Fahrlander, Fahrlander Custom Homes
When working with a builder on a large-scale project, what is the most important thing to keep in mind?
"The number one thing is communication, and it's a two-way street. Sometimes you run into the husband telling [the builder] one thing and then the wife emails [them] something different. They need to be on the same page, and the builder needs to communicate to the homeowners his or her interpretation of the decision so the project can move forward." 
—Travis Miller, Travis Miller Homes, LLC
What's one piece of advice you'd offer to a friend if they were commissioning their dream home?
"Form a good team early on, at the beginning of your project. When I say form your team, I mean have your home designer, your interior designer and your builder selected and draw upon all three of their knowledge through the design process."
—Bryon Weber, Weber Home and Land LLC
Now that you've had the chance to check out 2021's Homes of the Year, we're giving you an inside look into the details behind the projects. Here's a selection of the companies that were involved and that can help you make your home magazine-worthy too!