Life
3 Ways to Volunteer More in 2023
From one day this summer to long-term projects with a nonprofit you love, there's a place and a path for you to volunteer in 417-land this year.
by Ren Bishop
Jan 01 2023 at 8 a.m.
With growing needs in 417-land and nonprofits making our community better, make 2023 the year you make volunteering a professional and personal priority.
"Now is the time to reimagine volunteerism," said Greg Burris, executive director of United Way of the Ozarks. "Considering the inversion of the labor curve in 2018, there will be more jobs available than workers to fill them for decades to come. Thus, we believe nonprofits will increasingly rely on volunteers to perform tasks at all skill levels, in a variety of ways."
No matter your skill set or season of life, there's a way for you to volunteer this year.

PRESENTED BY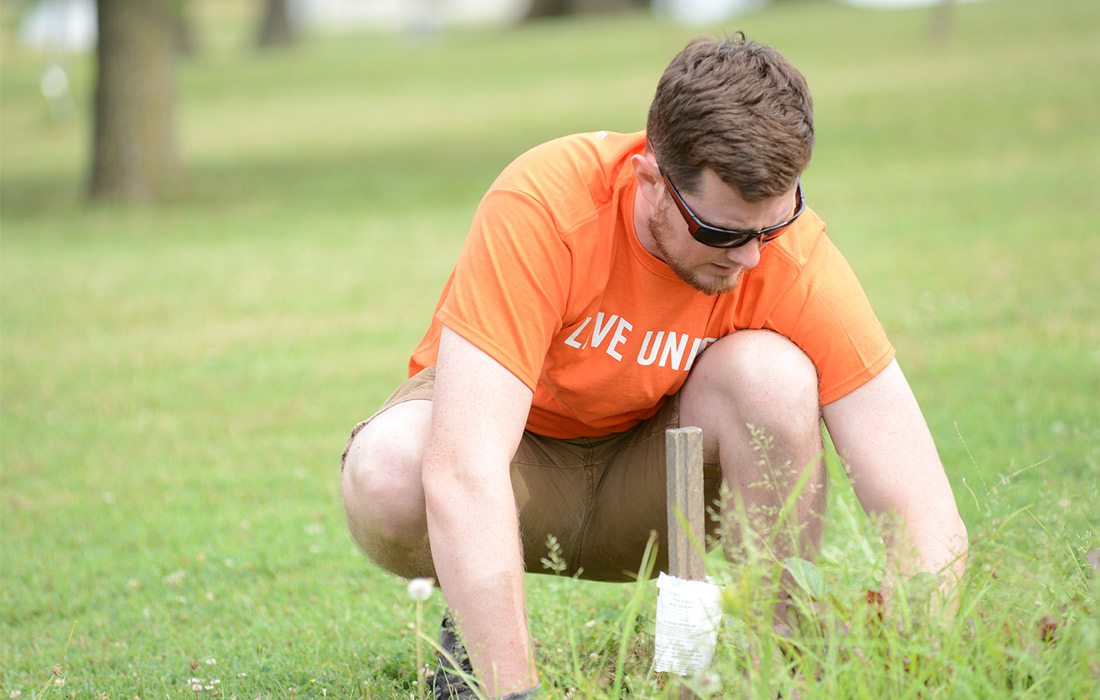 For Anyone, Any Age: Day of Caring
For young professionals new to their career or busy leaders with full calendars, the United Way's Day of Caring is a great way to give back – in just one day.
Since 1992, the communitywide day of service has partnered businesses with nonprofits to complete a variety of high-need service projects. From landscaping elementary schools to organizing food banks, there's a place and a project for anyone to roll up their sleeves and help.
Mortgage broker Paddio took three groups of 25 people last year, who volunteered at three different organizations: The Drew Lewis Foundation, Ozarks Food Harvest and the Boys & Girls Clubs of Springfield. Loan officer team lead Liz Trader organized Paddio's volunteers, who were encouraged to participate by their company's culture of volunteerism.
"We all showed up ready to work and make a difference at each location, tools in hand and smiles on our faces," said Trader. "Some of us pulled weeds and got a little dirty; some of us helped renovate a playground to help make it a safe space for children in our community. For those who preferred less manual labor, they packed boxes for local seniors. Every employee came back with a new perspective of how their direct impact made a difference."
Be a Volunteer
Sign up to volunteer at United Way Day of Caring.
For Mid-Career Leaders: United for Greatness
For professionals with highly sought after skills, pro-bono consulting is an attractive, low-stress way to give back to a favorite nonprofit. But where and how?
In partnership with the Great Game of Business, United Way organizes United for Greatness events hosted at a variety of nonprofits. Designed as one-day deep dives, local experts come together and give their time and talent to help a nonprofit tackle a problem, address an organizational need or scale a revenue driving effort.
Last summer, more than a dozen experts in sales, marketing, business and startups came together at Harmony House to develop a business plan for life-sized portraits, already created by photographer Randy Bacon, that illuminated stories of domestic abuse survivors. In just a few hours, the team developed a five-year business plan for a traveling art exhibit, with metrics, strategies and measurable action steps.
SRC Holdings Executive Vice President Tim Stack led the team during the effort, collaborating with Harmony House leaders during every step.
"Nonprofits rarely lack passion, but sometimes they don't have the resources to invest in areas needed to execute on a project or business plan," said Stack. "Witnessing the expertise of the community volunteers paired with the passion and energy each person brought was incredibly rewarding."
Be a Volunteer
Contact the United Way to participate in the 2023 United for Greatness projects. To learn more visit uwozarks.org/united-for-greatness/.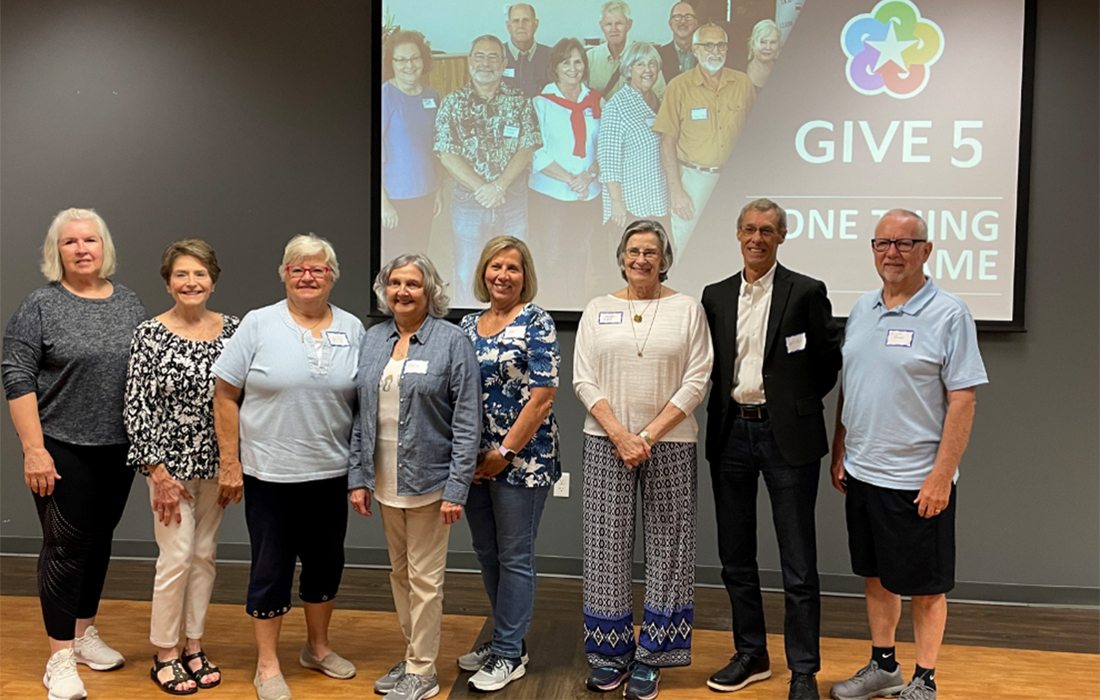 For Seasoned Experts and Retirees: Give 5
When the golden years are within reach, there's often two strategies: stop working and start thriving, or stop working and start giving. With the Give 5 program, experts nearing retirement or active retirees find ways to give and thrive in their community.
Created in 2017, Give 5 is a civic matchmaking journey that introduces retirees to strategic volunteer opportunities and nonprofits that address Springfield's highest needs. Part field trip, part lecture circuit, Give 5 cohort participants connect with five nonprofits, once a week, over five weeks. Upon completion, participants then choose which nonprofit matches their personal passions as their volunteering home.
Ramon Martinez, Lieutenant Colonel, USAF, Retired was a part of the third Give 5 cohort. After retiring from two careers, Martinez knew he had more to give – and then he walked into the Drew Lewis Foundation.
"The Drew Lewis Foundation reminded me of the nonprofit organization where I served as CEO/President," said Martinez. "DLF's mission aligned with my values and career trajectory. Rather than simply volunteering to serve in any capacity they thought fit, I used a different approach. I introduced myself to the CEO and recommended that she use my expertise to help her and her new staff to do their mission and pursue a vision of success."

Together with DLF leaders, Martinez developed the Nonprofit Career Academy, a post-secondary education and training program. Designed for individuals with a high school education, the program introduces, prepares and connects people to have successful careers in nonprofits.
"This is one of the ways that I continue to remain productive in life," said Martinez. "I work to help underserved families, unfulfilled workers and hidden workers to find a better alternative to the status quo. In fact, this is so important, that I moved to a house around the corner from the Drew Lewis Foundation to help our community and DLF build and sustain healthy human growth."
Be a Volunteer
Sign up for the next Give 5 Cohort at https://give5program.org.
No matter your age or your cause, nonprofits in the Ozarks need you. Make a commitment to serve your neighbors and make 417-land better than ever this year.
"Everyone can make a difference," said Jared Alexander, philanthropy director of Harmony House and United Way partner agency. "Everyone has a skill that can make an impact in someone's life. Just taking time to look for those opportunities to give back is the best thing you can do for your community."
There's always a nonprofit looking for passionate people looking for purpose. Find volunteer opportunities in 417-land any time at https://uwozarks.org/volunteer/.