We Are #417Strong
Where to Buy a Face Mask in Springfield so We Can #MaskUp417
In the Road to Recovery plan outlined by Springfield-Greene County officials, the wearing of a face mask is at times required and at other times highly suggested. Here's a list of local businesses where you can buy yourself and your family masks today.
By Krysten Muench
Jul 13 2020 at 1 p.m.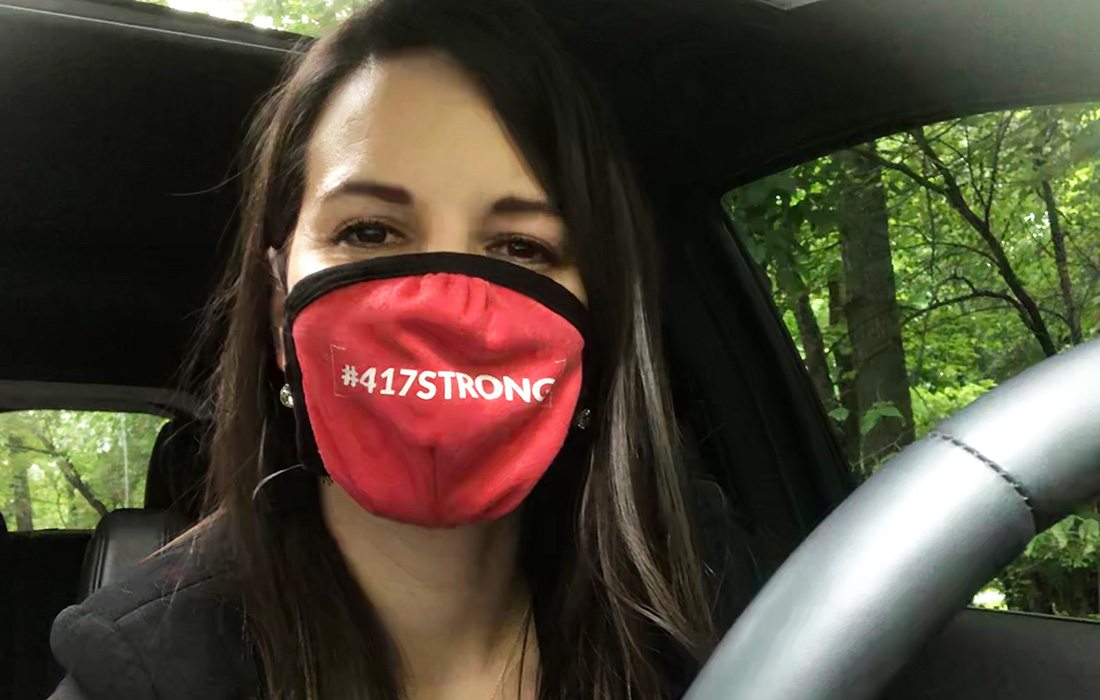 This list was last updated Monday, July 13.
Springfield-Greene County has moved into the third phase of the Road to Recovery plan which has allowed all businesses to reopen under varying restrictions, guidelines and occupancy limits. One guideline that is mandatory in some cases (personal care services) and strongly encouraged in others is the wearing of a mask.
Recently, CoxHealth announced their #MaskUp417 initiative to encourage community members to wear masks when in public. This grassroots effort encourages you to take a selfie in your mask and post it to social media, using the hashtag, to help encourage others in your orbit to wear a mask in public spaces as well. 
Individuals and businesses in the Springfield community have been working hard to make masks available if you don't have one and don't wish to make one yourself. We've gathered a list of places where you can pick up a mask today.
5 Pound Apparel
Downtown: 417-368-6401 | Farmer's Park: 417-720-2643
5 Pound Apparel has been expanding their mask offering with plenty of patterns to choose from and sizes for children and adults. Masks are available in-store at both locations as well as online and range from $6.50–$17.
A Cricket in the House
417-865-2758
A Cricket in the House has handmade masks in a wide range of patterned fabrics available in-store. Adult sizes are $11.95 and child's sizes are $9.95, and new batches come in 2 to 3 times each week. 
Baglady Boutique
417-882-2238
Baglady Boutique sells traditional face masks as well as Karma half and full headbands that can be worn around the neck and pulled up to cover your mouth and nose. The headbands are sold in-store for $11.95–$12.95 and the masks (available in a wide variety of patterns) are available for $12.95

Country Lace Boutique
417-326-5721
Country Lace Boutique has plenty of masks in-stock and plan to keep their selection well stocked. The cloth masks sell for $8 and are washable. Keep an eye on their Facebook page for updates.
Culture Flock
417-986-1946
Orders placed online are ready for curbside pickup in about 10 minutes and local delivery is available on Thursdays. The all cloth masks sell for $16 and come in a variety of colors and patters. They also have a space for a filter, although a filter is not included. They also have a super simple poly-cotton mask option for $8.
Elite Promotions
417-866-8989
Elite Promotions has launched 417masks.com for all of your masking needs, including large orders. They offer various styles that can be ordered plain or with a custom design. Look out for a 10 pack for $20 deal coming soon on their black, blank masks.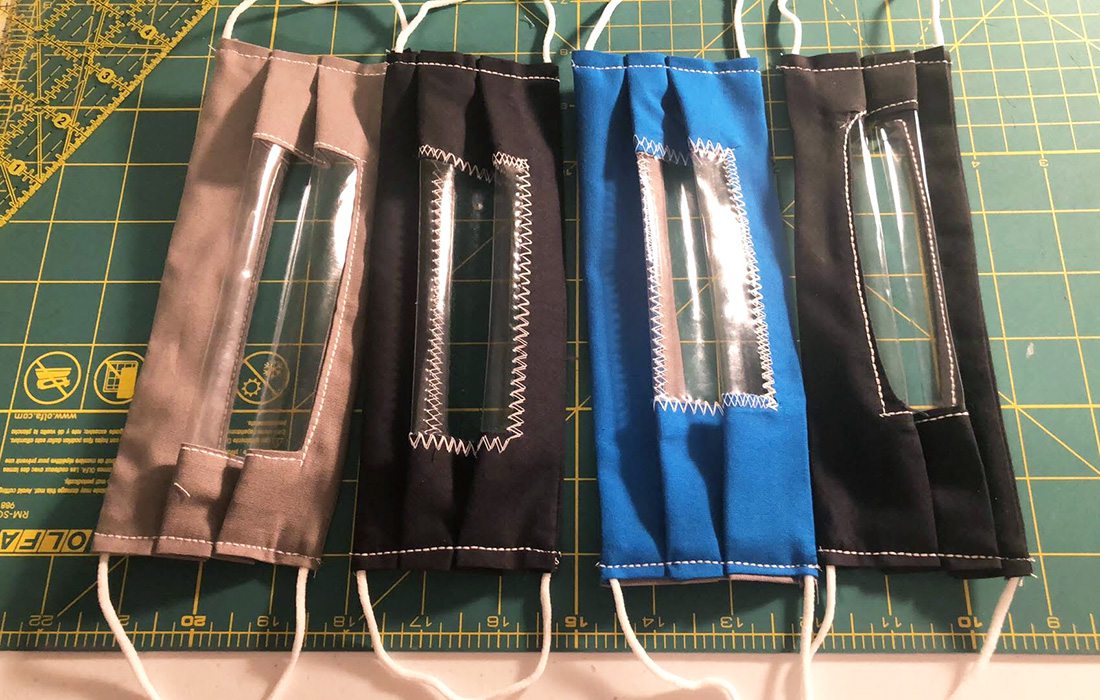 Face Masks by Rebekah
417-233-1006
Rebekah Jones is owner and designer of Rebekah's Custom Designs, and she recently added Face Masks by Rebekah to her offerings. Jones hand makes all masks she sells in a variety of patterns and styles, including a hearing impaired clear vinyl mask. Check out her Facebook page and online shop to order.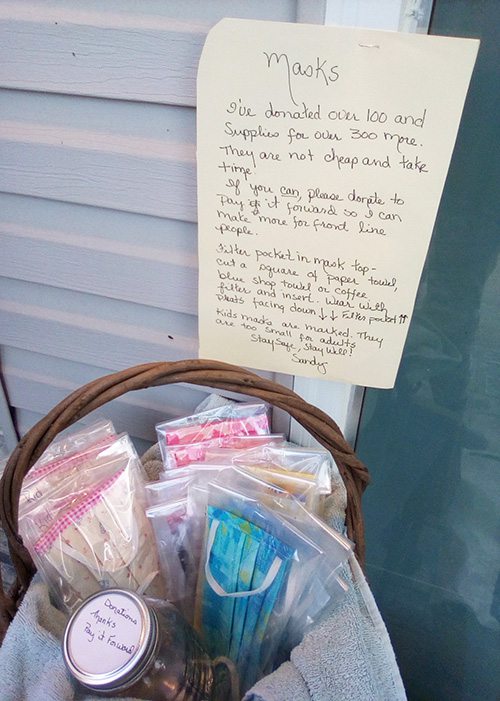 Sandy Miller of Ozark has been making masks for her neighbors and community members. In a donation based, pay-it-forward system, you can pick up one of her masks from her front porch.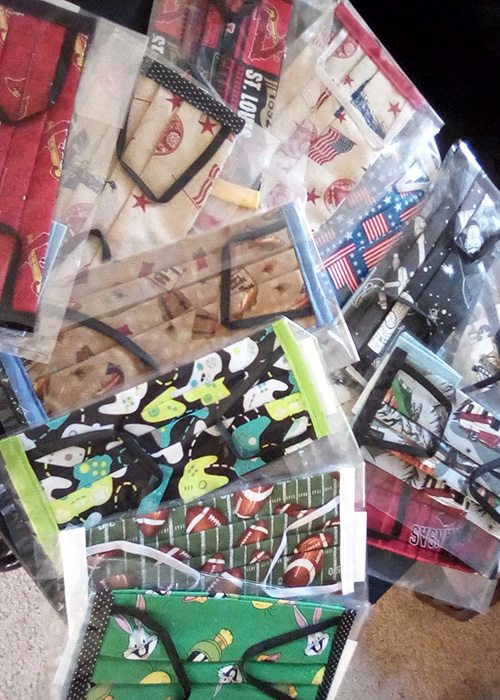 Homemade face masks by Sandy Miller of Ozark, MO.
Photos by Sandy Miller
Homemade Masks in Ozark
1900 E. Samuel J St., Ozark
If you live in the Ozark area, you've got a friend in your community member, Sandy Miller. With a pay-it-forward system, Miller has made more than 2,500 masks and donated hundreds. Everyday, you can find adult and children's sized masks out on her porch, individually wrapped with filters.
Ink Print & Sign
417-222-6202
Ink Print & Sign is offering blank and custom 100% cotton, black, two-layer masks. Blank masks are 10 for $20 or 20 for $35, and custom orders add an additional $1–$6 to the price, depending on the design and type of customization. Custom masks can be made individually for $3–$10 each. See custom examples on their Facebook page. Be sure to check out their special #MaskUp417 design! Call, message them on Facebook or stop in and see them in-person to purchase.
The Greek Corner Screen Printing and Embroidery
417-865-8011
You can feel good when you order yourself a #417Strong Allmask™ for $20 in one of 10 colors. A portion of the proceeds benefit Ozarks Food Harvest. Plain colored masks are also available.
Jellybeans
417-889-2117
If you've been searching for child's sized masks, look no further. Jellybeans sells multiple styles of masks for $10–15, some with filters some without, in a variety of patterns. Shop for masks in-store only.
Lemon Belle Boutique
417-274-1400
If you're in Ozark, a great option for masks is Lemon Belle Boutique, located within Magnolia's Market & Boutique. Shop their colorful and patterned options in-store or online. Kids sizes and adult sizes available and sell for $10.
The Market
417-889-1145
The Market has many varieties of masks to choose from, ranging from $7 to around $30 for designer styles made with a super soft cotton. Pick them up in-store only.

Missouri Embroidery
417-889-2221
For the ultimate form of customization, when you purchase a mask from Missouri Embroidery, you can have your monogram or company logo screen printed right onto the mask for $15. Masks are available in three colors and can generally be ready within 48 hours of ordering. Purchase in-store or online. Plain masks without screen printing are also available for $8. Kid's sized masks also available. 
Nixa Clothing Company
417-335-1379
Shop for various styles, colors and patterns online and in-store. Masks have been handmade with care and come in child and adult sizes, generally ranging from $6–10. 
Spring Branch Kombucha
An unsuspected place to pick up a face mask is through Spring Branch Kombucha. Available online for $20, the custom Phunkshun tube is different than most masks you've seen and can be worn around the neck and pulled up to cover your mouth and nose. 
Staxx
417-866-2900
Find your preferred mask look with nine styles to choose from at Staxx. All cloth masks sell for $12 and are available in-store only. 
The Uptown Boutique
417-882-2645
The Uptown Boutique has masks available online and in-store for $12. The all cloth masks are available in a variety of bright colors for summer.
WiseGuys Screen Print
417-831-5010
If you've been looking for a mask option that's great to wear out in the heat, WiseGuys Screen Print has a great option for you. They are currently running a sale on their youth and adult size Badger Moisture Management masks, which are light weight and help manage moisture. Buy 12 or more with a one-color design, they're $5 per mask. Snag a #417Strong mask for $5.25, or if you're looking for a plain mask, those are $3.70 per mask with no minimum. WiseGuys also has a variety of other mask options available and can accept orders of 1,000 plus. Visit their website or Facebook page for more information. To order, visit them in person, call or email wiseguyjim1010@gmail.com.
Know of Another Business Selling Masks?
If we missed someone in the community who has masks available, send us an email and let us know so we can update our list.