We Are #417Strong
Gary and Joan's Extended Adventure
417 Magazine owners Gary and Joan Whitaker took a timely cruise before the COVID-19 outbreak kicked into high gear. We've got updates on where they are as they find their way back to 417-land.
by Gary and Joan Whitaker, compiled and edited by Jamie Thomas
Mar 18 2020 at 8 a.m.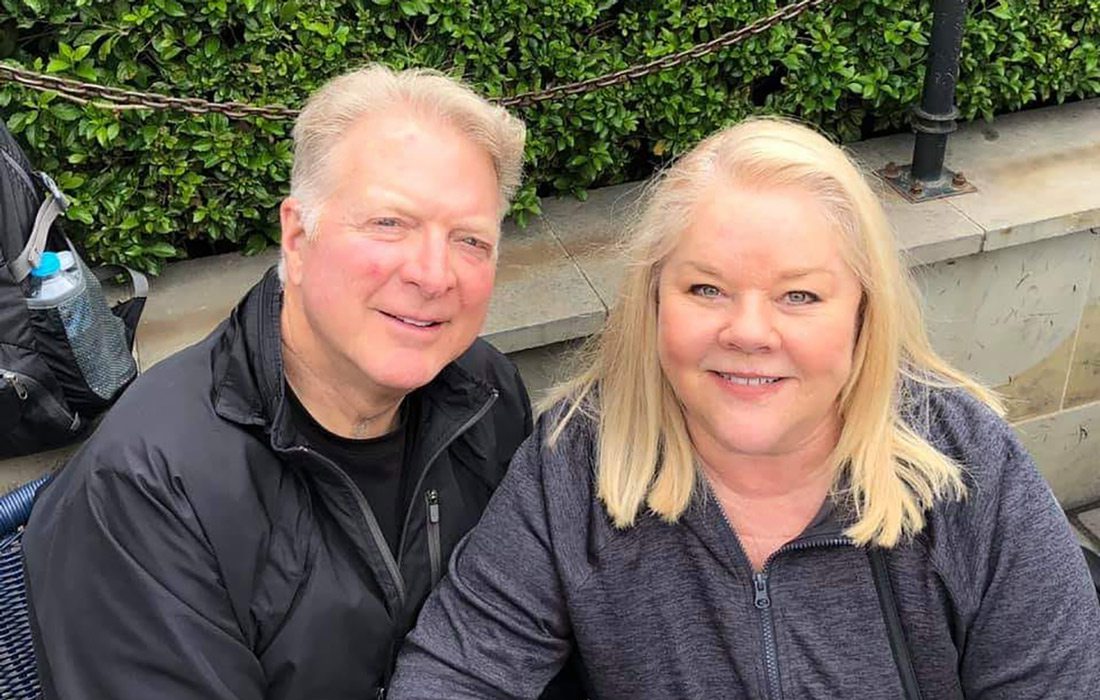 Gary and Joan Whitaker, 417 Magazine owners, stepped aboard the Oceania cruise ship Marina on February 25 after a stay in Rio de Janeiro. In the short time since then, the world has rapidly changed thanks to the spread of COVID-19, and anyone who follows the Whitakers on social media knows they're still at sea. Fortunately, Oceania seems to have taken good care of their stranded sea-going passengers while they've struggled to find somewhere to dock. The Whitakers have been keeping everyone updated on their social media feeds, so we're going to share some of these updates with you in this blog. Check back in for news about where the Whitakers are on their unexpectedly extended adventure. Follow Gary Whitaker and Joan Whitaker on Facebook.

Updated 03-23-2020
Posted by Joan on March 12
This is an interesting time to be on a cruise ship. Oceania is doing an amazing, and much appreciated, job keeping us all healthy. There is a seemingly endless supply of hand sanitizer and now staff is at every entrance to every public area making sure we use it. Menu covers have been taken away and replaced with disposable paper menus. Even our scratch paper at trivia is disposed of once it's been touched. For a while they even shut down the laundry but apparently there was a backlash because it has reopened. No one is sick on the Marina. We have three more days before we disembark in Lima on Sunday. And then? Who knows? On to Peru!
Posted by Gary on March 12
Feeling like an astronaut orbiting the earth. We can only watch and wonder. After sailing down the east coast of South America and around Cape Horn, we're now sailing north along the west coast of Chile towards Peru. Our Oceania ship Marina has pulled out all the stops to keep passengers and crew safe and healthy while we hear of a pandemic unfolding on shore.
We plan to disembark in Lima, visit Machu Picchu, then fly home via Miami next week. But with news of cancellations and travel restrictions, we're ready for anything. I'm sure orbiting astronauts enjoy the view from afar and the experiences on board, but always a little anxious to come home to a world that is turning and changing. We just believe it's better than never blasting off at all.
Posted by Joan on March 14
When we woke up this morning, the bright morning sunshine streamed in from the east. However within a few minutes it disappeared. Not into clouds or fog. It disappeared because the captain turned the ship around and we are headed back south. We were scheduled to disembark tomorrow morning in Lima, Peru but Peru has declined our arrival. Apparently, at least for now, Chile will accept us.

We are headed back to San Antonio, Chile, and will find our way home from there. No one on the ship is sick. Hope it stays that way. Also hope the ship doesn't run out of food, wine or toilet paper.
Posted by Gary on March 14
Greetings from the Oceania ship Marina off the coast of Peru. We were not allowed to dock today in Pisco by order of the Peruvian government. We won't be allowed to disembark in Lima either. That was where we had planned a side trip to Machu Picchu before flying home. We've just been informed we are turning around to head back to San Antonio Chile which means we will probably be flying out of Santiago in the next day or two. Unless Chile...you know…Hello, ground control?
Posted by Joan on March 14
Chile just closed ports. Ship headed back north. Hoping to get through the Panama Canal but who knows. What we do know is we are going to be on the Marina for a long, long time. God help this poor staff.

Posted by Gary on March 15
Chile doesn't want us. Peru said "no." Hey Ecuador, got room? Panama? Colombia? Funniest prediction overheard last night: Guantanamo Bay. The ship, Oceania's "Marina," had been re-provisioned last Wednesday, just before our cruise around the continent of South America became a journey into the unknown, so it's full of fuel, food, drink, hand sanitizer and toilet paper.
Everyone is healthy and in high spirits. They predict we'll be at sea at least three more days. Panama Canal cruise? For good behavior, they've rewarded us with an open bar from 5-7pm for the next couple of evenings, plus unlimited ship-to-shore phone privileges. Want to chat? Let me know when you're available, but please avoid the 5–7 p.m. zone.
Posted by Joan on March 16
Good morning from somewhere off the coast of Ecuador. This begins day four of the Marina being isolated, meaning no one on the ship has had contact with anyone on land in four days. No one on the ship has the virus and let's hope it stays that way. We feel so incredibly fortunate to be in the hands of Oceania. The company and the staff are doing everything possible to keep us safe, healthy and happy. Luckily because the Marina had prepared to begin a new three week cruise from Lima to Buenos Aires once we disembarked in Lima, the ship had been fully provisioned. So we have fabulous food, drink and toilet paper! The staff is working like crazy to entertain us.
Posted by Gary on March 17
Sunrise over Peru. Sunset over the Pacific. In between, a day at sea aboard the Oceania ship Marina. Blocked from landing in Chile and Peru, we're now headed for a Wednesday crossing of the Panama Canal headed to...Miami? Fort Lauderdale? Guantanamo Bay? In the meantime, bonus days of food, drink, song, dance, lectures, pools and spas. What book, music, movie, food would you want on a deserted island?
Posted by Gary on March 18
Greetings from the Oceania ship Marina at the western Pacific Ocean entrance to the Panama Canal. After five days of seeing very little land as we sailed from Peru to Chile and back to Peru, past Ecuador and the west coast of Colombia, today we awoke to a glorious sight of the skyline of Panama City and a bay full of cargo ships, tankers and ferries. The bad news is all those ships have long-standing reservations to go through the canal and we're hoping a slot opens up. Sort of like showing up at Metro, Flame or Nicola's on Valentine's without reservation and asking if we can at least eat at the bar. Can you please squeeze us in? Our original plans fell through.

Posted by Joan on March 18
Marooned at sea and parked off the west coast of Panama. We anchored at about 8:15 this morning. After we clear all the government paperwork we will then be waiting for a time slot to go through the Panama Canal. We're hoping that will be tomorrow. At this moment we've been cleared to disembark in Miami...maybe Sunday or Monday. Fingers crossed that doesn't change.
In the meantime Oceania is determined to keep us healthy and happy. And now, thanks to my bestie Teresa Vinson Schwab, my home has been fully stocked with food, although no TP, I'm not terrified of getting off this beautiful vessel.
Posted by Joan on March 19
We have a plan!
We've received clearance and a time slot for Friday morning (3/20) to transit the canal. This is our consolation prize for not getting to go to Machu Picchu and I'm excited to experience it. It takes eight to nine hours to go through the canal. I plan to park myself in the floor-to-ceiling, air conditioned comfort of the Horizons lounge to watch it all unfold.
After we exit into the Caribbean, we will dock in Miami about 1pm Monday 3/23. Our plan is to overnight at Casa Johnson/Arneson Monday night and fly home from Ft. Lauderdale on Tuesday 3/24. All along we were to get home from the Peru portion of our trip on 3/22 so even though our adventure at sea seems like a long time, we will get home only two days behind schedule.
Right now I have to decide whether to go to the gym to work off some of the great food and drink we've been enjoying or begin my life on hold waiting for American Airlines to answer.
Posted by Gary on March 19
This is now day 25 of our 21 day cruise on board the Oceania cruise line ship, the Marina. After being denied port privileges in both Chile and Peru, we are sitting in the Pacific just offshore of Panama City, waiting to enter the Panama Canal. That is now scheduled to happen tomorrow morning, Friday, March 20th, day 26 of our 21-day cruise.
Actually we are not that far behind schedule. Our original itinerary included docking in Lima, Peru and then flying to Cusco, Peru, concluding with a train ride to the Sacred Valley of the lost Inca tribes, and Machu Picchu. Finally, a flight home to Springfield through Miami then Dallas this Sunday. Without a stop in Peru we are trading a visit to Machu Picchu for a ride through the Panama Canal, with port arrival in Miami next Monday, March 23rd, day 29 of our 21-day cruise.
While we are anxious about what awaits us in Miami and back in 417-land, we have been treated like cherished guests aboard Oceania's Marina. No interruption in food service. Laundry, cleaning, entertainment, lectures, on-board games, spa services, pool deck services have all continued thanks to a highly accommodating team which now feels more like family than staff.
Posted by Gary on March 20
We're underway!
Sailing under Panama City's Bridge of the Americas on our way into the canal. Locks, a lake, more locks and into the Caribbean nine hours from now. Dinner on the other side. Never seen this many fellow passengers up so early and so excited. While we're slowly cruising through the Panama Canal on board the Marina, we're enjoying reading about all the positive things our neighbors in 417-land are doing for each other.
Posted by Gary on March 20
We're through the Pacific-side locks, into the Panama canal, and under the Centennial Bridge. Meanwhile fellow passengers are scrambling to make travel plans after we dock in Miami. There are lots of Brits, Canadians, New Zealanders and Aussies on board, not to mention crew from Ukraine, Malaysia, the Philippines and beyond. In the Horizons Lounge, the forward lounge on level 15, the best place to watch the canal crossing on board the Marina, a pop-up meeting led by the Aussies convened today so information could be shared and notes compared. Everybody is looking out for everybody else. Being cooped together has produced some very positive dynamics.
Posted by Joan on March 22
Today, Sunday, March 22, 2020, marks our 11th consecutive day at sea and the 12th day since Gary Whitaker and I have set foot on land. To recap. We began our 21 day cruise in Buenos Aires on February 24. We visited Uruguay, the penguins in the Falkland Island, cruised around Cape Horn and through the Straights of Magellan, visited the southern most city in the world as well as the southern most city on the mainland continent, saw magnificent volcanoes and mountains in the Andes. Then it all came to an abrupt halt when Peru, followed by Chile, closed their ports due to the COVID-19 pandemic. The Marina became a ship with nowhere to go.
If not for the courage of the fearless crew, the Marina would be lost. Our Captain turned the Marina around and headed north with Miami as our destination. That gave us a bonus of transiting the Panama Canal, an engineering marvel that didn't disappoint. The minute the Marina cleared the breakwater on the east side of the Panama Canal, the Captain put the pedal to the metal, so to speak. We are (north)east bound and down, loaded up and cruising with an ETA on 6 a.m., EDT, Monday, March 24. We have no idea how long it will take to clear the ship and us through Customs. We have a pretty good idea of what we face when we leave the safety of our floating paradise and, quite frankly, I'm dreading it. We will have one final night with Ruth and Rodney before flying home on Tuesday.
As we enjoy our final day of great health, food and wine, a huge shout out to Oceania and the Marina staff. There aren't enough superlatives in the English language to describe how these people have kept their composure and positive attitudes in making us all feel cared for and entertained. Whatever they pay Cruise Director Paul Baya isn't nearly enough. The staff has worked 11 straight days without a break. I know they must be exhausted...and scared. When the ship docks in Miami they will go out to sea for a couple of days to do a deep clean of the Marina. Then they will return to Miami where approximately 800 staff members will disembark and try to find a way home. Their future is even more uncertain than ours. At least we will be on home soil. Most of them will not be.
Oceania has been so incredibly generous to us. The food and service has never diminished. The only thing they are charging us for is our drinks. They are even offering a 50% credit for a future cruise. How generous is that? Do you think we would ever cruise with another company? Not a chance.