Drinks
The Grocery Store Bar Crawl
Take your weekend grocery run to the next level with our definitive guide to Springfield's booziest grocery stores.
By Lillian Stone
Feb 15 2018 at 2:41 p.m.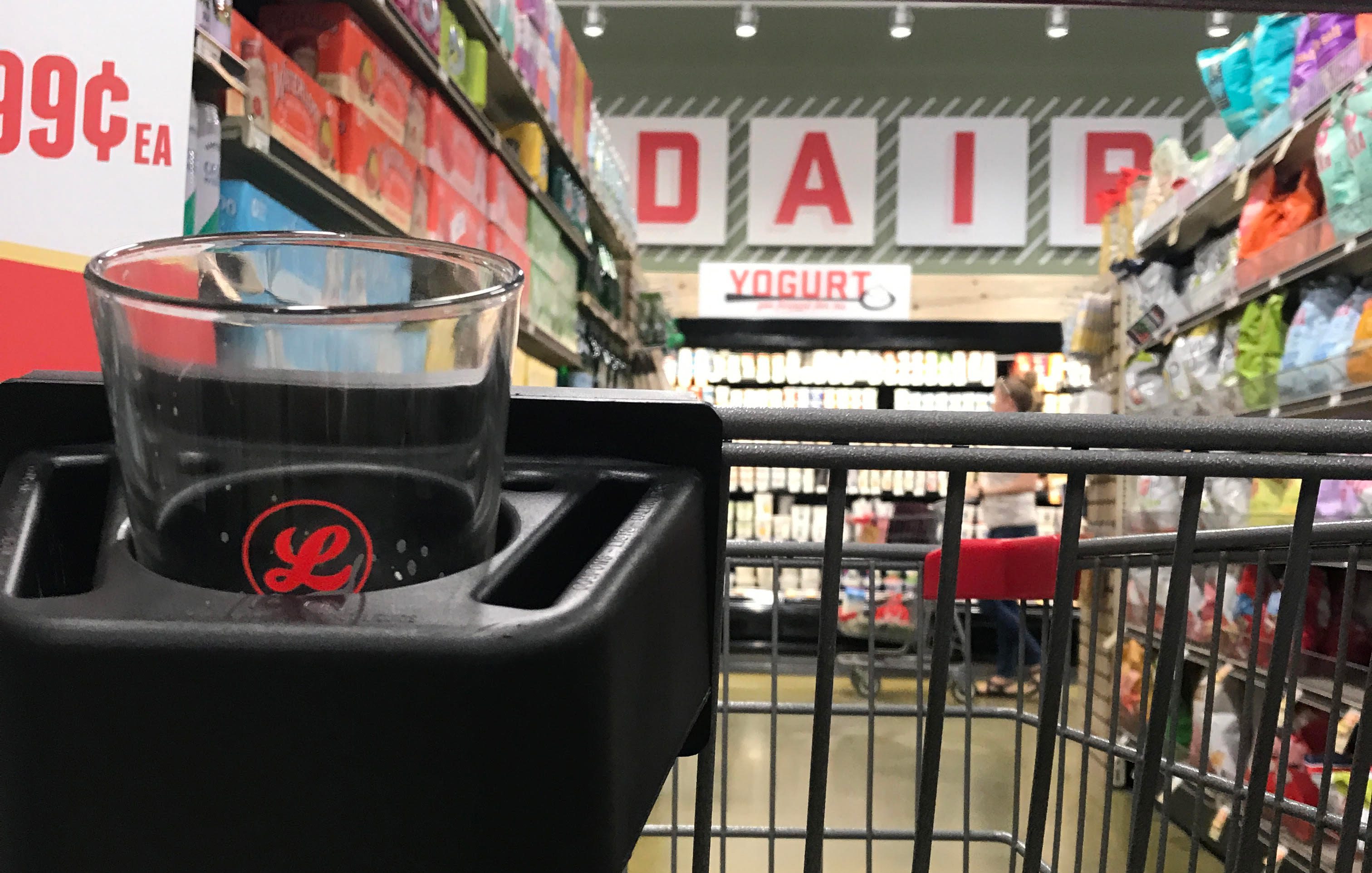 We've already established that 417-land's beer, wine and cocktail game is on point. There are more ways to imbibe than ever, from cocktail hours on urban farms to an influx of classy wine bars and sip n' shop grocery stores.
*Record scratch.*
Grocery stores?
That's right. Lucky's Market and Ruby's Market, two of Springfield's newest grocery destinations, have received acclaim for their low-cost beer and wine options that allow shoppers to enjoy a hefty pour at the store. Hy-Vee's in-store restaurant, Hy-Vee Market Grille, also offers some doozies through a new collaboration with Kansas City distillery J. Rieger & Co. The latter is what inspired me to complete what I dubbed Grocery Store Bar Crawl 2018, a crawl to experience every one of the boozy grocery store options in town. I made a quick mid-week grocery list, grabbed my boyfriend, AJ Haener, and hit the road.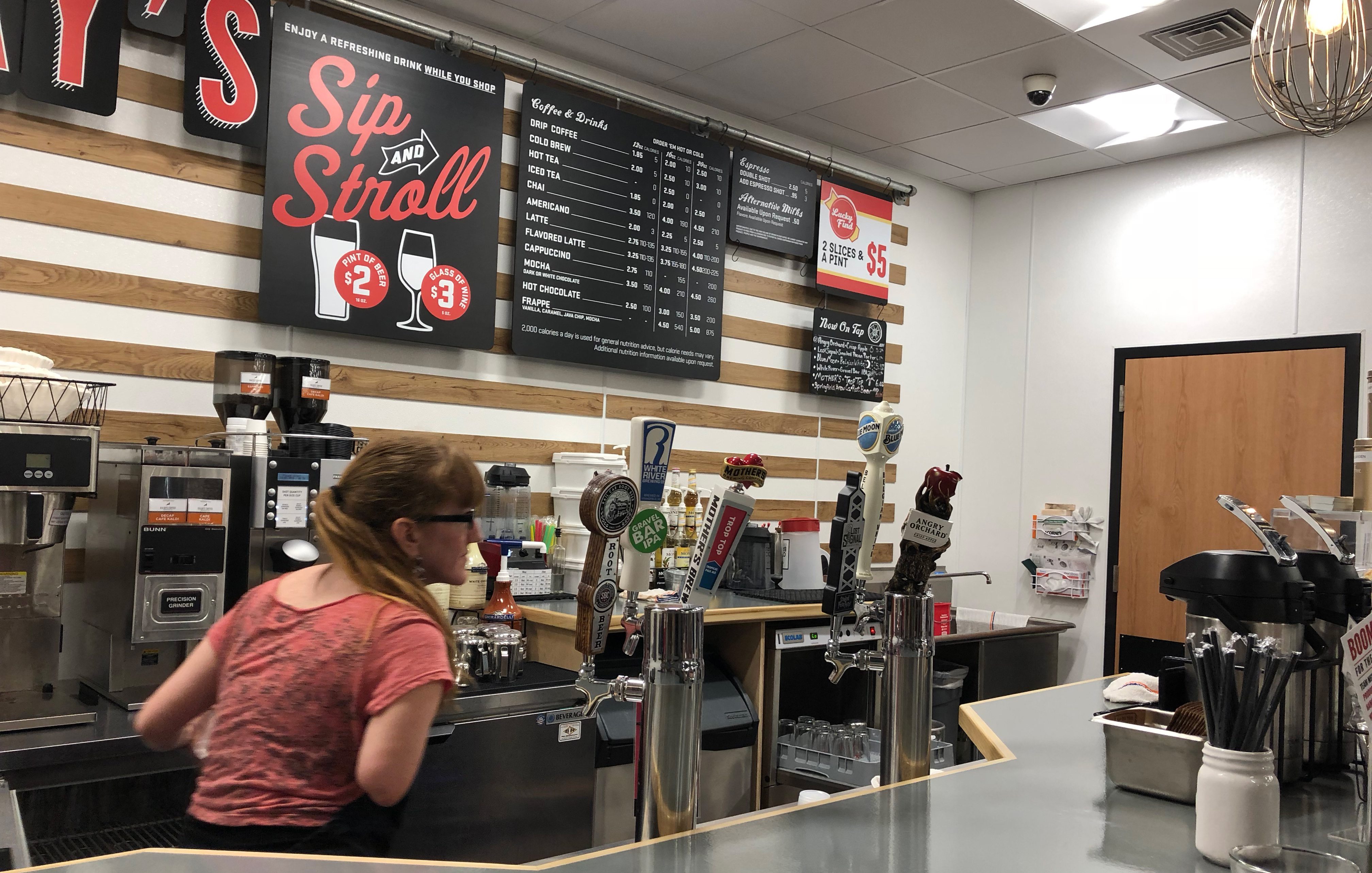 First Stop: Lucky's Market
My designated shopping cart driver and I headed out for the crawl around dinnertime with the intention of eating before pounding a series of grocery store beers. That led us to Lucky's Market. Lucky's is the new kid on 417-land's natural grocery scene, having opened at the beginning of 2018. I took a spin around Lucky's a few weeks ago for my weekly grocery run, but this was my first time bellying up to the bar.
The selection: We didn't have a hard time finding something sudsy to sip at Lucky's, although the selection was the most limited of the evening. Lucky's had six craft beers on tap including local options from Lost Signal Brewing Company, Mother's Brewing Company and Springfield Brewing Company. Several wines were also available. I decided to start slow with an Angry Orchard hard cider, while my date tried Trop Top, the new tropical pale ale from Mother's. Spoiler alert: He chose the better brew.
The price: Lucky's offers $2 pints of craft beer and $3 glasses of wine, which, in my opinion, is a wicked good deal.
Pairs well with: Drinks in hand, we moseyed over to the Lucky's Market ramen and sushi bar for some sustenance. We weren't the only patrons strolling with our suds—Lucky's allows guests to explore the store with their drinks, taking the laid-back grocery shopping experience to the next level.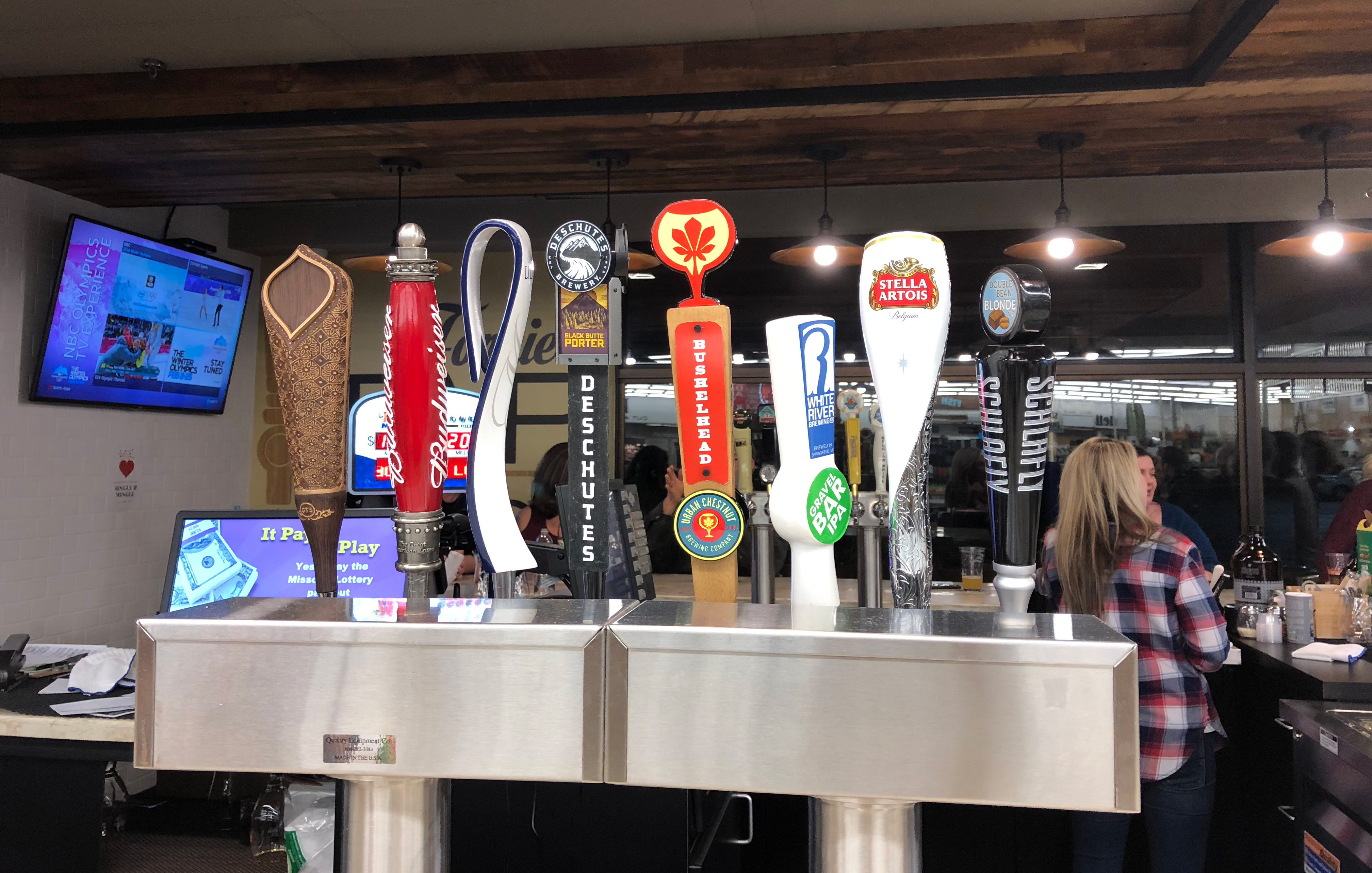 Second Stop: Ruby's Market
After chowing down at Lucky's, we headed Ruby's Market for our second round. Ruby's was the first sip n' shop grocery store in town when it arrived in early 2017 promising quality natural foods at a competitive price.
The selection: Fonnie's Tap House, the in-store bar at Ruby's, has a slightly wider selection than Lucky's, featuring six wines, two kombuchas and 14 beers on tap including White River Brewing Company and Mother's Brewing Company. We opted for wine, selecting a pinot grigio and a cabernet.
The price: Ruby's offers pints of beer and glasses of wine for three dollars each. At this point, I began to suspect that affordable grocery store beers are, in fact, 417-land's best-kept secret.
Pairs well with: We were full from our ramen bowls, so we stuck to our drinks for this round. Ruby's does, however, have a variety of tempting weekly food and drink specials, most of them under $10.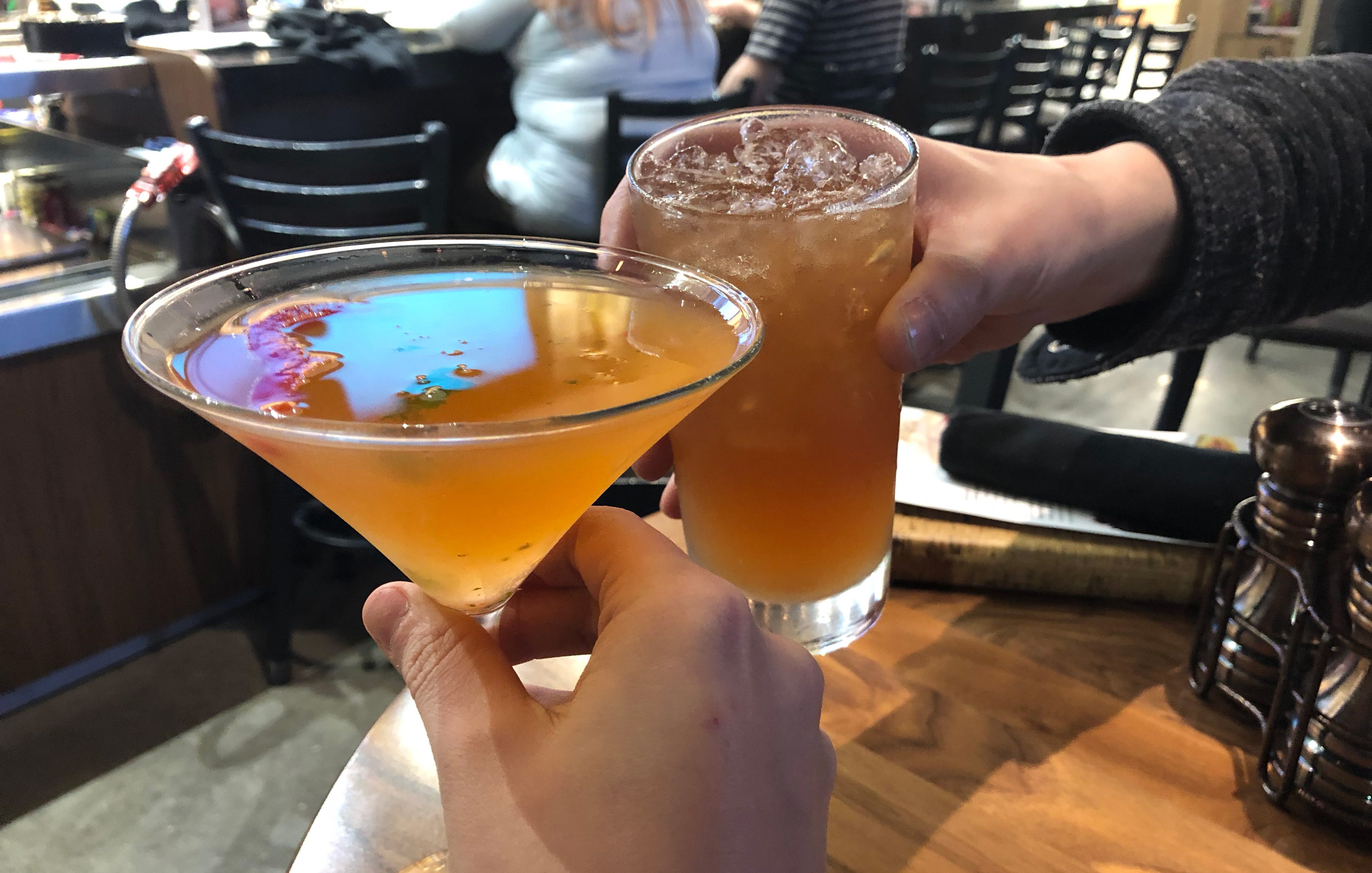 Final Stop: Hy-Vee Market Grille
This entire excursion was inspired by the news of Hy-Vee Market Grille's new cocktail partnership with Kansas City distillery J. Rieger & Co. My date and I shuffled into the Hy-Vee Market Grille tucked inside Hy-Vee on West Battlefield. Honestly, we weren't expecting much—out of our three stops, Hy-Vee has the most traditional grocery store vibe. We couldn't have been more pleasantly surprised.
The selection: The Hy-Vee Market Grille restaurant is situated near the Hy-Vee deli. I've visited Hy-Vee countless times and never once noticed it. The restaurant features a full food and drink menu, but we were there for the new cocktails. I selected the Beautiful Red Bell, featuring Rieger's Midwestern dry gin, simple syrup, lime juice, mint and a large chunk of red bell pepper. My date ordered the Horsefeather with included Rieger's Kansas City Whiskey, Angostura bitters and ginger beer. We ended up trading—the bell pepper tang in my drink was a little much for me, and AJ wasn't into his bitters. Unlike the other stops on the crawl, we weren't allowed to shop with our drinks in hand—but that didn't stop us from finishing every last drop.
The price: The items on Hy-Vee's menu were about $7 on average—more expensive than the cheap pints we enjoyed at the other stops, but still manageable. 
Pairs well with: By the time we made it to our final stop, we were ready for dessert. The Hy-Vee Market Grille has a hefty dessert menu with several cheesecake options in a partnership with The Cheesecake Factory. We dug into a slice as we sipped our drinks.
Overall, I would absolutely repeat the crawl. It was the most fun I've had in a while, combining tasty drinks with a fun, casual environment. I maintain that grocery store bars are 417-land's best-kept secret, but maybe it's better that way. This is one secret I don't mind keeping—more $2 pints for me.