Life
It's On! Missouri State University Moves Onward and Upward
Missouri State University, with a little help from a star graduate, announces a new fundraising drive.
by Jamie Thomas
Oct 26 2019 at 8 p.m.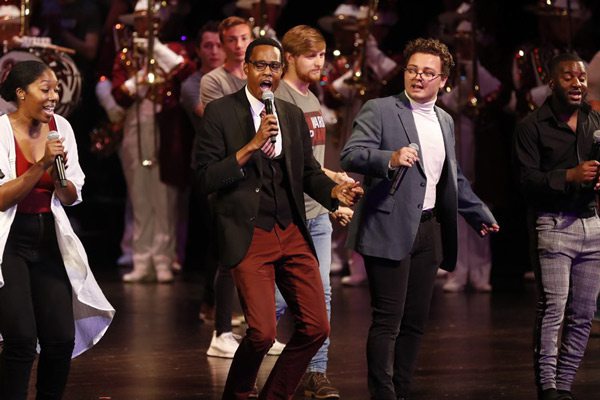 "MSU is at a pivotal time in its history. We have a chance to make some monumental advances." That's what actor John Goodman told a packed Juanita K. Hammons Hall for the Performing Arts on Saturday, October 26. Students, alumni and families crowded into the venue for the announcement of Onward, Upward—a new initiative to take Missouri State University to the next level.
Taking to the stage with the president of Missouri State University Clif Smart, Goodman described how MSU provided him with the opportunities that led him to where he is today. In particular, he singled out his theater professor Howard Orms and his own experiences performing at MSU's Tent Theatre. Originally arriving at Missouri State University to play football, Goodman found that his grades weren't good enough to allow him onto the field. Instead, he took to theater. "I found a purpose," Goodman says. "I wasn't really good at school or interested in school. But when I found something I was interested in, I became interested in everything—history, art, music—everything was related to what I was doing, and I really grew up quickly."
The campaign, chaired by Goodman, is the biggest fundraising drive in the history of MSU. The goal is an immense $250 million that will benefit all areas of the university; scholarships, faculty, students, facilities and programs. "Missouri State, like a lot of state schools across the country, can't really rely on state funds anymore," Goodman says. "We have to look to private support." To date, the university has raised $151,738,352, but Onward, Upward aims to propel it to that $250 million target.
Smart talked about his own belief in faculty support and the importance of giving professors and teachers everything they need to provide the best education. "It's the foundation of the education we provide," Smart says. "As I've traveled the country and met with hundreds of alums... all have stories of how faculty impacted their lives, sparked an interest in a field of study, provided a first research or writing opportunity, opened a door to graduate school or maybe a first job."
The full scope of the campaign includes:

• Three new buildings for the William H. Darr College of Agriculture
• A permanent structure for the MSU Tent Theatre
• Student-managed investment funds offering hands-on investment experience
• A degree completion fund to help students who fall on difficult or unexpected circumstances
• More research support opportunities for graduate-level students
• More study-away opportunities to give students the chance to travel all over the world
• Many others that you can find on the MSU website
Along with Goodman and Smart, a number of other guests stepped onstage to talk about their enthusiasm for Onward, Upward:

• Dr. Matthew Peirson talked about the importance of faculty support in shaping the future for professors and their students.
• Ceceley Hulsey of Isabel's House talked about the opportunities given to students through scholarships that they might otherwise never have.
• Alexa Willard from the MSU girl's basketball team described the history of the team and the feeling of having a family away from home at the university.
• Abdillahi Dirie, MSU ambassador, told the crowd about his pride in representing MSU and the importance of capital support for its future.
• Governor Mike Parson, our Biz 100 Person of the Year in 2018, talked about feeling at home whenever he visits Springfield and MSU. "It's the familiar faces," Parson says. "It's been exciting to watch the university grow over the years."
• David Glass, former Walmart CEO and owner of the Kansas City Royals, described working nights and how supportive MSU was in developing a schedule to allow him to continue his education: "Whatever happened after that I owe to this university."
• Brent Dunn, executive director of the Missouri State University Foundation, talked about driving the value of Missouri State University "onward and upward" with the campaign.
• Oh, and pro-football player and former prize on The Bachelor Clay Harbour took a selfie with the entire audience.
These are just some highlights from the evening. You can find out more details or watch the campaign kickoff at Missouri State University's website. You can also read Goodman's heartfelt letter about why he's chairing the campaign here.