Reviews
Table Talk: October 22–28
This week: Sweet N Snow brings Taiwanese shaved ice to Springfield, MO; local female chefs compete in the World Food Championships, Halloween parties galore plus more foodie news.
By Claire Porter
Oct 22 2019 at 10 a.m.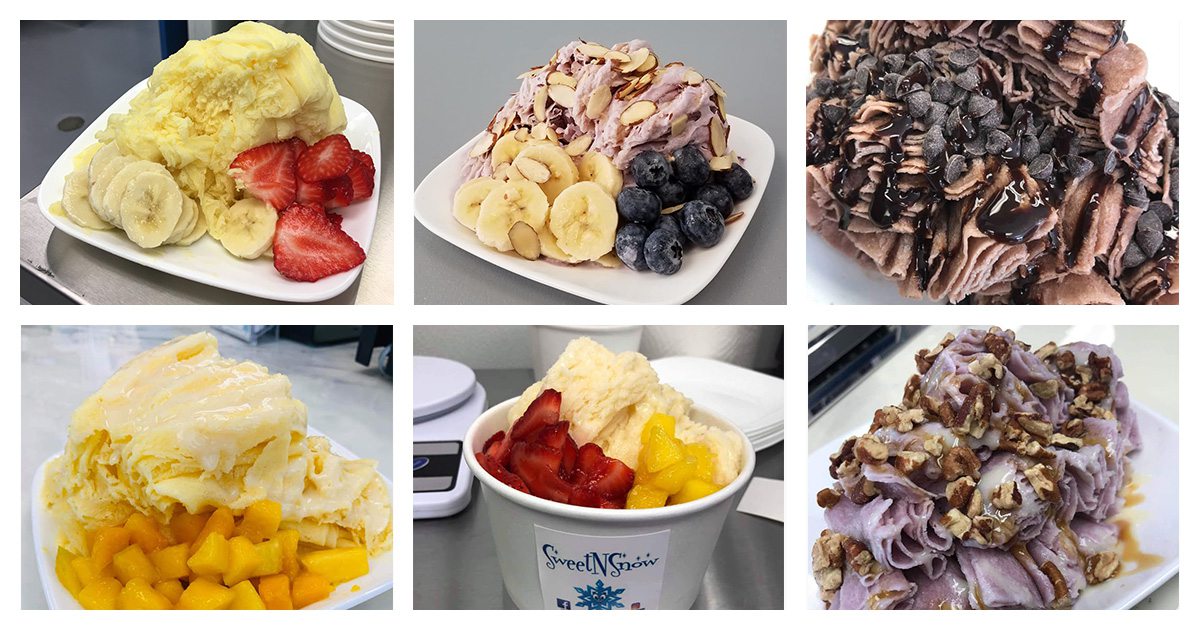 Feeling Freezy
Dropping temps have never stopped sweets fiends from flocking to frozen dessert shops all year round, and in just a few short weeks, they'll have a new place to gather. Sweet N Snow is opening in the former Jet's Pizza on Glenstone Avenue serving Taiwanese shaved snow, smoothies and boba teas when it opens in a few weeks—an exact opening date is pending inspections. For the uninitiated, Taiwanese shaved ice is a mound of super-thin ribbons of ice shaved off a flavored block of ice (the creamy consistency comes from non-dairy creamers) topped with classic ice cream toppings, mochi balls, boba bubbles or sweet red bean. The result is a pillowy cloud of fluff that dissolves on the tongue. At Sweet N Snow, flavors range from coffee, chocolate and vanilla to mango, Thai tea and matcha green tea, and because the shop is open late, you can satisfy your sweets craving all night long.  
Ready, Set, Vote!
The voting period is winding down for our annual Best of 417 Readers' Choice Awards, so be sure to slide on over to the ballot and vote for your top restaurants for fine-dining, breakfast, burgers, Thai food, cocktails and so much more—seriously, there are a ton of categories for all your favorite places, and if you don't see your picks, write them in! As a thank you for telling us what you think, every submitted ballot enters you for a chance to win a $500+ prize pack from Old Missouri Bank (OMB). Keep an eye on the February 2020 issue of 417 Magazine to see who came out on top.  
Wonder Women
Last week, three female chefs from 417-land headed to the World Food Championships in Dallas to face off against some of the best culinary talents in the world, all competing in different categories. Private chef Anna Davis placed fourth in the bacon category, B-29 Cafe's Chaz Koeppen placed 21st in the burger category, and Lost Signal Brewing Co.'s Kymberlee Matney-Schmitz placed 22nd in the chef category. 

A Witchy Week
Thrills, chills, you know the drill. It's fully spooky szn, and with Halloween just around the corner, restaurants and bars are creating some boo-tiful opportunities to get ghoulish. 
• At Farmers Park, Parties at the Park becomes Parties in the Dark this Thursday with live music, games, candy, costume contests and drinks by Reverie and Great Escape Beer Works, plus food vendors. 
• If you're not in the mood for frights but you want to give your teeth a cavity scare, check out the Ghouls & Goblins: Spooky Factory Tour at Askinosie Chocolate this Saturday. 
• At Chateau Charmant, get ready to boo-gie (I'm sorry) this Saturday at the Masquerade & Monster Ball, which includes food, dancing, costume contests, movie projections and a massive raffle giveaway. 
• Revive your corpse and head to the square for Golden Girl's Party at the Black Lagoon. The ghostly gathering includes music by DJ Imperial, costumes and a specialty cocktail menu that will be served through October 31.
• If you're too sophisticated for Halloween shenanigans on the 31st, head to Vino Cellars for a Halloween Murder Mystery Dinner—complete with wine pairings, of course, for spooky sipping. 
New Menu Roundup
Buckle up—or, on second thought you might want to loosen that belt buckle—loads of menu changes and restaurant updates are popping up this week. 
• The Press Coffee & Juice Bar is settling into its new location with a Korean-Mexican menu full of kimchi, bulgogi, rice bowls and nachos—plus classic breakfast, coffee and juice offerings. 
• Farmers Gastropub is rolling out its new fall menus and bringing back a few fan favorites—including the Wife's Hash breakfast—plus some inventive new offerings, like cashew chicken livers. 
• Metropolitan Grill debuted its new fall menus with a preview party. Look for lots of squash and autumnal ingredients and flavors. 
• The Order's new cocktail menu dropped yesterday, including My Little Pepita with toasted pepita milk, spiced molasses and orange cream citrate.
• Speaking of cocktails, fresh off its seventh birthday party, Scotch & Soda is dropping a new fall menu this Friday. 
• On the south side, Lucky Tiger Sandwich Co. has been experimenting with ramen and plans to serve it on Wednesdays once perfected. Get ready to slurp. 
• Although it's not food news per se, it's where you sit your butt when you eat good food, so it matters. The Finley in Ozark is pouring a new patio for dining al fresco when the weather warms up again.