Dishes
Nixa's New Cafe Kicks Off With a Pajama Party
Morning Day Cafe offers locally-sourced food, a full bar, direct-trade coffees and more. The restaurant celebrates its grand opening on New Year's Day with a pajama party.
By Corin Cesaric
Dec 28 2018 at 8 a.m.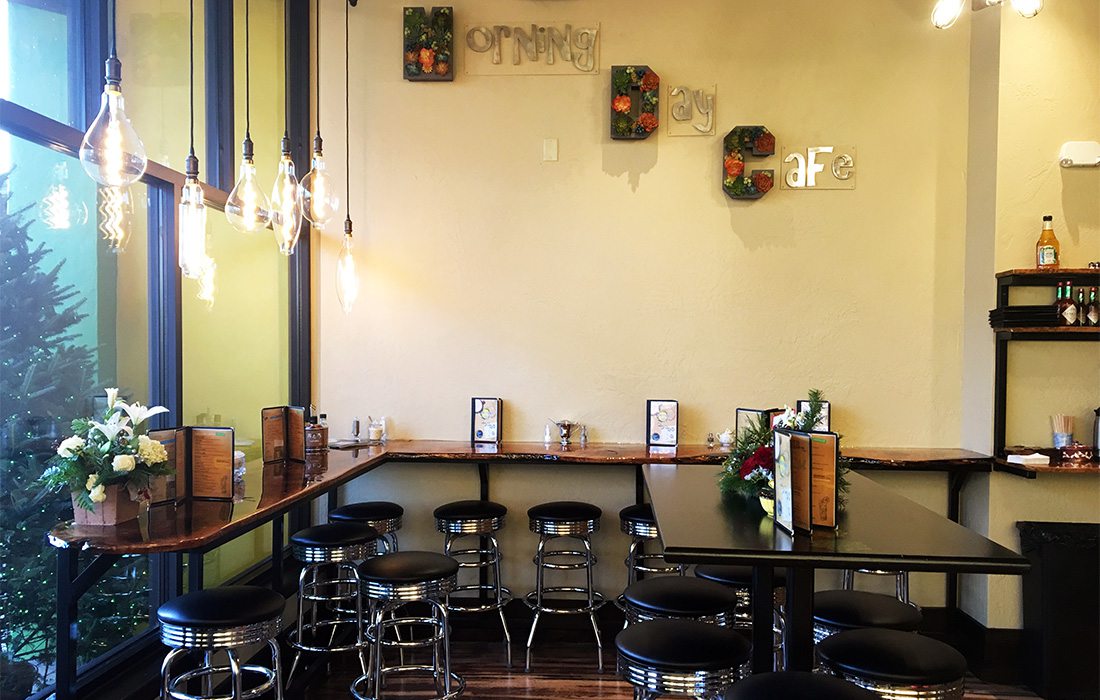 Nixa's newest breakfast joint takes typical breakfast meals and makes them a bit more healthy and distinct. Morning Day Cafe (105 S Main St., Nixa, Missouri, 417-494-5055) opened along Nixa's Main Street on December 8. The cozy and brightly colored restaurant's menu features eggs, protein and seasonal produce from local farmers. The menu also has a ton of vegetarian, vegan and gluten free options. On the walls, you'll find the work of local artists. The cafe kicks off 2019 with a pajama party brunch—ideal for anyone looking to treat their taste buds to something new or recover from the night before. 
"It's breakfast food with my personal twist," owner Miranda Barchers says. "We're serving locally and ethically sourced ingredients, and putting them together in a way that's palatable for people with all kinds of dietary desires and restrictions."
Breakfast and lunch are served all day, giving patrons tons of options to choose from. Looking at the menu, the Hot Mess platter is sure to be a favorite featuring breakfast potatoes, sauteed peppers and onions and poblano cheese sauce topped with two sunny-side up eggs.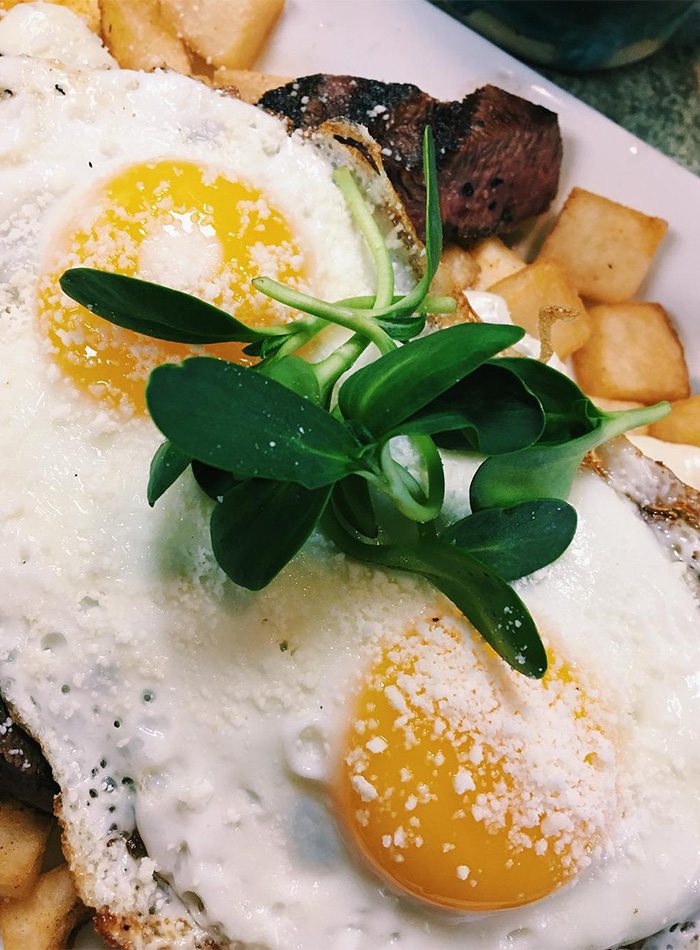 Photo courtesy Miranda Barchers
The Hot Mess breakfast has everything you need in a breakfast meal and the option to add meat.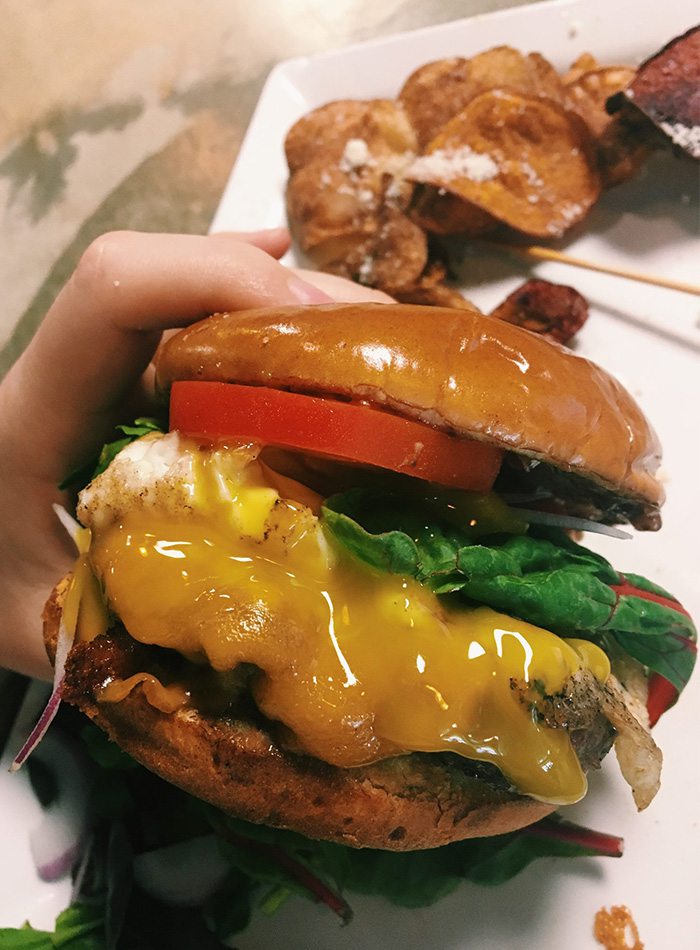 Photo courtesy Miranda Barchers
The Brunch Burger is a grass-fed local beef burger cooked to order and topped with a sunny egg and bacon bourbon jam on brioche.
The bar is fully stocked with craft cocktails and organic wines, but mimosas and bloody mary variations are sure to be the biggest hits. On New Year's Day, they'll be buy one, get one free. If you can't settle on one bloody mary, try the Bloody Sampler before you fully commit. Taste the Beefy Mary that's made with bloody mary mix, 360 Vodka, slow roasted beef broth, Worcestershire sauce and a local beef stick, or play it safe with the Basic Mary. Looking for something sans booze? Head over to the coffee bar where you'll find coffee roasted and sourced in Guatemala by Barchers herself.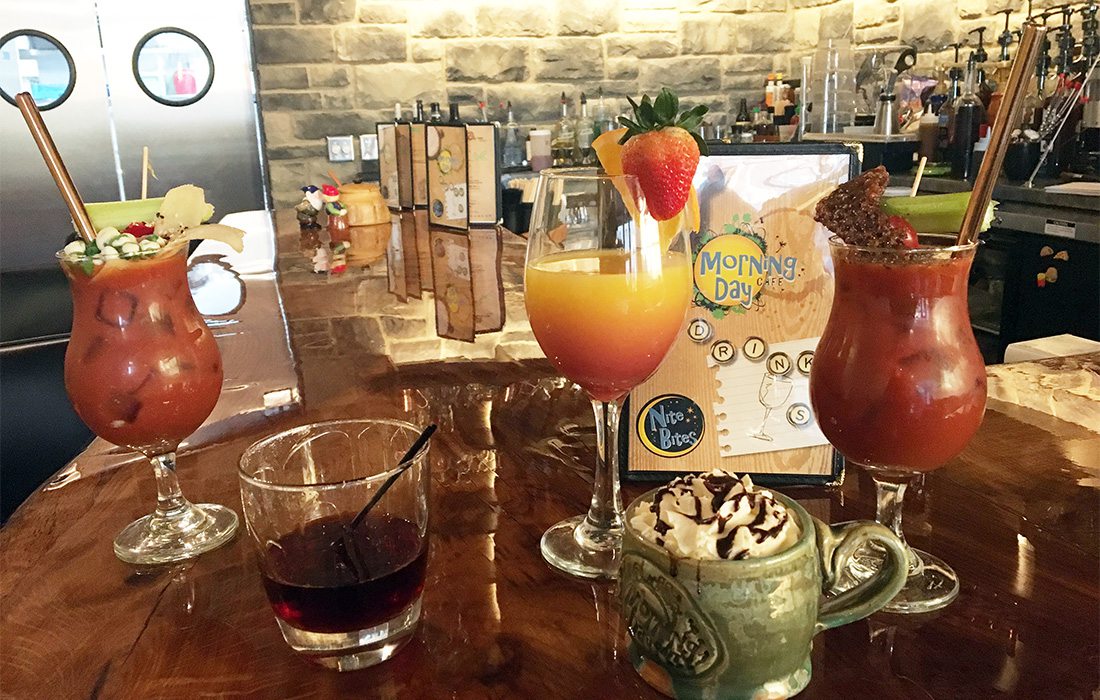 Barchers opened the original Morning Day Cafe in Liberty, Missouri five years ago. Now, she's focused on making a mark in Nixa with the trendy cafe. The Nixa location has a second floor that serves as an event center. It's available for rent and the restaurant also offers catering. "We can do anything from breakfast entrees to elegant and upscale plated dinners," Barchers says. 
The cafe is officially open for business and leading up to the grand opening, all gift certificates are 25 percent off and come with a free house brew. Roll out of bed on New Year's Day and head straight over in your pajamas to enjoy the deliciousness, and hangover cures, that have arrived in Nixa.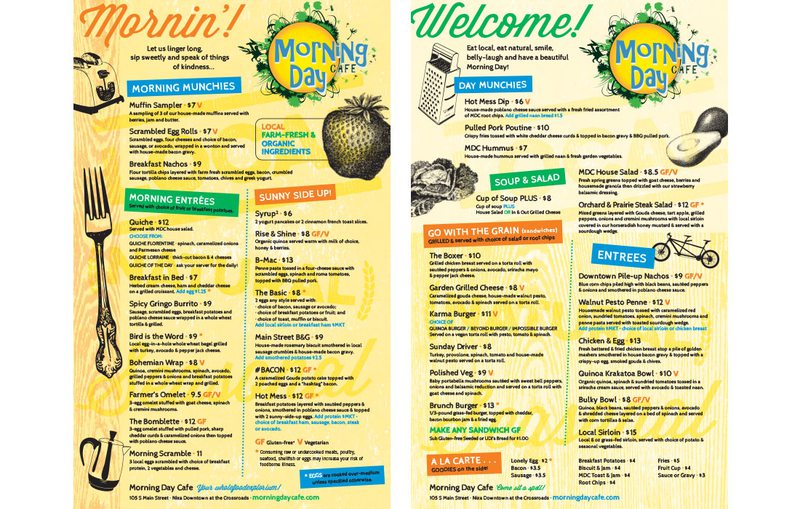 Open every day, 6 a.m.
—
4 p.m.