Arts & Culture
Projection Mapping Transforms Outland Complex
Altar 3 Music & Art Festival, May 12 through 14 at the Outland Complex, marks Drew Mittman's first large-scale mapping project.
By Brett Johnston
May 08 2017 at 3 p.m.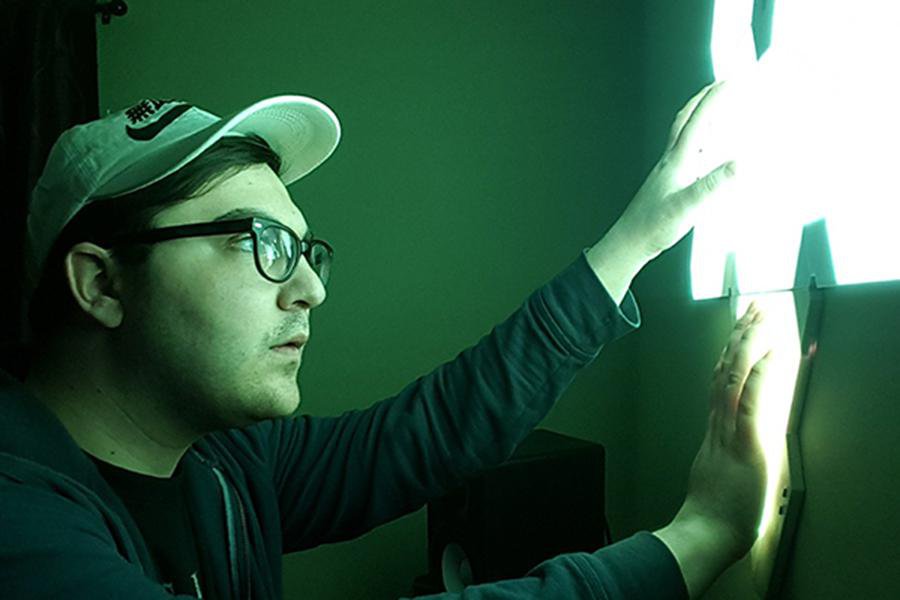 Drew Mittman was producing a film for a special event at South by Southwest in 2015 when he saw live projection mapping. He took an immediate interest, and wasted no time to gather information on gear requirements, specifics and how to project on different shapes. He downloaded the software a year later and started experimenting on a shed in his backyard, using the shapes and angles of the structure to create depth.
 
Altar 3 Music & Art Festival, May 12 through 14 at the Outland Complex, marks his first large-scale mapping project.
 
"You can see music anywhere, at any time," Mittman says. "But to have a more interactive and visually interesting experience in Springfield is rare." Altar founder Johan Collins says the heightened visual experience—normal to him in other markets—will be a new experience for 417-land. "People in Springfield probably have never seen this before in their lives—legit video mapping," Collins says. "I've never seen anything like this since I've been here. It's going to look wild."
 
A cohesive presentation legitimizes events, Mittman says, citing user experiences of well known festivals, like Bonnaroo and Lollapalooza. "It adds a secondary layer of depth, triggers an emotional response," Mittman says. "You get more out of it than sitting at home listening to your favorite artist on headphones."
 
He appreciates bands that bring lighting for club shows, but notes that rarely is much thought put into visuals. "That's not to say juxtapositions aren't great, but sometimes it doesn't work," Mittman says. The visual side of Altar 3 is a collaborative effort. He says there will be installations from theatrical set designer Calin Driver, visual artist Christiano Bellotti and others. LED panels will line the back wall of the Outland Ballroom where Mittman's geometric projections will dance to the music. "I'll be off by the soundbooth, controlling and triggering scenes, making sure they pulsate to the same beat," Mittman, also a musician, says.
 
Altar 3 takes place on all three stages of the Outland Complex in downtown Springfield with headlining artists spanning several styles including Holy Wave, L.A. Witch, Mr. Elevator and Dreamgirl. More than 51 bands make up the lineup. Mittman says, he's personally most excited to see, and work with, Dedekind Cut. The California-based producer has album credits with Inspectah Deck of Wu Tang Clan and Joey Bada$$.
 
"Our ultimate goal is for all these local acts to gain exposure and bring more of a cross-genre element to Springfield," Mittman says. "We're trying to cross-expose artists so we don't pigeonhole ourselves into one kind of art form."