Reviews
Vespa Kitchen Opens
Pat Duran and Chef Peter Tinson have opened a breakfast and lunch joint next to Metropolitan Grill. The menu includes Bulletproof Coffee, cashew chicken-inspired chicken and waffles, a Pedialyte cocktail and more.
By Dayle Duggins
May 04 2017 at 7:23 a.m.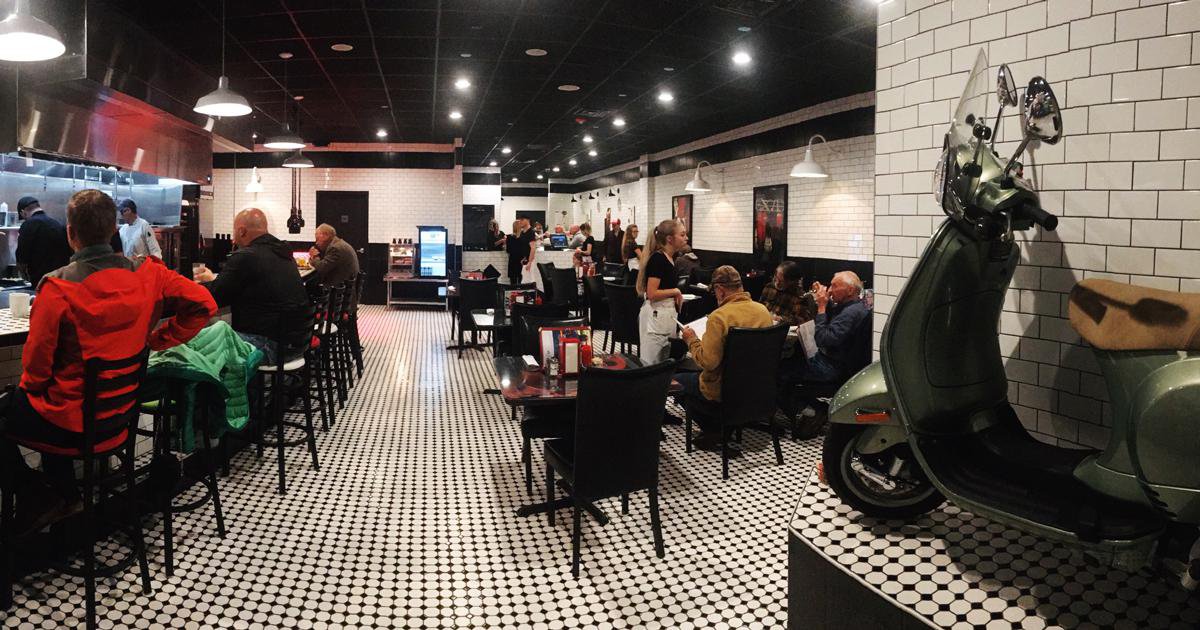 Pat Duran has added another restaurant to his arsenal. Vespa Kitchen, a breakfast and lunch diner, opens to the public on Friday, May 5 at 7 a.m. in what was formerly Metropolitan Grill's Vespa Room. Located at 2931 E. Battlefield St., a light green Vespa guards the door and subway tile fills the sparkling, super-modern diner. We visited during its soft opening.
"I've always wanted a breakfast place," Duran says. "I had this room and I only used it as a party room six times a year."
In January 2017, Duran reached out to Chef Peter Tinson who has led the charge at Farmers Gastropub, Nonna's Italian Cafe and other Springfield restaurant staples. "It was more like begging," Duran says of his request for Tinson's help. Collaboration on the menu began in February. 
Southern Hills, Fox Grape, Emerald Park, Twin Oaks, Hickory Hills, Cinnamon Square, Ravenwood, Brentwood and a number of other neighborhoods populate the menu, just as the names of restaurant regulars populate Metropolitan Grill's menu. See Vespa Kitchen's full menu here.
In the menu's preface, Duran talks about how a Bloody Mary and a Vespa ride with his wife, Cheri, sparked the naming convention. "With the menu complete, the only thing left to name was the dishes," he says. "Cheri and I jumped on our namesake Vespa and took a Springfield tour. I found myself inspired by our area neighborhoods, and with that, the menu names became clear."
The menu, a twist on classic diner fare, includes plenty of caffeine options, juices, breakfast and lunch dishes, and "high octane" hair of the dog options. Breakfast sandwiches, parfaits and pastries are also available as grab-and-go options. 
Vespa Kitchen opens to the public on Friday, May 5 at 7 a.m. Its regular hours of operation are 7 a.m. to 2 p.m. Wednesday through Sunday (despite the front door saying Tuesday through Sunday). The breakfast and lunch spot neighbors Metropolitan Grill on East Battlefield Road.
Natural Bridge Eggs Benedict (pictured above)
A large agave and buttermilk biscuit, bourbon black pepper pork belly and two poached eggs finished with house smoked paprika, mild cumin blend and hollandaise paint.
The Terraces 
Jalapeño spike cornbread cake topped with house sausage gravy. Two eggs your way. Served with crispy sweet potato hash browns with smoked gouda, golden currants, candied pecans and toasted coconut.
Accelerate It!
You can add any of these things to your oatmeal, French toast, pancakes or waffles to take your gluttony to a whole new level:
• Bananas Foster with warm butter caramel rum sauce and fresh bananas.
• Askinosie chocolate chips
• Grand Mariner whip and macerated fresh berries
• Agave jalapeño syrup
Chimney Hills Chicken & Waffles
Sriracha and buttermilk brined natural chicken breast with house yeast and sorghum waffles topped with hometown cashew sauce.
Stanhope Terrace Meatloaf
Ribeye meatloaf classic topped with fancy gravy on a bed of cheddar fries and onion ring garnish.
The Cure
Bloody mary mix, fresh carrot and ginger juice, electrolytes, horseradish, candied bacon, hot wings, celery and torched lime. 
Bulletproof Coffee
A major caffeine boost, Bulletproof Coffee contains supercharged black coffee with unsalted, grass-fed butter. We didn't realize Bulletproof Coffee was an option, so we ordered classic coffee like rookies.
Prehab
Orange Pedialyte, Sprite and Absolut Citron