Dishes
Riverside Inn Fried Chicken Is Back, Baby
One of downtown Springfield's newest bars and restaurants is serving up the legendary local staple now that the Ozark spot has left our lives. Bonus: it comes with a side of lavender honey.
By Dayle Duggins
Oct 19 2017 at 12:02 p.m.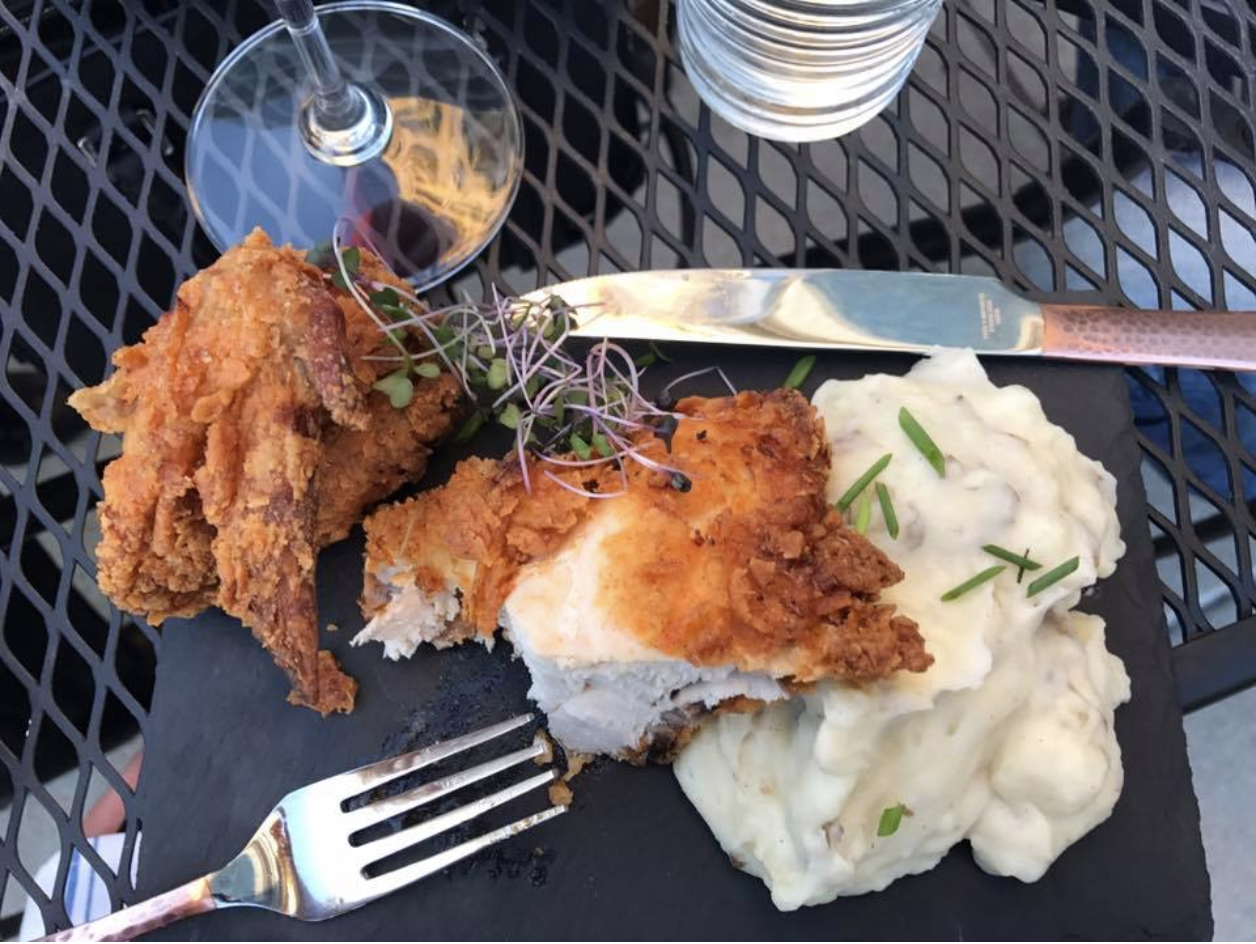 Good fried chicken is hard to find, so when Riverside Inn in Ozark closed its doors several years ago, 417-land collectively shed a deep-fried tear into the Finely River. The fried chicken powerhouse was a regular on Best of 417 lists and a go-to for old-school, family-style, unbutton-your-pants-worthy dinners.
By now we all know that nothing gold can stay, but it can be resurrected—kinda. Micah Pope, owner of Queen City Wine Dive, is the mastermind behind our most recent favorite food resurrection: Riverside Inn's fried chicken served with country-style mashed potatoes and a side of lavender honey.
Pope has been in the service industry for quite some time. He's been a bartender at Scotch & Soda, was the wine director at Flame Steakhouse and got his start at Riverside Inn when he was only 16. 
"I'm from Ozark," Pope says. "I didn't want to work anywhere else. The whole Riverside crew was kind of like my second family." Even after the operation shut down and Pope started to dream of his own business, he stayed in touch with Riverside Inn owners Lisa and Eric Engel.
"My original concept was I wanted to do fried chicken and champagne—kind of country and classy," he says. "I reached out to Lisa and Eric and said it'd be an honor for me to use that name [Riverside Inn fried chicken] because it's where I got my start and got a lot of my experience. I bugged them enough that they finally said yes." 
And as of October 4, you'll find that legendary name on Queen City Wine Dive's menu. Located on Springfield's square where Blue Bull once lived (RIP), the restaurant and bar serves Spanish-inspired tapas, a plethora of wine and modern American cuisine. 
"It's not the exact same recipe, but it's as similar as I ever remember," Pope says of the fried goodness. "It's definitely an honor to be able to use that name on the menu."
If you're feeling extra nostalgic and indulgent, order up the finger-lickin' dish with a side of Riverside Inn–inspired corn fritters. Queen City Wine Dive is open Tuesday through Saturday evening.
For more food news, sign up for 417 Magazine's Table Talk e-newsletter.