Life
The New St. Jude Dream Home is Rocking These 6 Design Trends
Meet the designer and builder working on this year's St. Jude Dream Home Giveaway and see which trends they're most excited to be able to incorporate.
by Ettie Berneking
May 01 2021 at 8 a.m.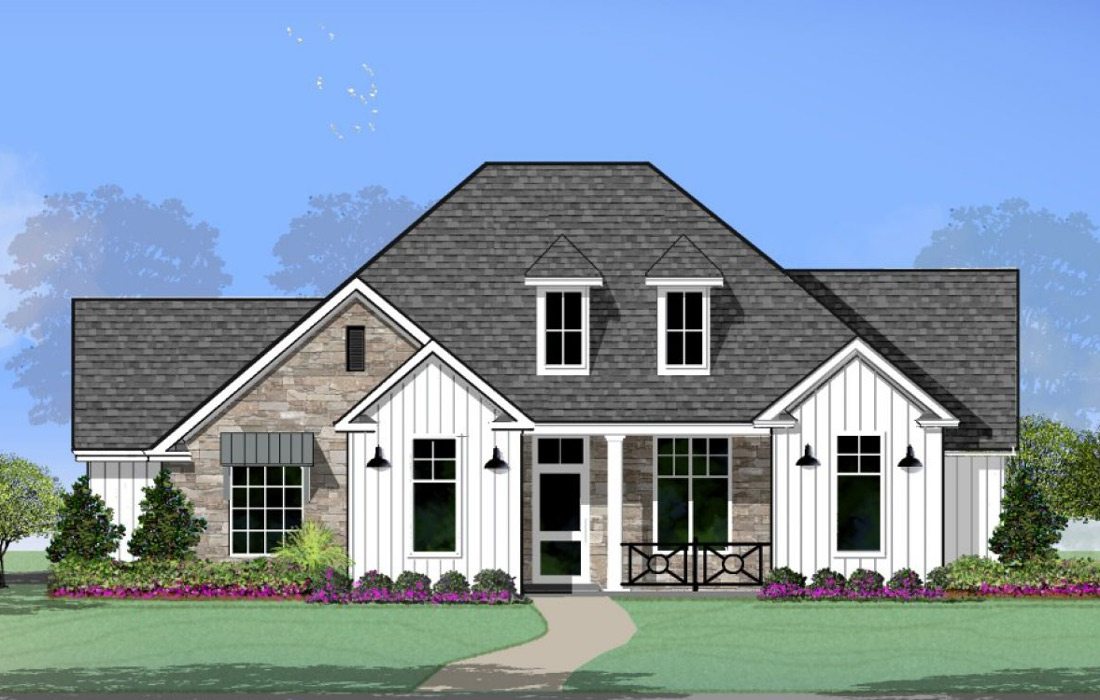 For the past 17 years, the Springfield St. Jude Dream Home® Giveaway has built and given away one home each year. The Giveaway serves as a major fundraiser for the organization, which is dedicated to fighting and curing pediatric cancer. Participants can purchase a raffle ticket for $100 and be entered into a series of drawings. The big prize is, of course, the Dream Home Giveaway house. This year's Dream Home is being built in Irish Hills Estate in Nixa with the help of Dale Peer Architects. The lot for this three bedroom, two bathroom home was donated by Chris and Debbie Moore and their family. The home's value is estimated at $400,000, and the raffle drawing is scheduled to take place June 27.
This is going to be a big year for the Springfield St. Jude Dream Home® Giveaway. Not only are they on pace to raise $1 million this year, but the organization will have raised $10 million over the past 17 years. That is reason enough to celebrate, but this year's builder and designer Austin Miller with Wise Built Homes and Erica Lea with Erica Lea Design Studios have a few more reasons why they're excited to be part of this project. Now that the home is underway, Austin and Erica have incorporated six major trends into the new Dream Home. Keep reading to learn which trends are hot, hot, hot right now and could be all yours if you enter the raffle.
PRESENTED BY

1. Metal Corbels and Handrails
Want to give your home a stylish accent that will separate your home from your neighbors? Erica says adding metal corbels and handrails are the latest spot where homeowners can get creative and show off their personal style. "This look is nostalgic," she says. "I'm seeing a lot of people do this in wild shapes, and for this home, we added corbels and railings that give the home more of a cottage feel." Erica and Austin are also adding metal accents to the brackets that hold up the front awning.
2. A Friend's Porch
If you haven't heard of a friend's porch, you're not alone. Austin says this is a newer feature homeowners are gravitating toward, but it's functionality depends on your home's lot. Since the Dream Home is on a corner lot, Austin thought it was a great opportunity to add this side-entry porch. "It takes you into the mudroom without going into the garage," he says. "It is a more inviting entrance that works great on corner lots. It's an element you see in more Southern homes, but we're giving this house several Southern-styled accents, so it felt right."
3. Coffee Bars
Austin and Erica are both seeing more homeowners embrace adding a designated coffee bar to their kitchen or living space. In this year's Dream Home, Bosch donated all the appliances that are being installed in the coffee bar, which Erica is actually building into the home's beverage station. "The coffee bar will be fully integrated," she says. "The first step for building a coffee bar or beverage station is to take inventory of the appliances you use." You need to measure the height of your coffee maker, grinder, syrup bottles… whatever it is you use to make sure all your supplies have a new home in the coffee bar.
4. Zero-Step Entry
Zero-step entries are the kind of feature you immediately fall in love with if… you're struggling with a stroller, trying to move furniture or heavy objects into your home or are navigating a wheelchair or walker. Even if you're simply walking into the house with your arms full of groceries, not having to navigate steps can be a real ankle saver. "This feature is universally appealing whether you're 3 years old or 103," Austin says. "I'm incorporating this design into more of my homes, but it really hit the market as a way to make homes more accessible to those with mobility needs." Traditionally, most homes have one or two steps from the garage into the house. Austin says that's because your home's framing usually sits on your foundation. With the zero-step entry, there are no steps. "It takes more forethought and a little more work, but it's worth it," Austin says.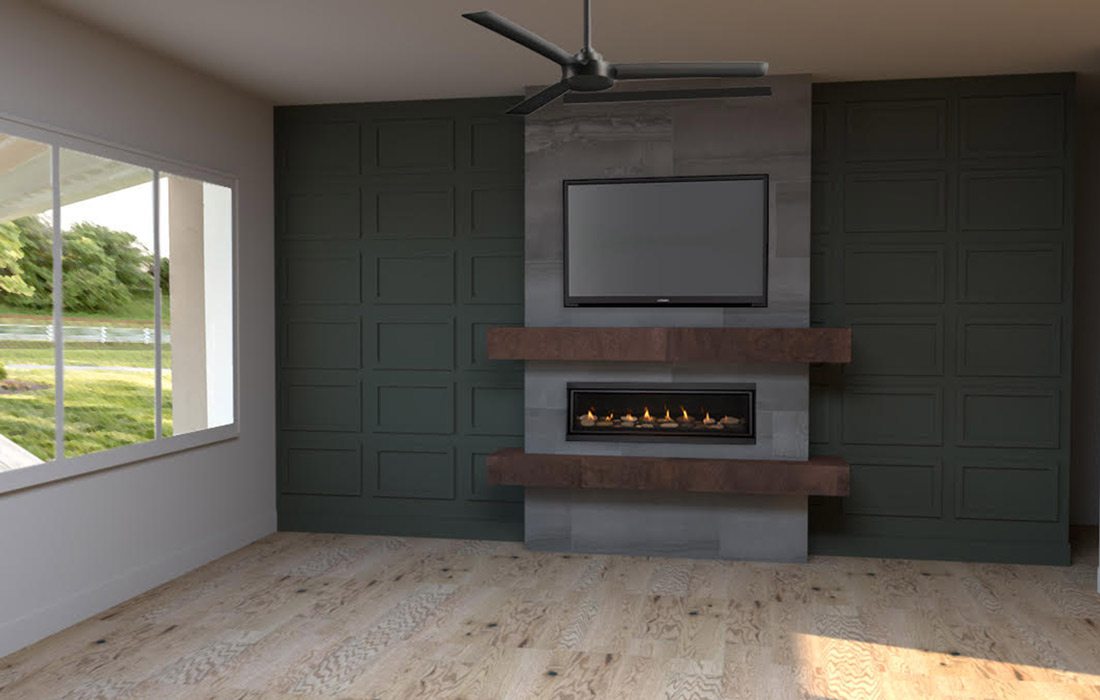 5. Fireplace Accent Walls
If you love accent walls (who doesn't!?), then this trend is right up your alley. For years, adding shiplap to the fireplace stack was the big trend, but now, Erica says turning the whole wall into the focal point is the new it look. To pull off this style, Erica's junior designer, Kayla Ziehr, came up with the idea of using the Ekena Millwork wall panels to give the wall a texture and design that compliments the fireplace.
6. Sitting Rooms
There's no denying that open floorplans have been all the rage for several years. But having all that room to entertain has one big draw back—when you need a cozy spot to get away from it all, there's nowhere to go. Erica and Austin say that's where sitting rooms come in handy, and you don't need to dedicate an actual room to this. Instead, carve out some space in your master bedroom. Part of what makes this design trend so appealing is its versatility.
Austin says he's seen homeowners use this space as a home office, a spot for a crib or as a more tradition reading nook. "This is just a nice feature where you can set aside space in your room to have time to yourself," he says. "In the Dream Home, we vaulted the ceiling above the sitting area in order to make it feel more like it's own dedicated space. To really make the spot cozy, Erica will apply wallpaper that matches the treatment used on the headboard wall. The sitting nook also looks out of a large window that was donated by Pella Windows & Doors.
For more information on this year's Dream Home Giveaway or to purchase a raffle ticket go to dreamhome.org. The giveaway will be aired June 27 on KY3. So tune in to see who wins the Dream Home and other prizes including a $2,500 voucher with Bug Zero.