Table Talk
Table Talk: April 13–19
This week: Birria is the buzz, Gettin' Basted opens in Springfield and spring treats arrive at Finley Farms in Ozark
By Megan Dollar
Apr 13 2021 at 8 a.m.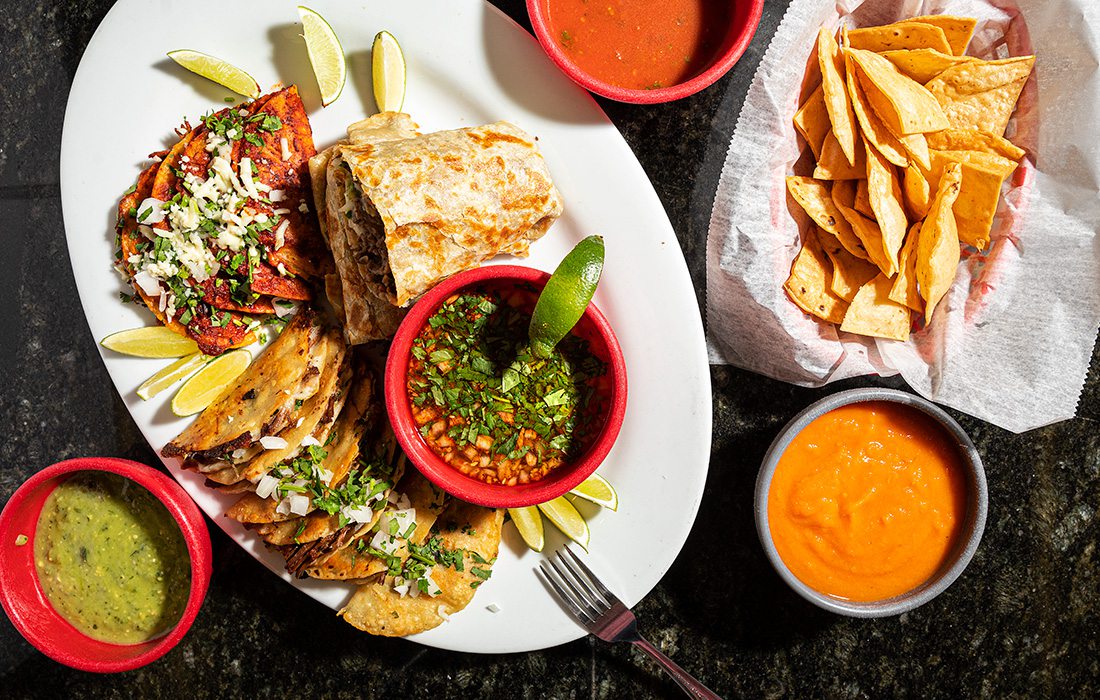 Birria is the Buzz

In addition to keeping you up-to-date on all things restaurant and food business-adjacent, I'm also here to make sure you're up on all the foodie trends. I spend a lot of time reading national and other local magazines, half for my own entertainment, half to generate new ideas for 417. The one thing that's popped up in almost every single food publication so far this year has been birria tacos. Some of you may have heard me say this before, but I consider myself to be quite the Mexican cuisine connoisseur, and even I am unfamiliar with this dish. 
Birria originated in the Mexican state of Jalisco, known for the cities Puerto Vallarta and Guadalajara. Considering P.V. is a popular vacation destination among my family, I don't know why I hadn't heard of birria before it went viral late last year. The dish is a type of meat stew traditionally made with goat's meat, but also sometimes made with beef or mutton. It's probably worth asking your server which meat their restaurant uses. Either way, the meat is cooked down to a tender, juicy state in a vat of consomme broth, and many people seem to enjoy it taco-style. Here are a few local spots where you can give it a try:
• Tortilleria Perches, 1601 W Sunshine St, Springfield, 417-864-8195
• Cesar's Old Mexico, 2627 East Sunshine St. Springfield, 417-881-8252
• Tacos El Champu, 2350 S. Campbell Ave., Springfield, and 519 N. 21st St., Ozark, 720-292-3410
• Arandas Tacos, 2410 W .76 Country Blvd. Suite A, Branson, 417-334-4949
Gettin' Basted Opens in SGF

The folks at Gettin' Basted started serving their award-winning barbecue to 417-land back in 2016 when they opened their first food truck in Springfield. Since then, the food truck closed while brick and mortar shops opened in Branson and Nixa. Now, Gettin' Basted is coming back to Springfield, just off South Glenstone Avenue at 3242 S. Stewart Ave in the building that previously housed TGI Fridays. The new Springfield location is scheduled to start serving this Thursday.

The Workshop at Finley Farms' New Spring Menu

Just a couple of weeks ago, The Workshop at Finley Farms in Ozark debuted its spring menu. On the food side, they've added a quiche which will feature the freshest seasonal ingredients at the time, a hearty spring salad and a deviled egg toast which features crushed deviled eggs and crunchy spring veggies on top of a slice of sourdough. They've also rolled out quite the coffee menu with a honey lavender latte, a ginger sage latte, and a rosemary and blood orange lemonade. The new menu has come just as the team at Finley Farms has lifted the historic Riverside Bridge. Now seems like the perfect time to head to Ozark for a flavorful latte and a walk along the Finley River.

Blue Heron Farm's Storefront 

Blue Heron Farm is a small farm in Marshfield that raises heirloom plants and animals. They currently sell their products to local restaurants and retail stores, and directly to consumers at Farmer's Market of the Ozarks in Springfield. Now, they're making plans to open a brick and mortar storefront at Farmer's Park in Springfield. In addition to the fresh produce and organic meats they sell, they also bake an assortment of breads and pastries (read: many flavors of croissants and buns). We'll take all of the locally-grown and made goods we can get, so we're excited for this development. Read more about Blue Heron Farms in the May issue of 417 Magazine which will feature your guide to local and market shopping in 417-land.