Table Talk
Table Talk: October 19–25
This week: Taste of SoMo is here, Prairie Pie is so good, Halloween treats and Bubble Tea for all.
By Jorge Cespedes
Oct 19 2021 at 8 a.m.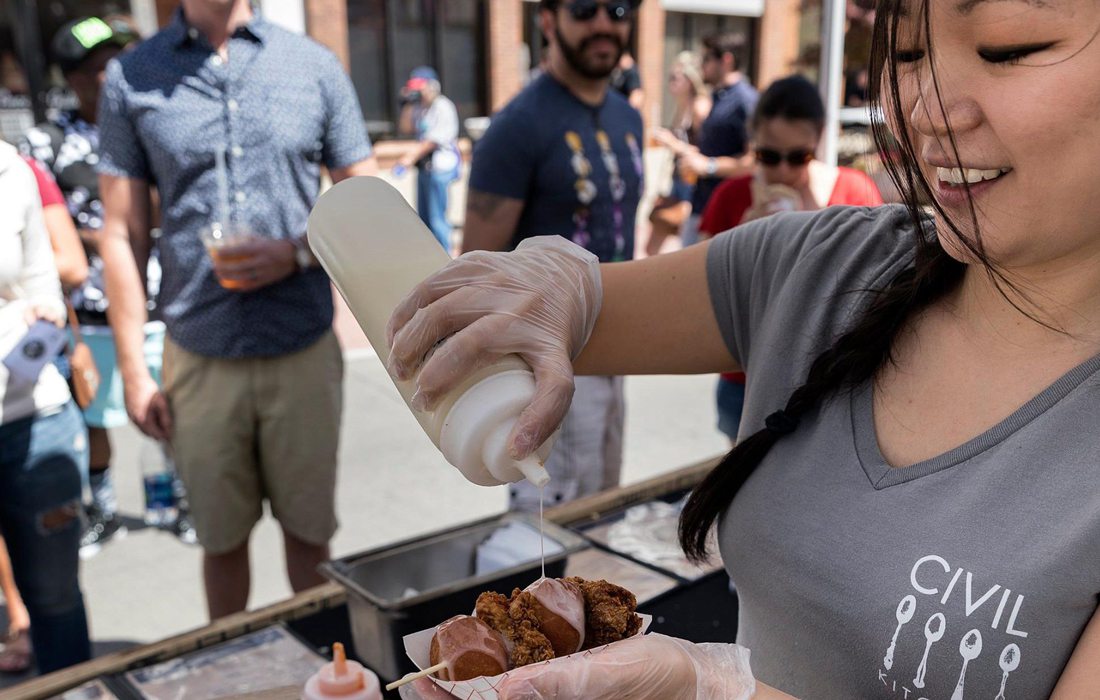 Taste of SoMo

Taste of SoMo is back downtown on Park Central Square where more than 20 restaurants are showcasing some of their best dishes. Not only are there a good number of options but a great variety of cuisines. Greek Belly offers awesome Mediterranean flavors, The Sandwich Scene is serving up some killer sandwiches, Sugarfire Smoke House has barbecue and maybe even some fried chicken options. There are tacos, churros, desserts, Japanese treats and of course we can't forget the local beers to pair with all these great food items. So many options to choose from! I personally try to taste as many as my body will allow! I'm always curious about finding something new that I haven't had before from one of these creative chefs. Check the website for the full list of delicious restaurants, hours of operation and much more info.
Prairie Pie Sweet and Savory

Pie, what a delicious dessert it is. It carries memories of family gatherings, friendly moments of laughter and enjoyment and those special times with the people we love, working in the kitchen together and sharing that family secret recipe. The team at Prairie Pie has certainly found a way to wrap all those beautiful moments into their delicious sweet and savory pies. With a brick and mortar location downtown (307 S. Jefferson Ave., Springfield, MO 65806) they offer patrons the amazing flavors of sweet pies such as pumpkin, apple streusel and chocolate chess, but don't forget to give their savory pies a try. My favorites are the chicken pot pie and the curry vegetable pot pie. In any way that you enjoy your pies, and want to taste a few different ones for Thanksgiving, now is the time to order one or several of these delicious treats. Go to the Prairie Pie website for more.
Cookies + Charcuterie = Halloween

Halloween is around the corner, costumes are being planned, sweet dreams of candies and mountains of chocolates are in everyone's minds (not only the kiddos) and excitement is in the air. Many of us will be attending Halloween parties, so I thought I'd share some fantastic options for hosting or for showing up with killer—no pun intended—appetizer options for both kids and adults. The crew over at The Rolling Pin Cookies has all sorts of Halloween options such as "A Bag of Boos" which are mini halloween dunkers or a super-fun Halloween cookie decorating kit that will keep everyone entertained and on the proper sugar high one expects of that evening. Now adults, I haven't forgotten about you, and what's more ideal than a Halloween-themed charcuterie board with a mixture of cured meats and aged cheeses, sweet chocolate chunks and mini cupcakes? Check out Lavish Grazing and 417 Charcuterie to see exactly what I'm talking about.
Sno Bubble Tea

Out of the many beverage trends that have been taking the industry by storm, bubble or boba tea has been a very successful one. Here in town, I went to one called Sno Bubble Tea, located in Battlefield Mall, inside the food pavilion and offering really distinctive flavors and cool looking teas. While part of the appeal is how colorful and texturally unique these beverages are, there are some wild and energizing flavors that may pique your interest, too! Owner Alice Oh told me that their most sold menu item comes from the signature iced teas and it's called Strawberry Pop, made with sparkling strawberry green tea with strawberry bursting boba and slices of strawberries. I just love these names! Another fun one is the Cosmic Butterfly made with lychee, raspberry butterfly tea and lychee bursting boba.