Arts & Culture
The Guy Behind The Gillioz's Tunes
When sound engineer Steve Eudaly of Gillioz Theatre does his job best, he says the audience never even notices him.
By Brett Johnston
Jul 18 2016 at 1:55 p.m.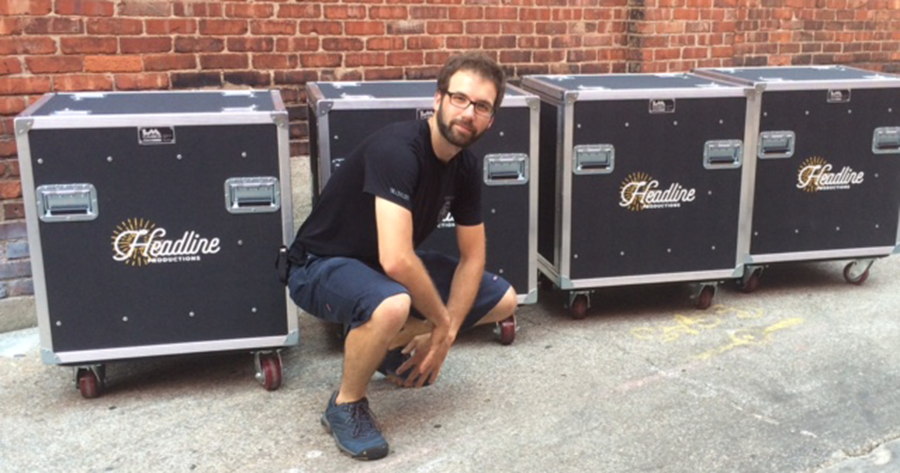 Steve Eudaly was 10 years old when he built his first home speaker system.
The speakers were built in his grandfather's woodworking shop out of junkyard scraps and components from his father.
His grandfather helped build the cabinets. Eudaly says the speakers sounded like garbage, but the project cemented his love for the intersection of music and technology.
"I was fascinated by how a pile of metal—transistors and circuits—could be connected to create this great machine which could accomplish so much more than all the pieces individually," he says.
Eudaly, production manager and head audio engineer for Gillioz Theatre, says he first noticed the potential of sound engineering from a drum throne. 
"I started out as more of a musician, playing drums. As I continued to play music, I developed more of an ear for shaping sound," he says. "The two (music and electronics) aligned well, and allowed me to explore both."
Eudaly's best nights on the job are those when he nobody recognizes his efforts.
"Good production goes unnoticed because it is integrated seamlessly with what is happening on stage."
He says most "sound guys" are also former musicians. One of the first, and biggest, lessons to learn is to remove as much subjectivity as possible.
"I'm the messenger between the artist and the audience. It is my job to convey the artist's vision as accurately as possible without my own signature," Eudaly explains.
No day is the same for a sound engineer and most scenarios are out of their control. Recently he enjoyed the challenge of blending the sound of George Clinton and Parliament Funkadelic.
"There's a lot of fun in the challenge of such a huge band, especially when the odds are against you," he laughs about how the sound check for that show was missing one-third of the band. "Planning is everything. The plan is nothing."
Mixing legendary blues guitarist BB King "was a pretty big milestone," but some of Eudaly's favorite bands to mix don't hold the same level of name recognition. Tea Leaf Green at Harvest Music Festival and Bad Bad Hat, a three-piece rock ensemble which opened for Third Eye Blind, are front-of-mind favorites.
Eudaly is the co-owner of Headline Productions, which ran its new, state-of-the-art live production system at Gillioz for power-rock group Chevelle July 12, ahead of a big run of August shows. Over a three-day period, downtown's historic theatre will host Old Crow Medicine Show, Asleep At The Wheel and Marshall Tucker Band. The latter two are part of the Birthplace of Route 66 Festival, August 12 through 14.
He hopes you don't even notice him.