Arts & Culture
The Year Of The Hare
The Year Of The Hare comes to Patton Alley Pub for a free dinner show tonight.
By Brett Johnston
Aug 01 2016 at 3:23 p.m.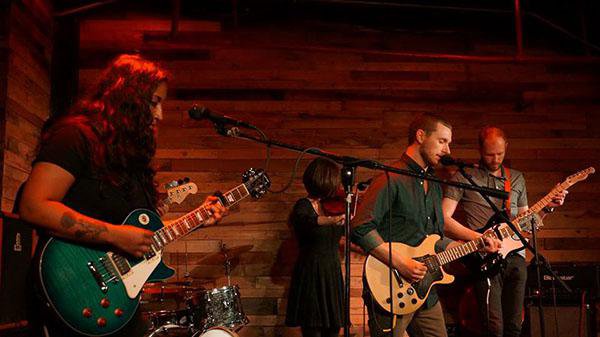 Ryan Hopper misses the pace of the Midwest.
Hopper, lead singer for the Brooklyn-based indie band The Year Of The Hare, was born in Indiana. This summer he's leading TYOTH on its first tour, routed strategically through the Midwest to experience again some of what he's missed since moving to the action of the Big Apple.
"I miss the friendly indifference of people in the Midwest," Hopper says. "The slow pace of life." Then he adds with a laugh, "I miss tenderloin."
He and drummer Matt Nelson met in college at Purdue University, but not all of the band has been exposed to the small-town charm of the Midwest.
"My roommate Meera (Jagroop) has never been before," Hopper says. "She's about to get the full immersion."
The band is traveling as a group of four, though it typically performs as a six-piece in New York City. Hopper's clever lyrics are woven into the thick tapestries of melody, not to be lost among the many parts and many guitars.
"We have a string section when we play in New York," Hopper says. "It's a little more guitar-focused out here. We've found some pretty cool ways to take the texture from the strings and use our guitars to create some of that. It ends up very close in presentation."
Though the tour is the first for The Year Of The Hare, Hopper and Nelson have been on the road before, though in a very different group stylistically with NY hardcore band Face Of War.
"It's the maiden voyage of this idea, so it's been good learning experience," Hopper says, "but I've done this before."
The idea, he says, was never planned to reach this point. The songs were written for himself without any kind of audience in mind.
"I never thought this project would leave the studio," he says. Hopper says anticipating an audience's reaction to a number can influence the writing process. "I thought I'd never use these songs live. Then I found myself yesterday in Lawrence, Kansas, focusing on the crowd."
He says the gentle sounds come across with more of an alt-rock feel live. "In context [of the studio], it's a little weirder," he says. "I like the juxtaposition."
The Year of the Hare plays a free, early show tonight at 7 p.m. at Patton Alley Pub.
"We're an electro-folk band that is highly influenced by post-rock music," Hopper says laughing, listing off other influences like alt-country and even math-rock. "We might be your new favorite band if you like short guys singing about Jesus and booze."