Dishes
5 Best Beautiful Sweet Treats in Springfield
They say you eat with your eyes first, and these delightful little desserts are practically works of art. We found the best small desserts at local Springfield, Fordland and Branson restaurants and bakeries.
By Katie Pollock Estes
Apr 2019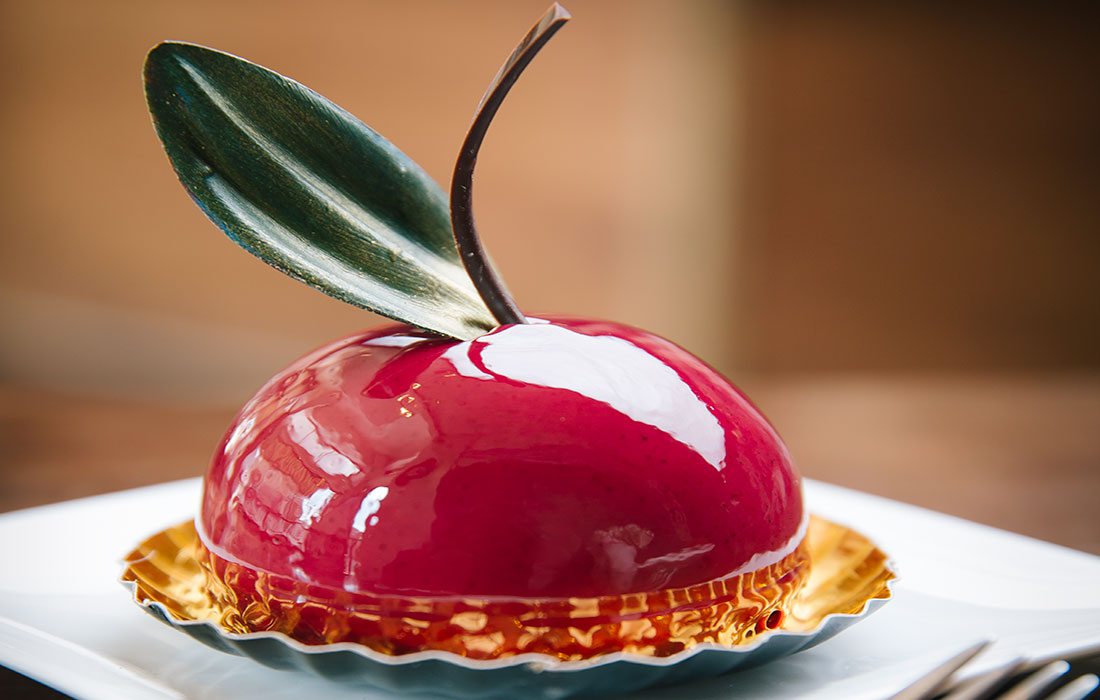 Cherry Chocolate Mousse
European Cafe, 207 Park Central East, Springfield, 417-986-4646
The delightful sheen of a reflective mirror glaze covers fluffy chocolate mousse to create a deep red orb that looks like a massive Bing cherry. On top, a perfectly sculpted green leaf finishes this stunning treat.
When to Order It: When you want to try out a dessert you can use to check your makeup.


Campfire Cookie
Sugar Leaf Bakery & Cafe, 2800 W. 76 Country Blvd., Suite 211, Branson, 417-336-6618
A just-crumbly-enough cookie with a flavor reminiscent of graham cracker is topped with a homemade marshmallow that's torched to toasted perfection and garnished with a square of Hershey's milk chocolate. The marshmallow is stretchy and messy—with a hint of charred campfire flavor. The caramelized bits are unequivocally beautiful.
When to Order It: When you like the idea of camping… without the whole sleeping outside part.


Sugar Cookies
The Rolling Pin, 3170 E. Sunshine St., Suite 1, Springfield, 417-493-6599
These sugar cookies feature always-perfect lettering and some of the neatest, smoothest and shiniest royal icing work we've seen. Recently we've loved seeing the combination of the sweet llamas and friendly, prickly cacti. They are almost too pretty to eat.
When to Order Them: When you are in charge of the potluck dessert, and you aim to impress.


Cream Puffs
La Galette Berrichonne, 143 E. Main St., Fordland, 417-738-2112
These cute cream puffs are made with tender choux pastry and so much not-too-sweet cream filling that the top of the choux sits on it like a jaunty little beret. It's absolutely darling.
When to Order It: When you're feeling French.


Milk and Honey
Progress, 2144 E. Republic Road, Suite B101, Springfield, 417-799-9388
First of all, this dessert just looks interesting: a smooth and clean square of creamy whiteness sits beside a sleek quenelle of rich shininess, all topped with a meticulously placed sprinkle of crunchiness. It looks curious and tastes amazing. It's made up of a honey semifreddo, milk jam and almond streusel, which—it turns out—were made for each other.
When to Order It: When you're taking out-of-town guests to dinner.