Dishes
5 Best Biscuits & Gravy in Springfield
Biscuits and Gravy are simple—sometimes too simple. A poorly executed dish will leave you with a flavorless mouthful of mush. To save you from a bad order of B&G, we rounded up five favorites guaranteed to please the palate and fill the belly.
By Vivian Wheeler
Jan 2019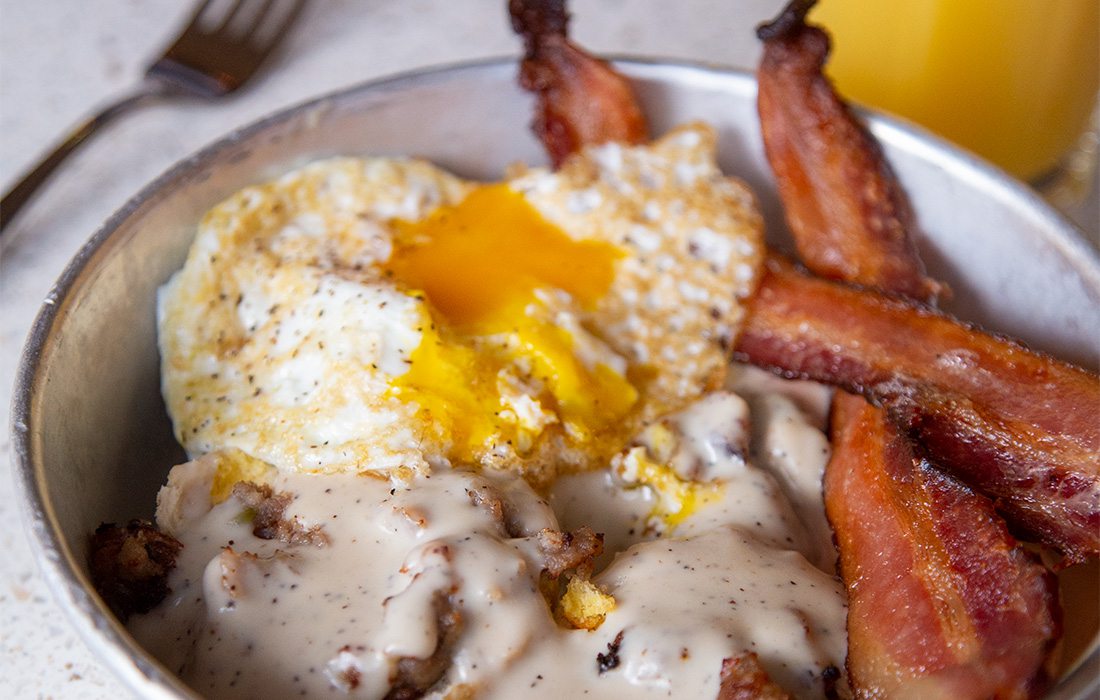 4005 South Ave., Springfield, 417-708-9599
We've all heard of breakfast in bed, but at Alamo you can enjoy breakfast while you watch a movie on the big screen. What could be better? House-made sausage and a decadent pepper gravy means you'll finish every last finger-licking bite of these biscuits and gravy.  
Order it with: For only three extra bucks, you can add an order of bacon and a fried egg. 
[MORE: Best Breakfasts in Springfield, MO and Beyond]
1717 E. Cherokee St., Springfield, 417-885-8088
At Early Bird Breakfast Pub, the chefs don't skimp on the portions. An order of biscuits and gravy at this breakfast joint is big enough to share, but they are so tasty you definitely won't want to. These B&Gs are traditional through and through, and that's why we love them. 
Order it with: A loaded mimosa. A classic mimosa is upgraded with a shot of a flavored vodka. 
305 S. Market Ave., Springfield, 417-832-8277
Springfield Brewing Co. might be the unsung hero of the local breakfast scene. The breakfast menu is chock full of indulgent breakfast dishes, and the biscuits and gravy are no exception. These homestyle biscuits and rich sausage duck fat gravy make these bad boys worth every calorie.
Order it with: A bloody mary. Brew Co. has one of the best bloody marys in town, and this bloody comes with a sidecar of craft beer to boot. 
2946 S. National Ave., Springfield, 417-889-0601
These biscuits and gravy are hearty and delicious, but the gravy is made from turkey sausage, so it has a unique flavor and tastes a smidge healthier. We also like that you can get it for lunch, not just for breakfast. And, it's offered as a "side," so you can order literally anything you want on the menu, and add a "side" of B&G.
Order it with: A side of tomatoes. Just trust us on this one. Tomatoes add a kick of acidity and a dash of umami, which elevates the whole dish.
8011 E. State Highway AD, Rogersville, 417-830-3656 
There's one big caveat with these babies: You won't be able to order them until April when Harvest Restaurant starts its brunch back up. But, they are so delicious, we had to include them on this list anyway. Like everything at Harvest, they are made completely from scratch and are absolutely scrumptious.
Order it with: Extra gravy. The gravy is that good, and you're going to want more of it.