Dishes
From Farm to Kitchen
Your ultimate guide to finding the freshest local ingredients in 417-land.
by Lillian Stone
May 2021
There's no doubt about it: 417-land is chock full of bustling avenues, innovative local businesses and a lively arts and culture scene. But if you look a little closer, you'll realize that the area's heartbeat is deeply interwoven with the agricultural heritage of the Ozarks. Whether you're taking a drive out to tour a family farm, snapping engagement photos in a working flower field or entertaining out-of-town guests at one of Millsap Farms' iconic pizza nights, the true spirit of the Ozarks is in the hands of the locals who devote their lives to centuries-old growing traditions. From farm-fresh eggs and produce to antibiotic-free meat from animals ethically raised just a few miles out of town, there's no shortage of locally grown goodness in our community. See 417 Magazine Publisher Logan Aguirre explain the Farm to Kitchen feature on KY3's The Place below.

What kind of produce are you looking for?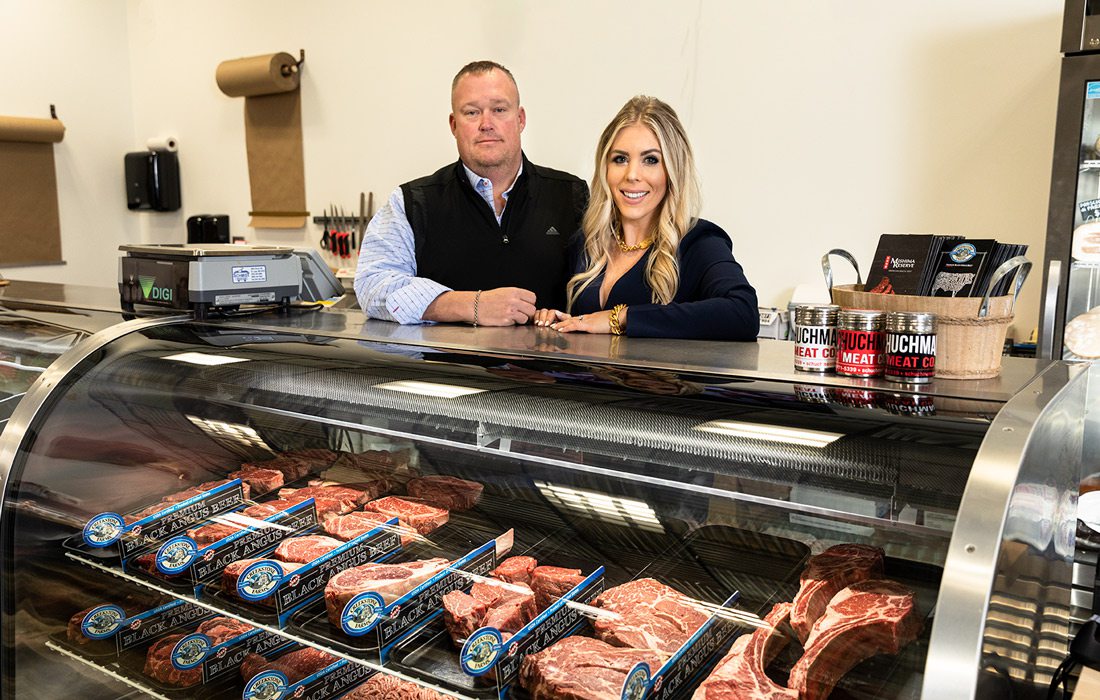 Responsibly Raised Meat for the Conscious Carnivore
Between climate concerns and animal welfare issues, more and more foodies are reaching for plant-based alternatives to, say, a juicy ribeye. But for carnivores looking for more sustainable alternatives—not to mention happy cows raised by devoted farmers—417-land has options aplenty. Take, for example, Schuchmann Cattle Company. As a third-generation cattle buyer, Chad Schuchmann grew up skipping school to visit the cattle trading yards with his grandfather. In between heated trades and good-natured ribbing with cattlemen decades his senior, Schuchmann learned the tools of the trade—tools he put to use when he incorporated the Clever-based Schuchmann Cattle Company in 1995.
Now Schuchmann deals in locally raised, locally processed, hormone and antibiotic-free USDA prime and wagyu beef. Schuchmann's wife, Julie, describes the cattle company's model as "completely vertically integrated," with the beef grown on their farm, harvested in their own processing plant and then retailed direct to local consumers at the family's new brick-and-mortar retail location, Schuchmann Meat Company. There, customers can snag the family's richly marbled USDA prime and wagyu beef. The shop also offers ready-made grab-and-go items like meatloaf, seasonings and sauces, high-end deli items like charcuterie and imported cheeses, and even wine and spirits. Together with their 12-year-old daughter, Camella, the Schuchmanns hope to lead the way for other local meat farmers as they educate consumers on the joys of local, responsibly raised meat.
Where to Find Fresh Meat
Schuchmann Cattle Company
Find them at Schuchmann Meat Company, Avanzare Italian Dining, Millwood Golf & Racquet Club Nineteenth Grille

Specialties
USDA prime beef, wagyu beef

Fun Farm Fact
The Schuchmanns keep American Brahman cattle, which are known for their camel-like humps, as pets.

Peace Valley Poultry
Find them at MaMa Jean's Natural Market, Culture Counter, Hörrmann Meats

Specialties
Pasture-raised poultry

Fun Farm Fact
Peace Valley offers fresh Thanksgiving turkeys.

Newman Farm
Find them at Progress

Specialties
Pasture-raised heritage Berkshire pork, Black Angus beef

Fun Farm Fact
Newman Farm just launched the Farmstock Box, a monthly subscription service featuring curated local foodstuffs.

Show-Me Wagyu Partners
Find them at MaMa Jean's Natural Market, Metro Eats, Level 2 Steakhouse

Specialties
Akaushi Wagyu beef

Fun Farm Fact
Show-Me Wagyu has donated thousands to local nonprofit organizations.

Providence Farm
Find them at Farmers Market of the Ozarks, Harvest Restaurant, The Order

Specialties
Pasture-raised duck, Rosé veal, grass-fed lamb

Fun Farm Fact
Providence Farm is currently the only veal farm in the 417 area code.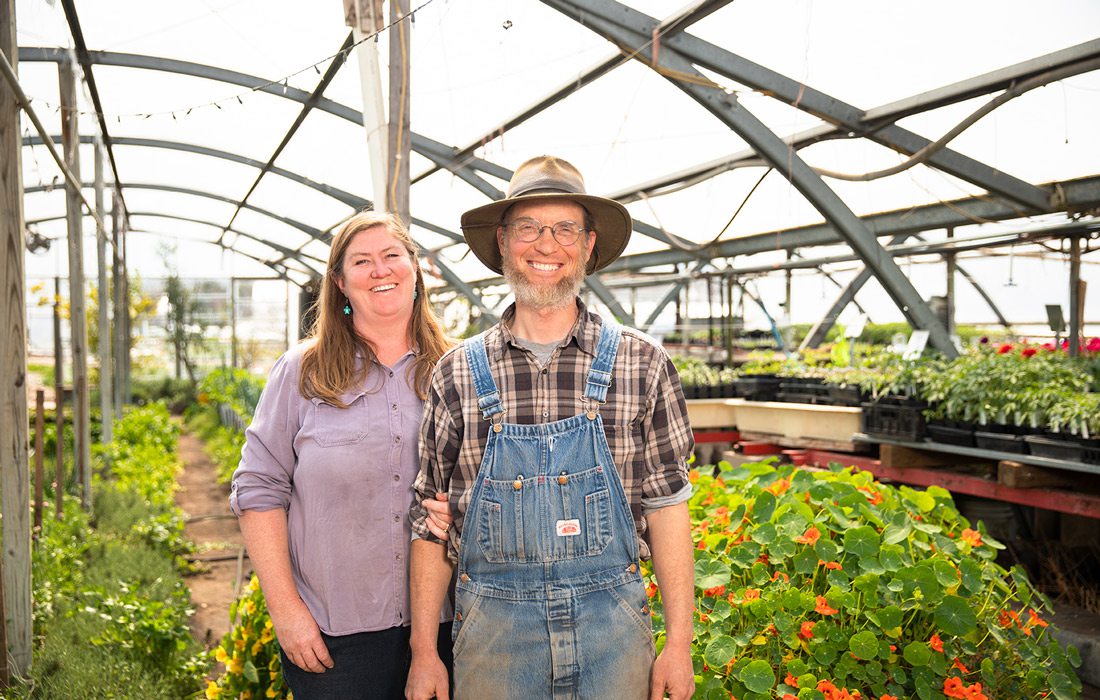 The Green Scene
A store-bought carrot is one thing—but a bright, juicy carrot freshly plucked from a local farm's earthy soil? That's something else entirely. Over the last decade or so, one farm has become synonymous with 417-land's local produce scene: Millsap Farms, owned by Curtis and Sarah Millsap. The Millsaps are nothing short of prolific, raising an average of 14 pigs and two and a half acres of vegetables each year. The Millsaps are also known for their focus on soil health; the farm's veggies are all grown using organic techniques, meaning they're totally free of synthetic pesticides, herbicides and fertilizers. Of course, the Millsaps don't do it alone—their 10 children and gaggle of farm apprentices and employees help with growing, farm tours and animal husbandry.
You can catch the whole gang at one of the farm's iconic summertime pizza nights, weekly occasions when community members can wander the farm, chowing down on unlimited pizza fired in the farm's handmade New Mexico style Horno wood-fired earthen oven. And if you can't make it to pizza night, you can still get a taste of Millsap's lovingly grown veggies via the farm's Community Supported Agriculture (CSA) program. Vegetable share boxes are affordable, ranging from $12 for a sampler box to $46 for a large box—and they're also customizable, with add-ons including local eggs, poultry, bread and cheese. Finally, fans can get the latest news on the farm's weekly Farm Happenings blog.
Where to Find Fresh Veggies
Millsap Farms
Find them at Farmers Market of the Ozarks, Harvest Restaurant, Farmers Gastropub, The Order

Specialties
Produce, exquisite summer pizza parties

Fun Farm Fact
The Millsaps host farm interns year-round for locals interested in the growing biz.


Box Turtle Farm
Find them at MaMa Jean's Natural Market, Farmers Gastropub, Highland Springs Country Club

Specialties
USDA-certified organic lettuce, assorted greens

Fun Farm Fact
Box Turtle was one of the nation's first Real Organic Project-certified pilot farms.


Maypop Flower Farm
Find them at Webb City Farmers Market, Neosho Farmers Market, Joplin Empire Market
Specialties
Edible flowers
Fun Farm Fact
Maypop Flower Farm regularly partners with Prairie Pie, Cake SGF, The Order, Lilac and Lord Baking and 417 Foodie.


Urban Roots Farm
Find them at Urban Roots farmstand, Culture Counter, The Order, Craft Sushi, Cherry Picker Package X Fare

Specialties
Certified Naturally Grown (CNG) veggies

Fun Farm Fact
Urban Roots is home to two cozy, modern Airbnbs.


Willow Mountain Mushrooms
Find them at MaMa Jean's Natural Market, D & D Produce (West Plains), Harvest Restaurant, Farmers Gastropub

Specialties
Portabella, white button and oyster mushrooms

Fun Farm Fact
Willow Mountain is also home to a small flock of Shetland sheep, with handmade wool products available on Etsy, Amazon and eBay.


Yang Family Vegetables
Find them at Webb City Farmers Market

Specialties
Seasonal vegetables

Fun Farm Fact
Fue Yang operates the family farm with his parents. Together, they're working to unite 417-land's Hmong immigrant community through the power of lovingly tended produce.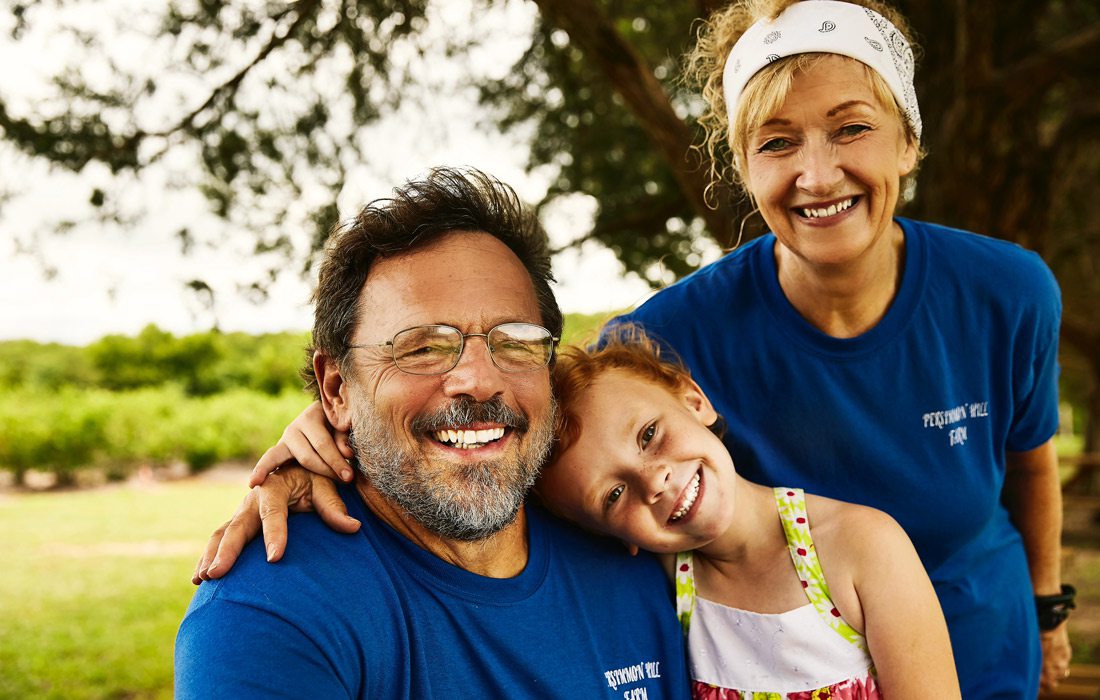 An Apple a Day
If you're a 417-land native, chances are you've spent a sunny afternoon plucking fresh blueberries from a vine and popping them into a basket for later—or maybe even popping them right into your mouth. U-pick farms are a local staple, but even if you aren't interested in getting your hands dirty, there are plenty of ways to enjoy the fruits of local farmers' labor. Take Earnie and Martha Bohner, who started Persimmon Hill Farm in 1982 with little more than vacant fields and a mutual sweet tooth. The couple added several more acres of blueberries and several honeybee hives to their Persimmon tree-dotted fields near Branson, eventually expanding to grow blackberries, elderberries, shiitake mushrooms and more.
Now, Persimmon Hill doubles as a tidy U-pick farm and a popular tourist dining destination. After spending an hour or two picking fresh berries during the warm summer months, visitors can stop by the Persimmon Hill Farm Restaurant & Bakery to grab bakery and dessert items before settling into one of the farm's public picnic tables. If you're planning a visit this summer, don't skip the enormous Blueberry Thunder Muffins or, better yet, the Cumulobluebus: a warm blueberry Thunder Muffin split and served with ice cream.
Where to Find Fresh Fruit
Persimmon Hill Farm
Find them at MaMa Jean's Natural Market, Big Cedar Lodge and Dogwood Canyon gift shops

Specialties
U-pick and pre-picked blackberries and blueberries

Fun Farm Fact
Persimmon Hill gooseberries were replanted in 2020 but won't yield a crop for about two years.


Boz's Berry Farm
Find them at Boz's Berry Farm farmstand

Specialties
U-pick and pre-picked strawberries, jam, local honey

Fun Farm Fact
Cool off with one of Boz's strawberry slushies.


Black and Blue Berry Farm
Find them at Black and Blue farmstand

Specialties
U-pick and pre-picked blueberries, u-pick and pre-picked lavender

Fun Farm Fact
The farm's cafe also serves blueberry and lavender lemonade and iced lavender lattes.


Sunshine Valley Farm
Find them at Sunshine Valley Farmstand, Harvest Restaurant

Specialties
U-pick and pre-picked apples, blueberries, blackberries; pre-picked peaches, raspberries

Fun Farm Fact
This property originated as an apple orchard in the 1920s.


Murphy Orchard
Find them at Greater Springfield Farmers Market, Metro Eats

Specialties
U-pick and pre-picked strawberries, blueberries, peaches, apples

Fun Farm Fact
Visitors can take home a gallon of the family's award-winning apple cider.


Gardener's Orchard
Find them at Farmers Market of the Ozarks, Greater Polk County Farmers Market, Ozark Farmers Market, Fair Grove Farmers Market

Specialties
U-pick and pre-picked peaches and apples, homemade baked goods

Fun Farm Fact
The farm's bakery churns out bread, impeccable pies and flaky pastries.


Hummingbird Berry Farm
Find them at Hummingbird Berry farmstand

Specialties
U-pick and pre-pick blackberries

Fun Farm Fact
Hummingbird Berry Farm offers onsite cooking classes each fall.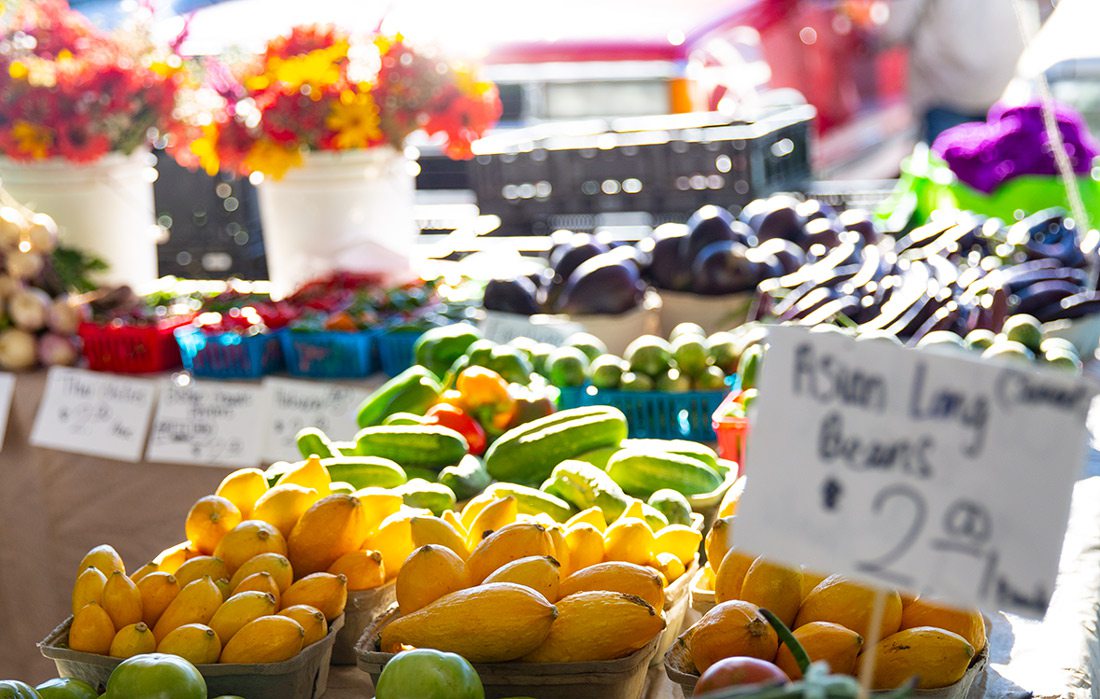 Up Your Grocery Game
Stores
Ready to start stocking up on local products, but not sure where to begin? Fortunately, as 417-landers continue to reconnect with the area's rich agricultural roots, grocery providers are taking notice. While locals can swing by the local and organic sections at large outlets like Price Cutter and Hy-Vee, it's also a snap to find all-natural groceries at stores like MaMa Jean's Natural Market, which are completely stocked with organic and good-for-you grub, as well as tons of local products. Make sure to pay a visit to newcomer Culture Counter, located in Rountree's quaint former Homegrown Foods space. Culture Counter is home to the freshest local meat and produce money can buy—as well as the area's most tempting homemade ice cream to pick up after you're done shopping. But you'll have to decide how long you're willing to wait to enjoy your ice cream. Best grab a cone to tide you over until you can enjoy your pint at home.
Markets
It doesn't get much fresher than a visit to one of the area's bustling farmers markets. Luckily, you can find a market just a stone's throw away no matter where in 417-land you call home. Southsiders can head to Farmers Market of the Ozarks, midtowners can hit up the Greater Springfield Farmers Market, and north siders can swing by the C-Street Market. If you live outside of Springfield city limits, you can find sister markets in smaller communities like Joplin, Ozark, Fair Grove and Webb City. Not only do farmers markets have the greatest variety of locally farmed products all in one place; they're also a perfect way to get face-to-face with your farmer, maybe even learning a few tricks of the trade you can implement in your own garden. Plus, need a little inspiration when it comes to preparing your farm-fresh goods? Ask your farmer for some ideas—they'll know the best way to make local goods shine in your kitchen.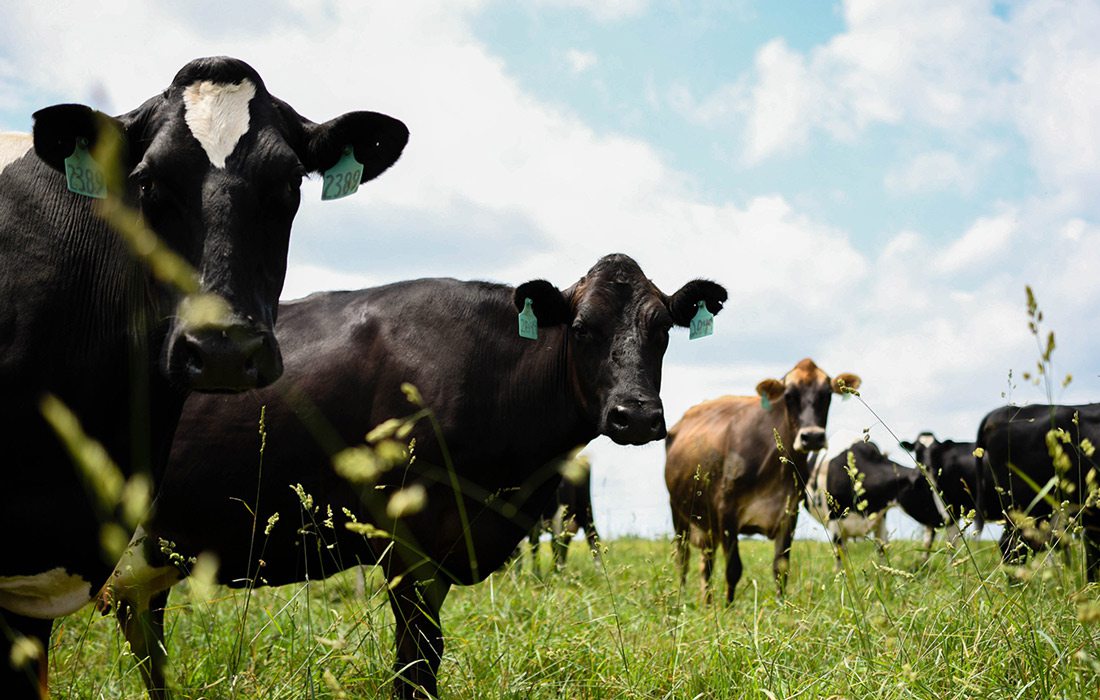 Happy Hens, Contented Cows
It doesn't get much better than Purdy-based Edgewood Creamery, home to 300 pampered dairy cows—affectionately known as "the girls"—who produce the farm's signature milk and handcrafted cheese. The pasture-based system allows the gals to graze 300 lush acres, pausing for twice-daily milking (and some hearty pats, too). Once the cows are milked, the product makes its way to the dairy's onsite creamery where Head Cheesemaker Kelly Hayes works her magic behind a glass window, perfect for farm visitors to peek in.
There, she churns out handcrafted cheese including their signature Ozark Mountain Blue and Edgewood Cheddar. Of course, the milk is the star attraction—Edgewood offers creamline milk, which is pasteurized but not homogenized, yielding a creamier texture than most store-bought milk. If you, like many folks, struggle with lactose intolerance, there's hope for you yet: Edgewood produces something called A2A2 milk, which comes from specially bred, genetically tested cows who don't produce the protein that usually triggers stomach issues.
Where to Find Fresh Dairy and Eggs
Edgewood Creamery
Find them at Edgewood Creamery farmstand, Price Cutter, MaMa Jean's Natural Market, Hörrmann Meats, Neighbor's Mill Bakery & Cafe, Harvest Restaurant

Specialties
Creamline milk, A2A2 milk, handcrafted cheese

Fun Farm Fact
Edgewood's cows are known for their distinct, spunky personalities and are named as calves.


Terrell Creek Farm
Find them at Farmers Market of the Ozarks, Brown Derby International Wine Center, MaMa Jean's Natural Market, Culture Counter, Gilardi's Ristorante, Farmers Gastropub, The Order, Progress, Harvest Restaurant, The Bruncheonette

Specialties
Nubian and Alpine-Nubian dairy goat cheese, goat milk

Fun Farm Fact
Terrell Creek offers farm-to-door delivery in Springfield for orders of at least $12.50.


Lomah Springs Dairy
Find them at Joplin Empire Market

Specialties
European-style butter, cheese, fresh cheese curds

Fun Farm Fact
Their deep yellow, incredibly flavorful cultured butter is made with milk from pasture-raised cows.


Blue Heron Farm
Find them at Farmers Market of the Ozarks

Specialties
Duck eggs, locally grown produce, baked goods

Fun Farm Fact
Keep an eye out, because Blue Heron will open a bakery, deli and cafe in Springfield's Farmers Park complex this summer.


Bechard Family Farm
Find them at Christ the King Church (2537 N. Broadway Ave., Springfield; Tuesdays only), Farmers Gastropub, Millsap Farms CSA

Specialties
Pasture-raised chicken eggs

Fun Farm Fact
The Bechards have been married for 40 years and have seven children and 10 grandkids.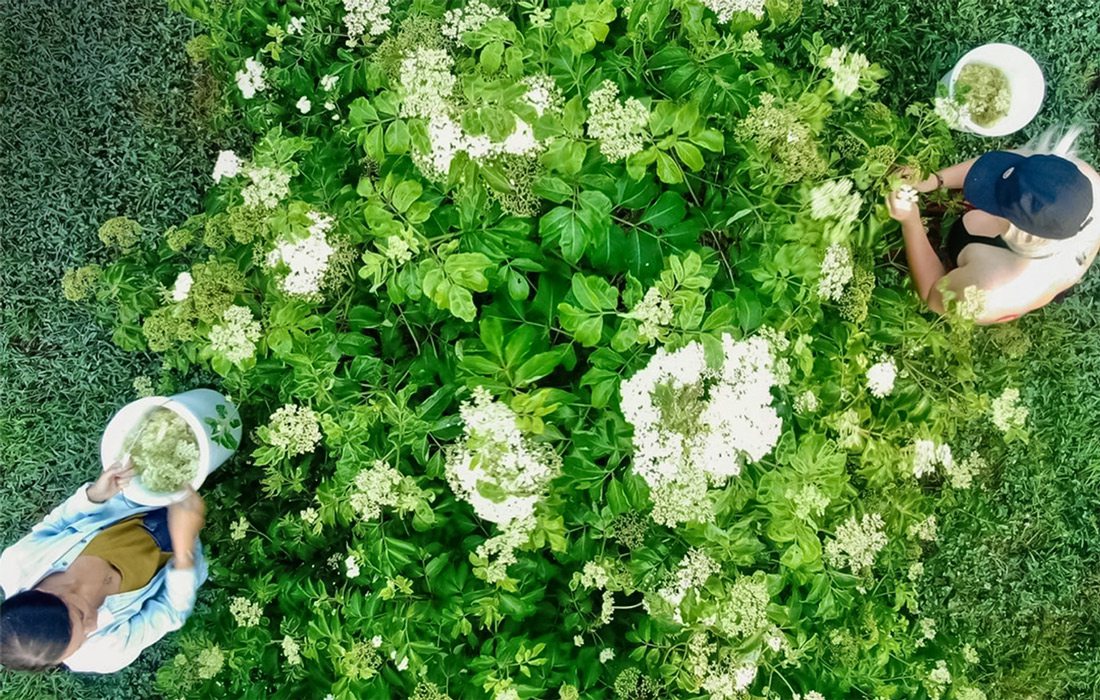 Stock Your Pantry
From golden local honey to preservative-free handcrafted ketchup, it's easy to inject a taste of the Ozarks into your dry goods. If you're not sure where to start, tap into a local wellness operation that's quadrupled in size over the last year: Elder Farms. Owned by David and Ann Buehler, Elder Farms is an elderberry farm housed on a century-old Mount Vernon plot that's been in David's family for four generations. The Buehlers started small with just 10 acres of elderberries—but now, the Buehlers are riding the elderberry boom as more and more Americans turn to the berry as a holistic remedy for allergies, immune support and more.
While the Buehlers specialize in wellness tonics like elderberry immune syrups, they also cultivate their own local honey enriched with pollen from the flowering plants. What's more, the farm's growing and production operations are now both certified organic. Find their products online, at Farmers Market of the Ozarks and at several area groceries. They've even been infused into Springfield's own Spring Branch Kombucha.
Where to Find Local Pantry Goods
Elder Farms
Find them at Farmers Market of the Ozarks, MaMa Jean's Natural Market, Hy-Vee, Spring Branch Kombucha

Specialties
Elderberries, elderberry wellness products, local honey

Fun Farm Fact
Elder Farms hosts farm dinners prepared by local private chef Anna Davis.


Bee-Transformed Honey
Find them at Honey Heaven, Farmers Market of the Ozarks, Branson Farmers Market

Specialties
Specialty pizza crusts

Fun Farm Fact
Bee-Transformed offers occasional discounts for dancing and other lighthearted stunts.


P&D Honey Farm
Find them at P&D Honey Shop, Chabom Tea & Spices, Millsap Farms CSA, Schaffitzel's Flowers

Specialties
Raw local honey, dark honey, honeycomb

Fun Farm Fact
P&D also offers beekeeping starter kits.


Find them at MaMa Jean's Natural Market, Hy-Vee, Price Cutter, Brown Derby International Wine Center, Harter House

Specialties
Ketchup, barbecue sauces, pasta sauces

Fun Farm Fact
Circle B's sauces are made without caramel coloring or artificial preservatives.


MaMa JoJo's Pasta
Find them at Famos Grill (Carterville)

Specialties
Handmade pasta including ziti, bucatini and shooting star-shaped noodles

Fun Fact
MaMa JoJo's organic, vegan pasta is made using only semolina flour and water.


Peruvian and South American Food
Find them at Farmers Market of the Ozarks, Branson Farmers Market, Ozark Farmers Market

Specialties
Peruvian tamales and empanadas

Fun Fact
Don't miss out on Chef Nelly's traditional papas rellenas, or stuffed potatoes, when available.


Grove Salsa
Find them at Farmers Market of the Ozarks, MaMa Jean's Natural Market, Hy-Vee, Price Cutter, Harter House

Specialties
Handmade salsa and hot sauce

Fun Fact
Grove originated with just one habanero salsa, described as "not for the faint-hearted."


Bulone Enterprises
Find them at Farmers Market of the Ozarks, Hörrmann Meats, Hy-Vee, MaMa Jean's Natural Market

Specialties
Traditional Italian caponata and giardiniera

Fun Fact
This business sprang out of owner Dan Bulone's secret family caponata recipe.

Produce-Friendly Swag
Have your produce and eat it, too. Make the most of your homegrown fruit and veg, all the way from the market to the compost heap with this selection of items to store, carry and recycle your food.
Keep things fresh with beeswax wraps and reusable produce bags from Blue Sky Green Earth. Find them online or at Farmers Market of the Ozarks.
Hoist your haul in a Bolga market basket, a gorgeous hand-woven basket that doubles as an everyday accessory. Find yours at one of MaMa Jean's Natural Market's locations.

Reduce your food waste with a handy home compost bin from the Springfield Compost Collective, who also offer residential curbside pickup.