Dishes
The Fig Daiquiri at Progress Plus Six Other Dishes that Passed the Taste Test
These seven dishes or drinks have passed our taste buds this month and made us rave. They are ranked by level of yumminess.
By The Editors
Oct 2019
1. There's a reason the fig daiquiri at Progress (2144 E. Republic Road, Suite B101, Springfield, 417-799-9388) has stuck around through multiple menu changes. Classic daiquiri components rum, demerara sugar and lime get a sweet touch from the addition of fig, cinnamon and banana.
2. Sometimes all it takes is a creative presentation for familiar flavors to taste brand-new. The spicy crab and tuna volcano at Kuma Japanese (3405 Battlefield Road, Suite 124, Springfield, 417-720-1126) takes classic spicy crab mix and spicy tuna mix and serves them atop deep fried rice balls and a house sauce.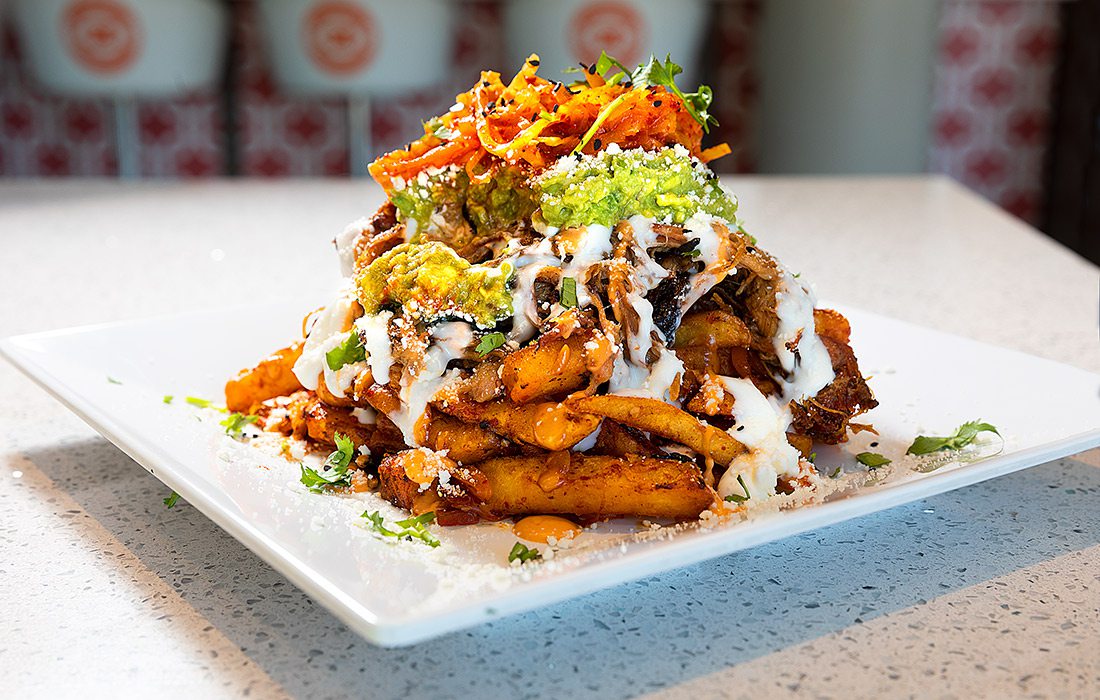 3. Holy moly these are delicious. The Wheelhouse's (1845 E. Sunshine St., Springfield, 417-430-0400) kimchi fries come with a hearty helping of house-made kimchi, cool and creamy guacamole and cotija served atop crispy, salty fries. Add a protein for a full meal.
4. Can you ever go wrong with a ham and cheese? We love the To Brie or Not To Brie at Cherry Picker Package x Fare (601 S. Pickwick Ave., Springfield, 417-986-5800) for its melty brie, Circle B Ranch ham and bacon and apricot preserves, served sandwiched between an Artisan's Oven baguette.
5. For a treat with a hint of sweet, try the cafe miel at The Press Coffee & Juice Bar (2710 S. Glenstone Ave., Springfield, 417-501-1014). The warmth of cinnamon shines through, even when iced, and raw honey adds a hint of sweetness.
6. For professed meat-heads who need to eat a veggie or two, this salad is for you. The steakhouse spinach salad at Galloway Grill (4211 S. Lone Pine Ave., Springfield, 417-882-5300) includes chunks of Farmland bacon, a sliced egg, red onion and croutons, all drizzled in a warm bacon dressing.
7. Lucky's Market (3333 S. Glenstone Ave., Springfield, 417-889-0779) stocks a sticky sweet treat in the form of mix-n-match mochi ice creams. Mochi, or pounded Japanese sticky rice, surrounds an ice cream filling, and we can't get enough of the tart passionfruit flavor.