Drinks
Champagne Cocktail Recipes That Are Perfect for the Holidays
The Traveling Tin Co.'s Amanda Stowell shares two champagne cocktail recipes with us, just in time to ring in the holidays with extra cheer.
By Jenna deJong | Styled by Dylan Lyle & Hunter Keys
Dec 2019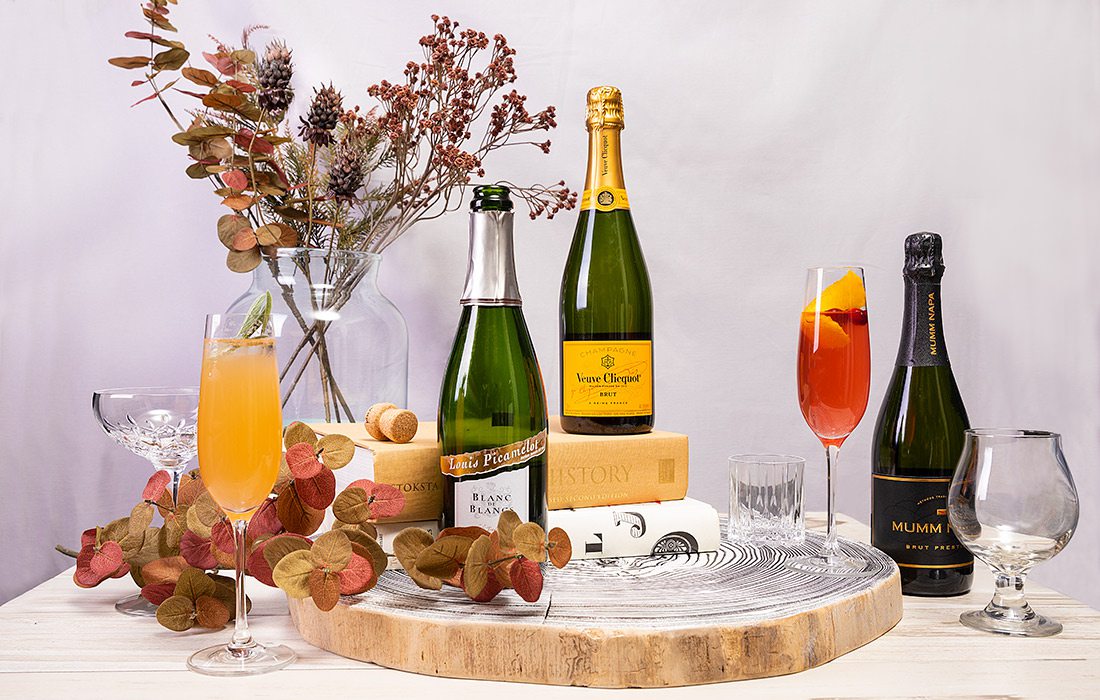 Recipe inspired by Pinterest
Serves one 10-ounce glass
Ingredients
1.5 ounces pink grapefruit juice
1.5 ounces sage simple syrup
2–3 dashes Angostura Bitters
Ice 
½ cup champagne
Fresh sage leaves
To Prepare
Vigorously shake the grapefruit juice, sage simple syrup and Bitters in a shaker with ice. Strain into a glass with fresh ice and top with champagne. Garnish with fresh sage.
---
Recipe inspired by Pinterest
Serves six
Ingredients
¾ cup vodka
1½ cups cranberry juice
2 ounces St. Germain Elderflower liqueur 
¾ cup champagne 
1 cup fresh cranberries 
Fresh rosemary and orange slices for garnish
To Prepare
In a large pitcher or festive holiday punch bowl, combine vodka, cranberry juice, St. Germain Elderflower liquor. Chill until ready to serve. When ready to serve, add the champagne and cranberries. Pour among glasses and garnish with fresh rosemary and orange slices.
---
To top off these drinks, The Traveling Tin Co.'s Amanda Stowell recommends a few champagnes to hit just the right note:
Vueve Clicquot
Price: Around $72
Where to buy: Lucky's Market (3333 S. Glenstone Ave., Springfield; 417-889-0779)
This high-end champagne has a lightly toasty taste, with a medium acidity. Stowell says this is the best bottle for special occasions. For a little holiday flair, slowly pour a little grenadine down the side for a pretty ombre look. Top it off with some rosemary. 
Canard-Duchene Brut
Price: $39.98
Where to buy: Macadoodles (1455 E. Independence St., Springfield; 417-883-9000) 
According to Macadoodles, this champagne boasts delicate bubbles and has intense aromas of fresh fruit. Stowell suggests pairing this champagne with a crab Maison salad or hors d'oeuvres. 
The Diver Brut
Price: $17 
Where to buy: Vino Cellars (multiple locations)
If you're looking for a more economical choice, look no further. Although this wine is technically considered a sparkling wine, Stowell says the light texture pairs well with salty or spicy flavors.