Features
Dining Day Trips
Break out of your dinnertime rut and hit the road to try something new in one of these nearby towns. The journey is as worthwhile as the destination for these four food-centric road trips around southwest Missouri and northwest Arkansas.
By Tessa Cooper, Katie Pollock Estes and Joy Robertson, with additional reporting by Grace Chipley and Leah Stiefermann
May 2023
Break out of your dinnertime rut, and hit the road to try something brand new in nearby towns. The journey is as worthwhile as the destination for these four food-centric road trips. We share the scoop on what to order when you visit these worth-the-drive restaurants—and some snack stops and side trips to hit while you're on the road so you can turn a meal into a road trip.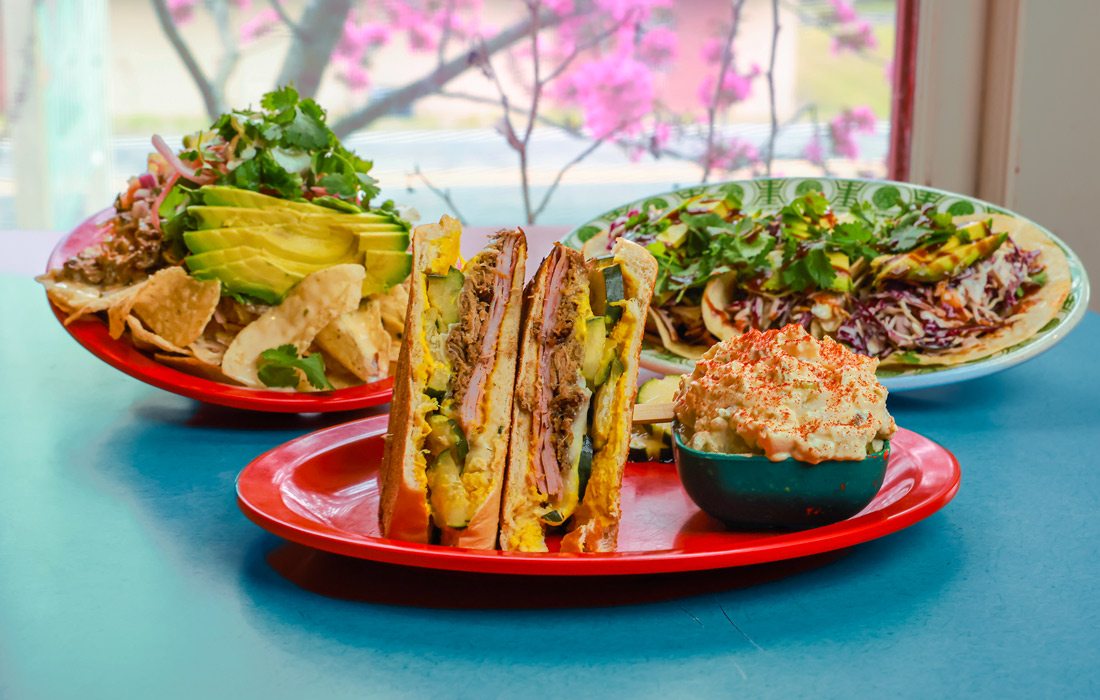 401 High Street, Leslie, Arkansas, 870-447-2345
Just a couple hours south of Springfield, in Leslie, Arkansas, a modest little house sits just a jog off Hwy 65. Whimsical turquoise and pink colors capture your attention right away, as does the message on the sign: Skylark Café, A Place for Food and Friends.
Owners Joy and Denver Ellis have clearly poured their heart and soul into the historic house Joy purchased in 2009 at age 20. She and her sister initially envisioned a bookstore here, but sometimes visions change, and we're glad they did. Joy and Denver met while waiting tables in Austin, Texas, in 2008 where she was interning at a not-for-profit and he was studying at Le Cordon Bleu.  Joy returned to the Skylark while Denver sharpened his culinary skills everywhere from a restaurant in Vail, Colorado, to a food truck in Oklahoma City. They stayed in touch, and their passion for food—and each other —eventually brought them back together. After eloping on a Florida beach, they returned to Austin for a brief stint soaking up the food scene (fun fact: Joy worked for Sandra Bullock at her now-closed Bess Bistro) before deciding to make their home in Arkansas.
A Tex-Mex influence is on full display here. Denver smokes the meats in the smokehouse out back, so we owed it to ourselves to try the Green Chili Pork Nachos, loaded with pulled pork, green chili sauce, cheesy spinach dip, fresh pico and avocado. Our waitress was quick to fill us in on the daily specials, and when she mentioned Joy's homemade Broccoli Cheese Soup wasn't quite ready, we ordered a cup due to the sheer freshness of it. Good move. The chunks of broccoli had a slight char, which added to the richness of the flavor.
We opted to share the Cubano, piled with smoked pork, grilled pit ham, provolone, mustard and house-made pickles on pressed French bread. We paired it with the Marinated Tomato and Cucumber Salad. We also tried the Chopped Brisket Taco drizzled with house BBQ sauce, chipotle slaw, avocado and cilantro on a grilled flour tortilla.
Choosing dessert was the toughest assignment. Joy is the pie chef, and she was pulling them hot from the oven when we arrived. Two caught our eye: Blueberry Buttermilk and Chocolate Espresso. The waitress said the espresso had a kick and she wasn't kidding. Next visit I intend to call ahead and order a whole one of each.
The Skylark is a happy place. The food is divine, and the space feels like a family home filled with art, heirlooms and love.  Time your trip through Leslie for a lunch or dinner stop at Skylark—you can thank us later.—Joy Robertson.
Snack Stop
Misty's Conoco
6542 Highway 65, Leslie, Arkansas
If you don't know, now you know: Fresh, homemade fried pies at a little roadside gas station are a thing in Arkansas, and you get bonus points if you run across a chocolate roll because Misty's Conoco is often sold out of them by the afternoon. We did, however, run into master baker Rachael, who gave us her number and promised if we called ahead she'd put some back for us next trip.
Side Trip
The Little Hill Shop
408 Walnut St., Leslie, Arkansas
Joy and Denver's other passion is thoughtful giving. The Little Hill Shop has a stylish curated collection of local art, jewelry, accessories, teas, books, toys, candles, soaps and more. Joy and Denver began cultivating the 3-acre flower farm on their Skylark property in 2022. They sold bouquets at the restaurant last summer and one day hope for a pick-your-own operation. This year they plan to add a greenhouse and flower counter to The Little Hill Shop.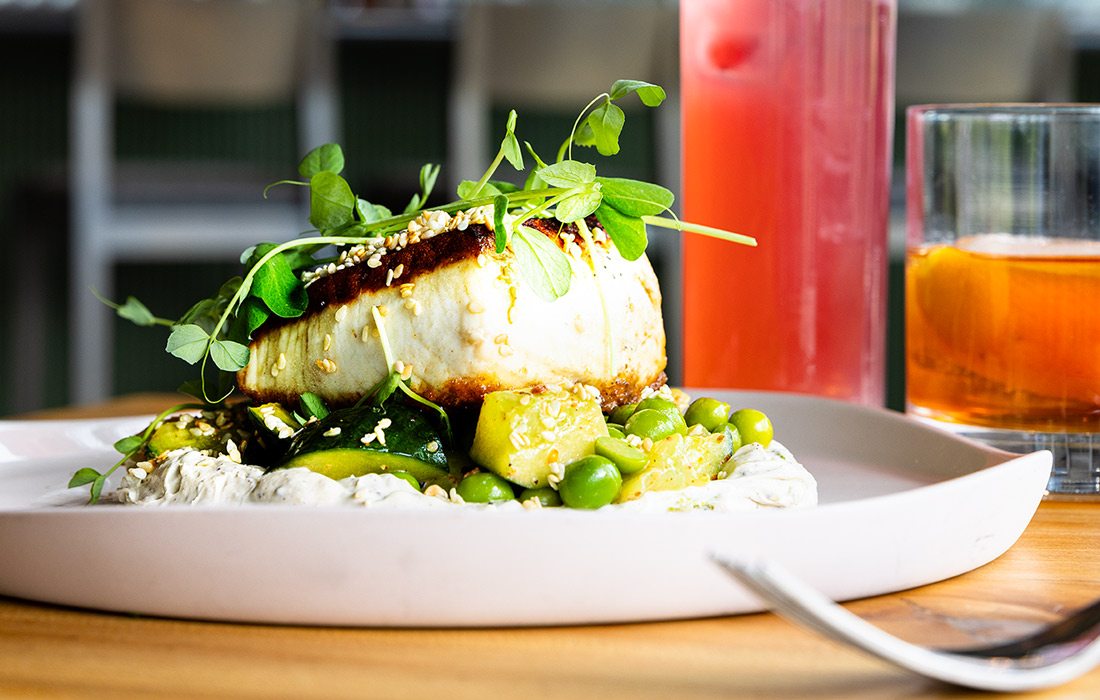 Photos by Brandon Alms You can find gluten-free delights galore at Conifer in Bentonville, Arkansas.
321 Southeast Second St., Suite 100, Bentonville, Arkansas, 479-203-5999
It's no secret that Bentonville, that ever-charming Arkansas town just two hours southwest of Springfield, is a dining hotspot. There is a huge variety of truly delicious places to eat, and you can't go wrong rolling into this town hungry.
For this particular trip, your must-try dining destination is Conifer. With Chef Matthew Cooper at the helm, the crew at Conifer serves a 100% gluten-free menu of stylishly plated and creative dishes that focus on sustainability and include ingredients from lots of local producers.
If you're a Bentonville dining aficionado, you may recognize Cooper's name. This Arkansas native studied in the Pacific Northwest at Le Cordon Bleu and is the founder of another popular restaurant in town: The Preacher's Son, an eatery located inside an old church.
Cooper himself has Celiac disease, so guests who do too can rest assured the kitchen takes gluten-free dining seriously. The result of Cooper's gluten-free focus and his professional training is a restaurant that serves seasonally changing dishes that are packed with creative flavor and look downright beautiful on the plate.
At press time, Conifer had just recently released their spring menu, and it featured so many bright springtime ingredients. Take the whitefish entree for example. It's prepared and served with lime ricotta cheese, sesame, peas, cucumber, basil and mint for lots of super-green goodness.
The cast-iron cornbread small plate is a recurring item on the frequently changing menu, and it's simply served with honey butter and salt. A risotto offering changes with the seasons too, this time featuring smoked carrot, crispy speck (that's a lightly smoked cured Italian ham), egg yolk and goat cheese for a combination that's as indulgent as it is fresh.
Conifer has a strong cocktail menu game as well. The Friendship is Magic cocktail is a rum-centric sip with both cinnamon rum and pineapple rum as centerpieces, fassionola syrup and the fresh burst of lime juice.
The dining experience is uniquely focused on small groups of two to four guests for both a meal and an atmosphere that feel intimate. (But don't fret if you have a bigger crew. You can book the private dining room for that.)—Katie Pollock Estes
Side Trip
Brightwater
801 Southeast Eighth St., Bentonville, 479-631-8600
Located in 8th Street Market (a community-focused food hub), Brightwater is the culinary leg of NorthWest Arkansas Community College. But you don't have to be a student to visit. There are Community Outreach Recreational Education classes for home chefs who want to learn the fundamentals from a pro. The next event is a Chinese Dim Sum class on June 2.
Side Trip
Crystal Bridges Museum of American Art
600 Museum Way, Bentonville, 479-418-5700
Next up is a stroll through Crystal Bridges. Bonus if you visit during the month of May: The exhibition Listening Forest by Rafael Lozano-Hemmer is on display in the North Forest. It features interactive, immersive installations of light, sound and projections that respond to your movements. 
Snack Stop
Yeyo's
Multiple locations
Yeyo's is a family-owned Mexican food spot that has gained a reputation for their stellar eats. You can get the experience at brick-and-mortar restaurants in both Bentonville and Rogers, but we recommend stopping for a snack at their little yellow food truck in Bentonville. Split an order of mix-and-match tacos with your dining buddy, and consider it an appetizer.
Snack Stop
Markham & Fitz
801 Southeast 8th St., Bentonville, 479-234-4658
Located in sweet little 8th Street Market like Brightwater, this is a true gem of a chocolate shop. They create experimental chocolate bar flavors with unexpected flavors, classic bars with familiar flavors, a fun chocolate-tasting kit with a rating sheet and four bars, pretty little truffles, boozy chocolate cocktails and more.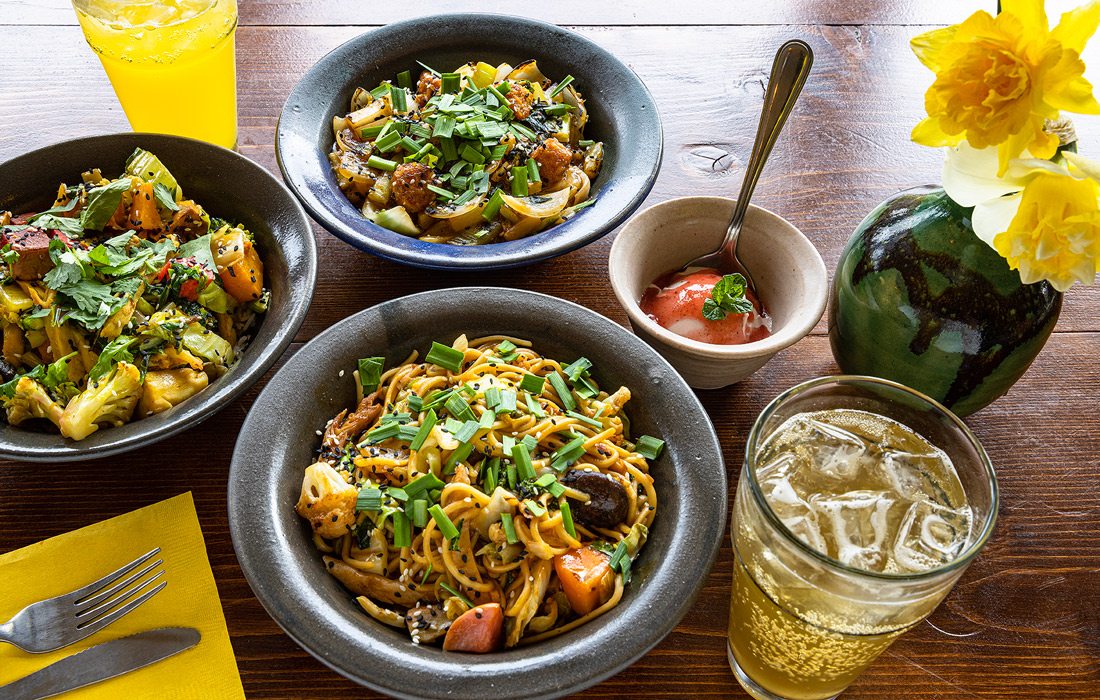 2278 Baker Creek Rd., Mansfield
From the outside, Baker Creek Restaurant looks quintessentially Ozarkian, but on the inside, its decor and menu manifest a rustic Asian flair.
The farm-to-table vegan eatery is one of the main attractions at Baker Creek Heirloom Seed Co.'s pioneer village and farm in Mansfield. The seed supplier stakes the claim as America's largest heirloom seed company, and a visit to the restaurant will show you the flavorful possibilities of what you can make with what you sow.
In the kitchen, Chef Kenneth Walker and Restaurant Manager Martine Walker serve up plant-based dishes. The majority of the menu draws inspiration from Asian cuisine, and they grow about 90% of the produce onsite.
After seeing a small help-wanted ad in the Baker Creek Heirloom Seed Co. catalog, the couple relocated to Seymour, Missouri, from Colorado Springs to take on these roles in 2022. They brought with them an extensive background in the food and beverage industry and work with founder Jere Gettle on each refined rotating menu.
On our visit, Martine greeted my husband and me and asked us to sit wherever we liked. She also offered us something to drink, which was our choice between canned Spring Branch Kombucha or hand-crafted soda. The soda-of-the-day featured Japanese sumo oranges grown in one of their greenhouses. Forget any notions you have about typical artificial soda before your first sip because this drink tastes fresh and not too sweet. One key ingredient Kenneth adds is made-from-scratch Oleo Saccharum, a syrup made by letting orange peels sit in sugar. This process extracts the flavorful oils through osmosis.
He plates the entrees on handmade pottery, and a small side salad accompanies the meal. On the day we visited, the salad featured a miso-ginger dressing and black sesame seeds.
For our entrees, I went with the Taiwanese stir-fry with made-in-house noodles, which had an umami-forward flavor. My husband opted for the Indian curry vegetables, which is a drier, less soupy traditional Indian-style version.
We swapped bites of both and had to double-check that they really didn't contain any chicken because the plant-based alternative is so convincing. While the featured veggies change with the seasons, green onion, chickpeas, sweet potatoes and bok choy were certainly the stars of our dishes.
Before you leave, stroll through the quaint pioneer village. Stop in Baker's Flour Mill for a made-from-scratch cinnamon roll, which will be hard to resist as soon as the fragrance hits your nose. You can also peruse the vast selection of their signature heirloom seeds at the Baker Creek Seed Store.—Tessa Cooper 
Snack Stop
Old Depot Coffee Co.
100 N. Commercial St., Seymour, 417-719-5418
Procure the energy for the day ahead with a pit stop at Old Depot Coffee Co. You can order your cup just the way you like it via a cappuccino, americano or flavored latte, all made with roasted- in-house beans. If you're in the mood for a sweet treat, try the Wilma Bread made with shop owner Andrew Peters' family recipe. 
Side Trip
Cedar Gap
Conservation Area, Mansfield
If you're heading to Baker Creek from the Springfield area and want to work up an appetite before your meal, hang a right on your way to lunch and stop at the Cedar Gap Conservation Area in Mansfield. Take a hike on a gravel path while the day is still young through the rolling verdant hills of the Cedar Gap Plateau, the second-highest point in Missouri.
Side Trip
Laura Ingalls Wilder Home & Museum
3060 Highway A, Mansfield
About a 10-minute drive from Baker Creek Restaurant is writer Laura Ingalls Wilder's last residence, which she dubbed Rocky Ridge Farm. Here, you can tour her home frozen in time, as she left it when she passed away in 1957. Take a chronological journey through her life and gaze at artifacts referenced in her books, like her Pa's fiddle in the site's museum.
Photos by Brandon Alms Gobblers Roost is an event venue, a rentable cabin and a restaurant all rolled into one.
24327 E. Old Town Road, Nevada, 417-448-4853
When we heard that a farm (which is also an event venue, a rentable cabin and a restaurant) offered a reservation-only five-course dinner that is popular enough with the locals to regularly sell out, we knew we had to check it out.
The spot is called Gobbler's Roost, and if you're a steak person—or anyone who likes comforting food in a homey atmosphere—you might want to check it out too. Recently 417 designer Grace Chipley and photographer Leah Stiefermann visited, and they both came home stuffed and happy.
The menu here leans heavily on steaks made from cattle raised on the farm—in fact, you can spy the cattle as you drive up on the dusty dirt road and gravel drive that lead to Gobbler's Roost. But there are seasonal perks too. If you visit in the spring, you can see the restaurant surrounded by blooming flowers. And when morel mushroom season is in full swing, they serve a morel soup that regulars race in to get a taste of.
The menu when Grace and Leah visited featured an appetizer of alfalfa sprout, pickled carrot and candied bacon; broccoli-cheddar soup a simple tossed salad; an entree protein of your choice with green beans and a twice-baked potato; tiramisu for dessert; and freshly baked bread. The soup was Leah's favorite. It managed to be super-creamy without feeling heavy. She was a big fan of the candied bacon from the appetizer course as well. Not a steak-eater, she opted for the salmon entree. It was tasty, but you can tell steak is the owners' passion. In fact, Grace raved about the KC strip steak, which came as an over-the-top huge portion (hello, leftovers!) but featured a delicious charred crust and a perfectly medium-rare preparation. It was the star of the meal for sure.
Leah and Grace agreed the homemade tiramisu was to-die-for, with an incredible flavor but not too much sweetness. They said it was the perfect ending to a big meal.
Inside, the dining room has a cabin vibe with decor that leans more homey than stylish. The space features little quirks like drinks menus presented on the sides of wine bottles (that include a decent wine selection plus cocktails and moonshine lemonade). And more than any other spot on our list, a meal at Gobbler's Roost feels like dinner at an old friend's house. Leah adored owners Kent and Kathy Abele and their super-sweet personalities that made her feel at home. And the farm setting made Grace feel like she was an old-timey ranch hand coming in from a long day's work to a big home-cooked meal.—Katie Pollock Estes, Grace Chipley and Leah Stiefermann
Snack Stop
Creator Delights
1303 E. Broadway St., Bolivar, 417-326-8337
If you head to Gobbler's Roost via Bolivar, make a stop for homemade sweet and fizzy sodas, Italian cream sodas, coffee drinks and more at this sweet little candy and drink shop. It's the perfect place to satisfy your sweet tooth, and you know the kids will love it too.
Side Trip
Lakeview Trail
Stockton Lake State Park, 19100 S. Highway 215, Dadeville
Walk off those sweet sips and work up an appetite for your huge steak dinner by taking a stroll around beautiful Stockton Lake. The Lakeview Trail offers peaceful and scenic views of the sprawling waterway. You might even spy a sailboat out on the water.
Side Trip
Dunnegan Memorial Park
601 W. Forest, Bolivar
After you order your treat from Creator Delights, drive over to Dunnegan Memorial Park for a peaceful place to sip and enjoy it. The park is known for its small, scenic lake that lends lovely views. Dunnegan Memorial Park is also home to wildlife like geese, swans and even brightly colored peacocks.